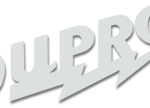 July 6, 2017 – (Port Jefferson Station, NY) – Supro USA is now shipping the Statesman: a 50W channel-switching amp with reverb that combines the vintage Thunderbolt and modern Comet models while adding an all-tube effects loop and a wealth of innovative, performance-friendly features.
---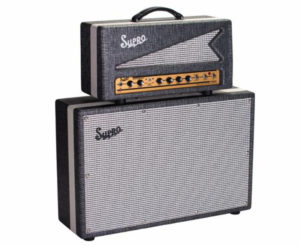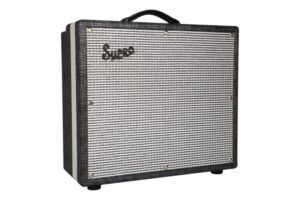 The Supro Statesman features two distinct all-tube preamps that can be independently selected or run simultaneously-in parallel-to create a massive, dual-channel sound where each preamp contributes part of the overall sonic texture. Supro is offering the Statesman amp as a 1×12 combo or in a visually striking, compact head format accompanied by a matching 2×12 Statesman cabinet.
The red channel found in the Statesman uses the two-knob, Volume and Tone preamp from the legendary Supro Thunderbolt amplifier for high-headroom rock & roll power. The Statesman's blue channel contains the high-gain preamp, 2-band EQ and all-tube reverb section of our award-winning Comet model. In addition to the tube-driven spring reverb, the Statesman's blue channel contains an all-tube, switchable effects loop that provides a comprehensive set of useful functions. The variable send and return levels allow the effects loop to function as a level and/or gain boost when engaged, even when nothing is plugged into the loop. The effects loop return knob can also function as a master volume for the blue channel when bedroom levels are desired. The blue channel is also capable of producing "wet only" reverb effects that can be independently gained up and blended with the dry sound from the red channel. As a final touch, both the effects loop and the reverb on the blue channel feature a relay-controlled "spill-over" effect, allowing reverb and delay trails to decay naturally when switching between the blue and red channels.
The 50-watt, 6L6-based power amp in the Statesman is switchable between Class A and Class AB operation. The Class-A (cathode bias) setting provides the distinctive midrange growl that has been the cornerstone of the Supro sound since the company was founded in 1935. The Class AB (grid bias) configuration presents less compression along with additional headroom, more punch, and faster attack. The Statesman comes loaded with military-grade Sovtek power tubes that are precision-matched at the Supro factory in Port Jefferson, NY.
The Supro Statesman is available as a 1×12 Black Magick-sized combo or as a compact head, covered in black rhino hide tolex and sized to sit perfectly atop the 1×12 and 1×15 Black Magick speaker cabinets, or the new 2×12 Statesman speaker cabinet. Designed by Thomas Elliott, this all-tube masterpiece is equipped with 16-ohm, 8-ohm, and 4-ohm speaker outputs with enough power to drive up to four 2×12 Statesman cabs simultaneously, delivering a look and sound worthy of the biggest stadiums and arena stages.
Features:
Thunderbolt preamp (red channel)
Comet preamp (blue channel)
A / B or Both channel switching
Switchable tube-driven spring reverb
Switchable tube-driven effects loop
Loop and Reverb spillover when channel switching
Effects loop can function as a Boost
Wet-only reverb effects available
50 Watts, switchable Class A or AB
2x 6L6WGC / 5881 tube power amp
Channel selector footswitch and 20′ TRS cable included
Black rhino hide tolex with gold faceplate
The Statesman head retails at $1,499 USD, the Statesman combo sells for $1,649 USD, and the Statesman 2×12 extension is $599 USD. All are available at Supro dealers worldwide

(

https://suprousa.com/official-dealers

)

.