For preset-loving music makers, Analog Lab is a goldmine of legendary synth and keyboard sounds, with thousands of patches to choose from, intuitive controls, and powerful features.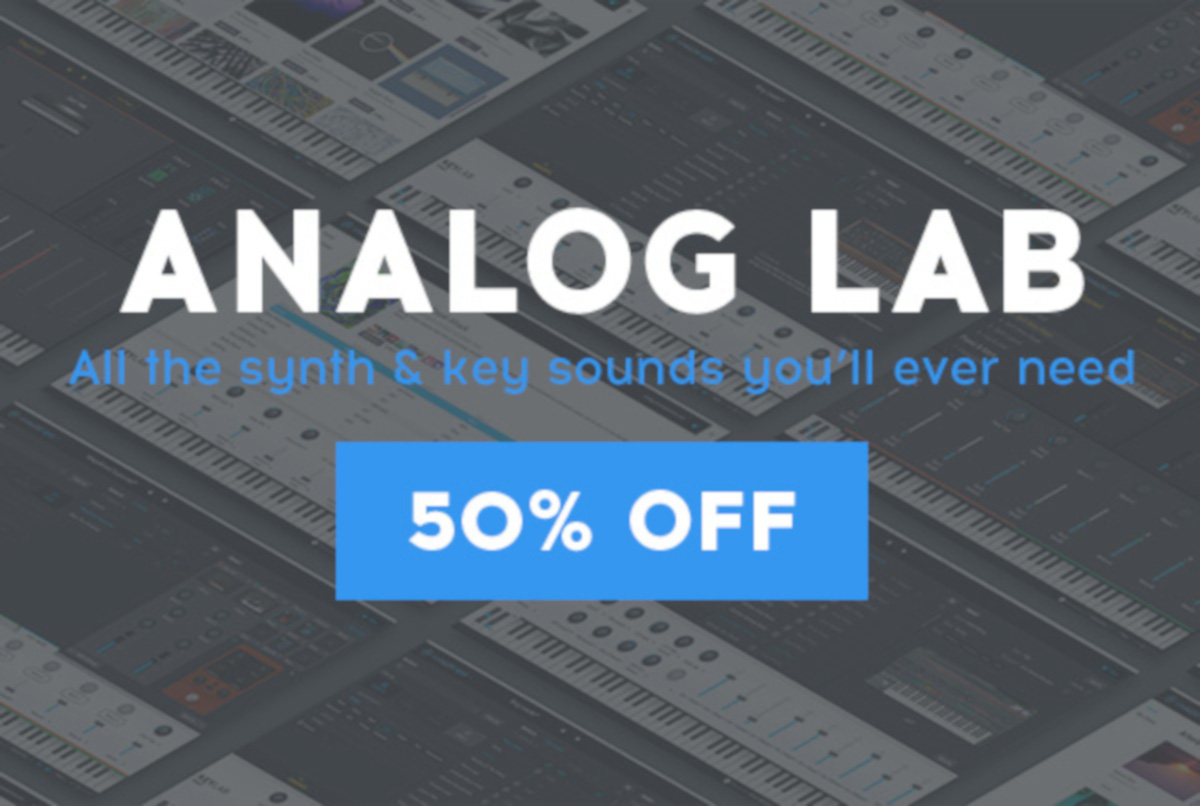 The promotion is on now, and will end on November 4, 2019
More info, visit the Arturia website: https://www.arturia.com/winter-al-promo
Get Analog Lab 50% OFF + 2 sound banks for free:

Everyone who buys Analog Lab during this sale will also receive 2 bonus preset packs for free:
Floyd Tribute
A love letter to Pink Floyd's iconic synth and organ sounds. 30 years of superb sounds at your fingertips.
Razor Bass
64 "all killer, no filler" bass sounds that are guaranteed to fill the floor, and annoy your neighbors.
All sound banks 50% OFF:
At the same time, Analog Lab's Sound Store will be running a half price sale. Hundreds of banks with thousands of inspiring preset sounds will all be 50% off during the promotion.
What is Analog Lab?
Analog Lab is software instrument that gives you access to 6,500+ preset sounds from the full range of Arturia's software instrument collection. You get all the amazing, iconic sounds, but without having to worry about doing any heavy editing or deep-diving controls.
Everything is intuitive, simple, and laid out with quick, inspiring workflow in mind.
Find the right sound easily with intuitive browsing, perform with smart controls, add built-in effects, create splits, combine different sounds into a multis, and even hit the stage with a dedicated live mode.
How does the Sound Store work?
The Sound Store is integrated within Analog Lab. At the touch of a button, you'll be transported into a world filled with bespoke, custom sounds. Each bank has demo patches so you can try it out, and a description to learn more about it.
Among the hundreds of banks, you'll find collections dedicated to your favorite artists, signature series from synth pioneers, genre-specific and themed collections, and focuses on particular instruments.
Price offer:
EXCLUSIVE PROMO OFFER until November 4th:
New customers can purchase Analog Lab for just $99 / 99€.
Customers who own any registered Arturia product can purchase Analog Lab for the even lower price of $69 / 69€.
Customers who own Analog Lab will have access to 50% OFF the Sound Store.