Blue Cat Audio hat eine neue Version seiner PatchWork VST Host Software veröffentlicht. Damit ist es möglich, bis zu 64 VSTs in einer Instanz in einer DAW zu verwalten. Neu in Version 1.1 ist die Automatisierung von Sub Plugins. Der Hersteller schreibt dazu: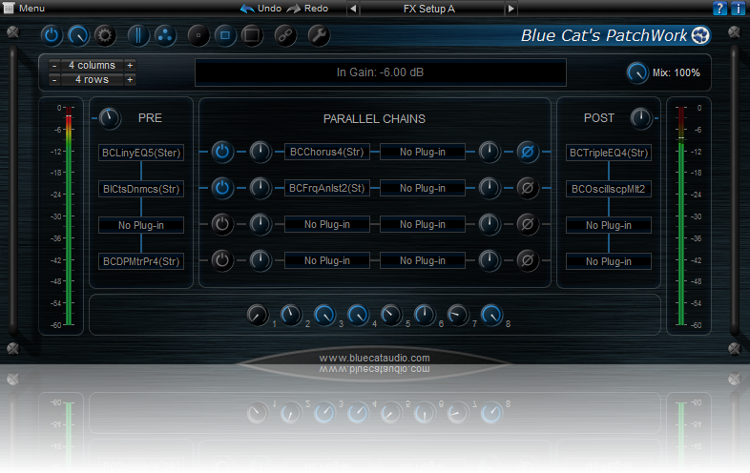 Blue Cat's PatchWork is a universal plug-ins patchbay that can host up to 64 VST plug-ins into any Digital Audio Workstation (DAW) in one instance.
It is possible to chain effects in series or create up to 8 parallel chains that can be activated independently. This lets you create your favorite effects or instruments configurations within the plug-in, without the need for multiple busses. These configurations can be saved as presets and recalled instantly, or shared with multiple DAWs, using any plug-in format (full list below).
Despite the name, you can forget about wires or cables: configuring plug-ins routing is as simple as adding or removing a row or a column in the rack's matrix.
For each plug-in slot, latency compensation, presets management, undo/redo integration, and individual plug-in bypass are included for optimal operation. The plug-in also stores the position of the window for each plug-in so that the layout is restored with your session or saved with presets.
Also, sub plug-ins can be automated or controlled with external control surfaces using Blue Cat's PatchWork parameters mapping capabilities.
The plug-in is available as an audio effect or a virtual instrument so that it can be inserted on any type of track, with up to 8 audio channels.
Input and output level meters are also included to monitor the signal that is dispatched to inserted plug-ins.
Main Features:
Configurable VST plug-ins rack: host up to 64 third party plug-ins or instruments in series or parallel.
Available as an effect or virtual instrument.
Build your own effects chains: up to 8 "pre" and "post" plug-ins slots to chain plug-ins in series.
Parallel processing made easy: up to 8 parallel plug-ins chains, with phase flip and gain controls.
Host up to 8 virtual instruments in parallel and mix them within the plug-in.
Global Dry/Wet control ("Mix").
Parameters Mapping: map sub plug-ins parameters to automate them or use a control surface.
Link pre and post gains for automatic gain compensation.
Copy and paste plug-ins with their settings between slots.
Recall complex processing setups and plug-ins layouts with one click and share them between your DAWs.
Input and output levels monitoring.
Plug-ins Latency compensation.
Supports VST Shell plug-ins.
Integrated undo/redo.
Fully customizable user interface, with multiple sizes.
Blue Cat Audio Standards:
Available as: Mac-AAX, Mac-AU, Mac-RTAS, Mac-VST, Win-AAX, Win-DX, Win-RTAS, Win-VST, Win x64-AAX, Win x64-DX, Win x64-VST.
Native DSP code for optimal performance.
Full MIDI control and automation support with silent, zipper-free parameters update, advanced response control and MIDI Learn.
No CPU load on idle: when the plug-in is fed with silence, the processing smoothly shuts down, to optimize the CPU usage of your Digital Audio Workstation.
Skinnable and customizable user interface with transparency management.
Smooth Bypass: activate/deactivate the plug-in with absolutely no noise.
Undo/Redo.
Full featured integrated presets manager.
Copy/paste the plug-in's state between instances using the system clipboard.
Any sample rate supported.
Hier noch ein Video:
Der Preis liegt derzeit bei 99,- Euro. Die Software wurde weiterentwickelt und kommt jetzt in 64 BIT und mit VST3 Unterstützung auf den Rechner.

Weitere Informationen gibt es hier: Link