Dave Smith hat einen neuen, analogen Synth der Mopho Reihe angekündigt, den Mopho SE. Dieser verfügt eine 44 Tasten Klaviatur. Weitere Merkmale sind:
100% analog signal path
Two oscillators capable of producing sawtooth, triangle, saw/triangle, and variable pulse width square waves, with hard sync
Two sub-octave generators (one octave below oscillator 1 and two octaves below oscillator 2)
One classic Curtis low-pass filter (switchable 2- or 4-pole) with audio rate modulation, self-oscillating in 4-pole mode
Analog VCA
Three envelope generators (ADSR plus delay)
Feedback loop with programmable level and gain
White noise generator
4 LFOs
Gated 16 x 4 step sequencer (one sequence per program)
Arpeggiator
Glide (portamento): separate rates per oscillator
Full-sized, 44-note (F to C), semi-weighted keyboard action with velocity and aftertouch
Full-sized modulation wheel and spring-loaded pitch wheel
Fully programmable with 3 banks of 128 user programs (384 total)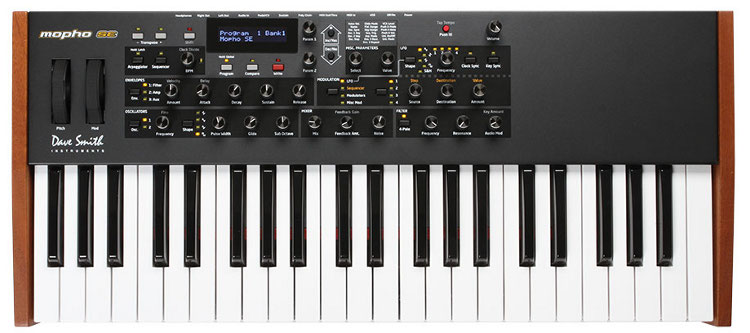 So sieht der Mopho SE aus
Ein Liefertermin, sowie der Preis stehen derzeit noch nicht fest.
Weitere Informationen gibt es hier: Link