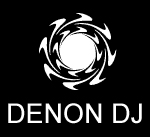 Denon DJ hat seinen neuen DJ Controller MC6000MK2 vorgestellt. Es ist das neue Flagschiff der Denon DJ Controller Geräte und wird ab Januar im Handel zum Preis von etwa 649,- Euro zu haben sein. Derzeit sind die Informationen nur in englisch erhältlich:
Building on its already established, flagship controller and digital mixer, Denon DJ are pleased to announce the new generation, MC6000MK2. Changed, improved and now supplied with Serato DJ Intro software, the MC6000MK2 combines impeccable, steel chassis build quality and rock solid reliability with total, uncompromising Serato compatibility (supports other software with mapping).
Crafted for professional and discerning club, mobile and house party DJ's, the MC6000MK2's control surface is structured to enable plug and play communication, directly with the bundled Serato DJ Intro software. DJ's wishing to add alternative software functionality and video mixing features can buy upgrades for Serato DJ software and Serato Video plug in if desired.
Features & Improvements:
Supplied with Serato DJ Intro, with unit's hardware offering full Plug and Play software control, straight out of the box.
Natively supported by Serato DJ Intro & Serato DJ (full upgrade version)*, Virtual DJ* and Mixvibes Cross*. Denon DJ supplied mappings ensure compatibility with Native Instruments Traktor software.
Fully professional video mixing integration is now possible with the MC6000's video capability. Using the revolutionary Serato Video plugin, DJ's can programme, mix, add transition FX and scratch video just as they do with audio – So now, "What you hear, is also what you see!" A paid upgrade to Serato DJ is required for Serato Video support.
Reliable, realtime channel matrix operation enabling fast and efficient DJ changeovers, plus flexibility to add record decks, table top CD players, USB audio and other auxiliary input devices.
Ability to now utilise 'on trend' DJ performance factors ' Roll' (Loop whilst track stays in real time), 'Sensor' (Serato's Reverse mode) plus 'Slip Mode' (Real time track play under a scratch/loop etc)
Line 1/2 Thru to PC Mode Enabling digital recording of a full DJ performance, whether club, radio or house party to a PC or Mac computer.
Replacing the previous model's two toggle switches, the MC6000MK2 now features Four independent deck layer keys offering error free, live performance deck/track selection
Fast and efficient Serato DJ screen navigation with 'Panel', 'View', 'Area', and 'List' keys
Independent 'Vinyl' button (emulating true vinyl operation), Beats Parameter knob (dedicated for controlling beat attributes), FX Tap Button (to add BPM data), FX Mode Change and now 8 Assign keys for fluid and comprehensive effects control
Improved look, finish and feel to twin-deck, silver platters Class-leading sonic improvements for professional sound playback
Technische Features:
4-Channel, 4-Deck, 8-Source Premium Digital Mixer
Includes SeratoDJ Intro (2-Deck) & Optimized for Serato Video
Also compatible with: Virtual DJ Pro, Traktor Pro2, MixVibes Cross
Slim Tabletop design for Mobile DJ portability
Intuitive 4 deck control, with independant deck buttons (for Serato DJ w/upgrade)
Real-time Mixer Matrix Operation, Analog Sources & USB MIDI/Audio
Included USB Audio Interface (Soundcard) 2in/2out (stereo)
Denon's original, X-F Link Audio/Video Assignable cross-fader function (for Serato Video w/upgrade)
High resolution 105mm Touch-Sensitive Jog Wheel
Smooth 60mm long Pitch Slider with high 14-bit resolution
File browse navigation keys & rotary encoder file selector knob w/illuminated ring
4 + 4 Hot Cue/Sampler buttons w/ bank selector key
Auto/Manual Looping w/Loop Adjust & ROLL
Censor & Slip features
3 EFX adjustment Knobs with on/off buttons and Beats Knob selector
Large size Cue & PLAY buttons
Powerful Shift Key – used for various dual button operation
Search Keys (<< >>) to advance around within the file
Denon's legacy "Pitch Bend" keys
Vinyl on/off button
SYNC key for beat matching between decks
Key Lock on/off button
Filter/Video adjustment knobs with on/off buttons
Selectable PFL input gain & program meters
Independent CUE System (all channels)
Split Cue function with Cue/Master pan knob
High quality, high output Headphone Amp
45mm Channel & Cross Faders
Independent Channel A-B Thru Switch (crossfader)
Cross Fader contour adjustment
Independent 3-Band Channel EQ w/Kills (High-Mid-Low)
XLR Balanced & RCA Unbalanced Master Output
Master Output Stereo/Mono switch
Booth Output w/Source Selector & level control
2 Mic Inputs (XLR & 1/4 TRS)
Mic 3-Band EQ (High-Mid-Low) for Mic 1 & 2
Mic Ducking & Built in Echo Effect for Mic 1 & 2
Various Utility presets to customize user settings
MIDI Mappable control surface (for other DJ applications)
Firmware upgradable over USB
Denon DJ 'Professional Grade' Steel Construction
Kensington lock terminal to prevent theft
AC adaptor powered
MAC OS X 10.6 or later, Windows XP/Vista/Win7/Win8 Compatible
OPtional 19″ rackmount accessory (RM6000) available
OPtional Nylon Flight Case (FB3000) available
Bilder: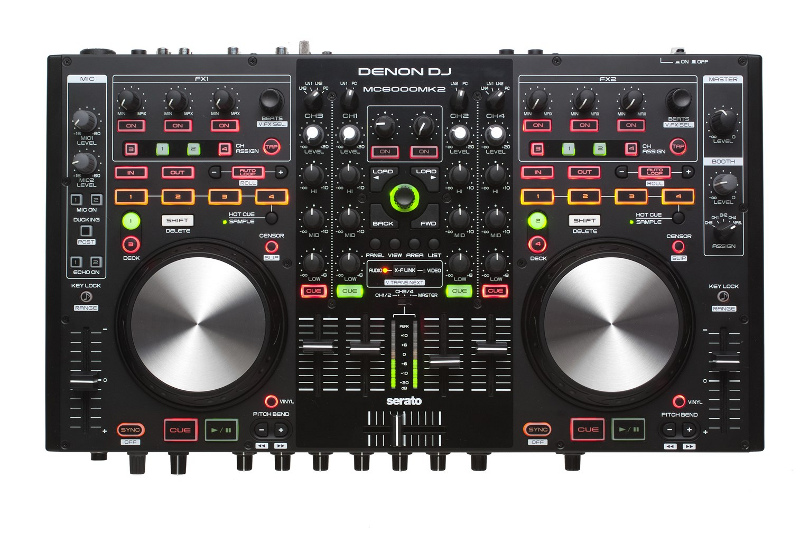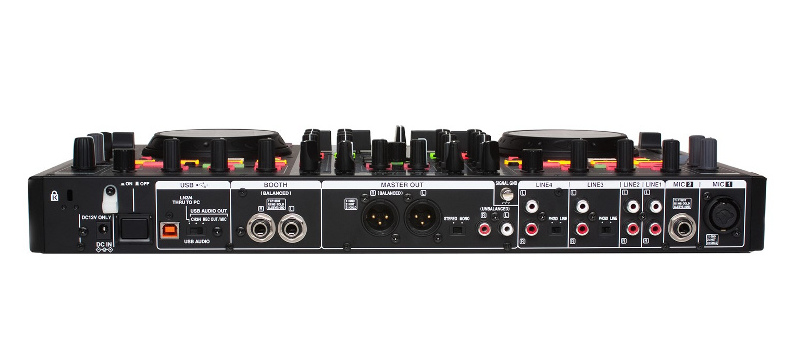 Weitere Informationen gibt es hier: Link