Victory Amplification ist ein neuer Hersteller von Röhren Amps und Cabinets aus England. Momentan sind die Produkte der Firma nur in England erhältlich, was sich aber sicher bald ändern wird. Hier sind die Details zu den einzelnen Produkten:
Victory V10 Combo "The Baron":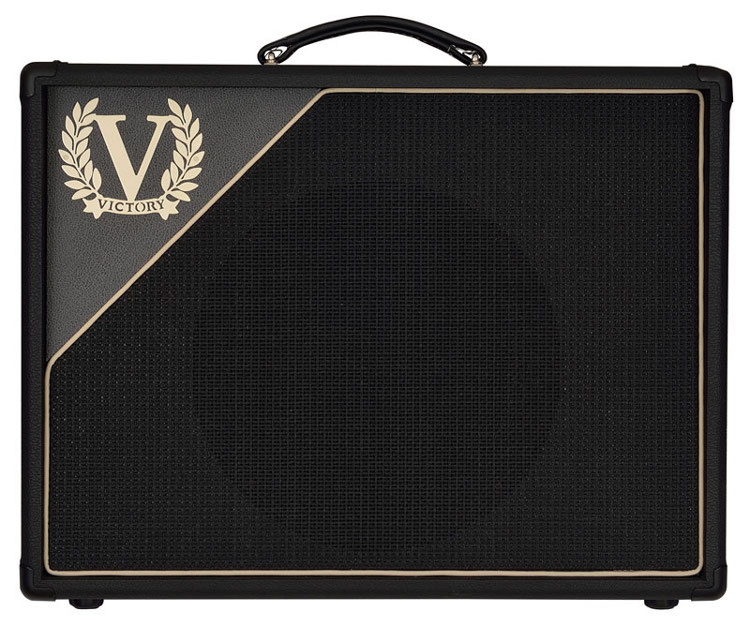 The ultimate 'little-big' amp
for pure valve tone all the way
Superb blues and rock tones
wherever you need them: at home,
rehearsals or small gigs. The power
section features one octal (eight-
pin) and one noval (nine-pin) valve
with separate master volumes. You
can also mix and match valves
to find your perfect balance of
headroom and power section
compression. From natural, light
drives through to searing, thick
sustain, The Baron has it all.
FORMAT:
1 x 12 combo
POWER:
10 watts RMS
VALVES:
3 x 12AX7/12AT7/12AU7,
1 x 6L6, 1 x EL84
EXTRA FEATURES:
Solid pine cabinet,
mixable octal and noval output
valves, footswitchable gain boost,
spring reverb, effects loop
SPEAKER:
1 x 12-inch Celestion V30
SIZE (MM):
598(w) x 453(h) x 250(d)
Preis: 1249,- Pfund
Victory V50 Top "The Earl":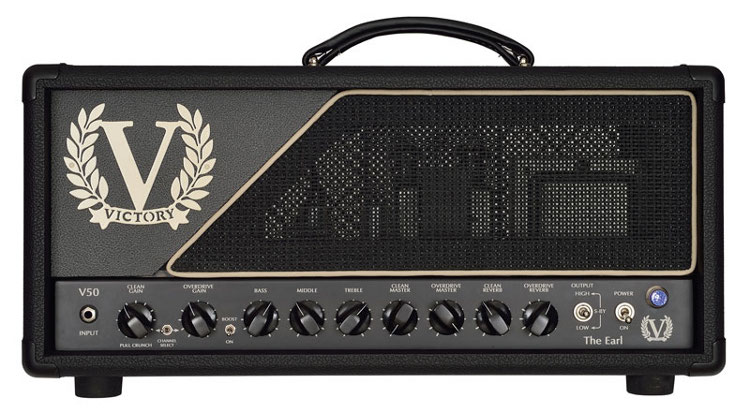 Simple yet versatile: 50-watts
of rock-ready valve tone from
two capable channels
The Earl gives you a wide range
of clean, crunch and lead tones
in a two-channel format. Chest-
thumping power delivery cuts
through when you're playing
live, with enough gain on tap
to cover any musical style from
supercharged blues to screaming
high-gain rock. Simple to use but
chock-full of pro tones, The Earl is
the workhorse that will keep you
sounding great night after night.
FORMAT:
Two-channel head
POWER:
50/15 watts RMS
VALVES:
4 x 12AX7, 1 x 12AT7,
2 x EL34
EXTRA FEATURES:
Pull crunch for
clean channel, gain boost for
overdrive channel, spring reverb
with separate controls for each
channel, effects loop, high/low
power switch, selectable output
bias for EL34 or 6L6 power valves
SIZE (MM):
567(w) x 250(h) x 260(d)
Preis:1499,- Pfund
Victory V100 Top  "The Duke":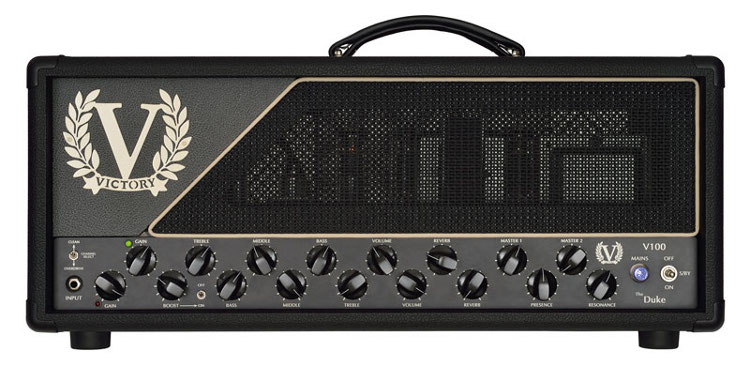 Incredible versatility
delivered with 100-watts
of play-anywhere power
The Duke brings you two channels
of pure cleans, crushing crunches
and searing lead sounds for the
most demanding professional live
and studio environments. With six
footswitchable options including
lead boost, dual effects loops, two
master volumes, spring reverb and
channel selection, the Duke will
keep you rocking with absolute
confidence, gig after gig.
FORMAT:
Two-channel head
POWER:
100/30 watts RMS
VALVES:
4 x 12AX7, 1 x 12AT7,
4 x 6L6
EXTRA FEATURES:
Footswitchable gain
boost for overdrive channel, spring
reverb with separate controls for
each channel, dual master volumes,
two effects loops with auto
assign, high/low power switching,
selectable output bias for using
either EL34 or 6L6 power valves
SIZE (MM):
660(w) x 260(h) x 260(d)
Preis: 1999,- Pfund
Victory 2×12 und 4×12 Cabs:
Get the most from your amp
with our exceptional cabs
Our speaker cabinets are hand
built in England using redwood pine
for top and sides and quality baltic
birch ply for backs and baffles. Our
speaker baffles are angled back by
12 degrees to help with projection
towards you when you're playing.
They're finished in black bronco
vinyl with vintage black woven
grille cloth to match aesthetically
– and of course tonally – with our
heads. Why choose anything less
for your Victory amplifier?
FORMAT:
2 x 12 and 4 x 12
extension speaker cabinets
POWER HANDLING:
120 watts (2 x 12),
240 watts (4 x 12)
IMPEDANCE:
8-ohms (2 x 12),
16-ohms (4 x 12)
SPEAKERS:
Celestion Vintage 30
SIZE (MM):
738(w) x 543(h) x 355(d)
738(w) x 748(h) x 355mm (d)
 Preise: 2×12 499,- Pfund, 4×12 699,- Pfund
Alle Bilder: © Victory Amps
Weitere Informationen gibt es hier: Link