Dave Smith Instruments hat den DSI-Prophet 12 Module vorgestellt. Dave Smith hatte viele Anfragen von professionellen Musikern, die sich ein leicht zu transportierendes Instrument wünschten, dass den Funktionsumfang des größeren Prophet 12 Synth hat. So entstand der DSI-Prophet 12 Module Synth. Hier ist die originale Pressemeldung: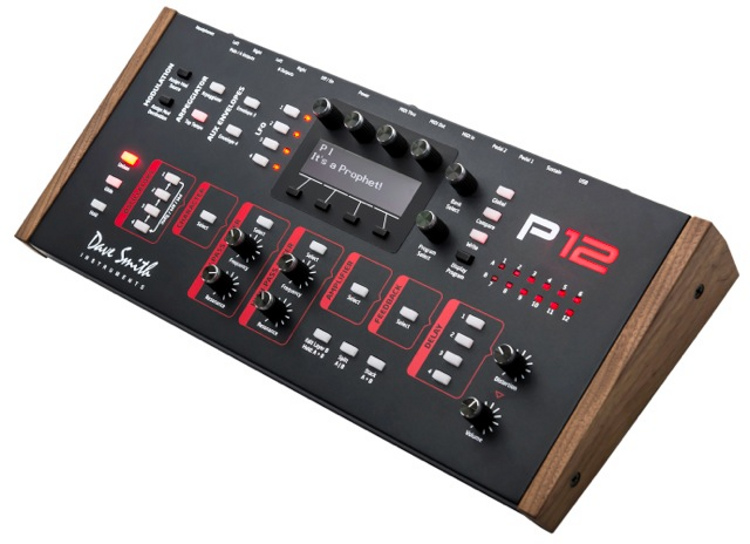 Premier polyphonic synthesizer manufacturer Dave Smith Instruments is proud to announce the Prophet 12 module
— a space-saving tabletop and rack- ready reworking of its recently released Prophet 12 keyboard , the twelve-voice hybrid digital/ analog synthesizer that company founder and renowned designer Dave Smith duly declared his "best synth yet."
"We have had many requests from professional musicians for a small, easily portable version of the Prophet 12 keyboard, with all the same features and incredible sound," says Smith "The new Prophet 12 module is just that: it has all the power of the Prophet 12 keyboard — in fact, it has the exact same voice board — and it fits into a backpack." All those powerful Prophet 12 module parameters are easily editable via a well-thought-through front panel perfectly fit for purpose. "People like small these days ," declares its astute architect. "Many musicians also have more than enough keyboards, or simply don't use keyboards. The Prophet 12 module offers a sleek design that still gives you easy and incredibly fast and intuitive control over all parameters."
Just like its Prophet 12 keyboard counterpart, the twelve-voice hybrid digital/analog Prophet 12 module not only boasts the greatest number of voices of any instrument from the distinguished designer to date, but each of those voices features four OSCILLATORS capable of generating classic and complex waveforms, a sub-oscillator ( Sub Octave), analog resonant LOW-PASS FILTER and analog HIGH-PASS FILTER , and analog VOLTAGE CONTROLLED AMPLIFIER. Additional features include a tuned FEEDBACK path, a four-tap stereo DELAY per voice, expanded ARPEGGIATOR functionality, deep MODULATION capabilities, bi-timbral operation, and much more besides. The CHARACTER section adds a variety of out of the ordinary wave-shaping and sound-sculpting options like Girth (low shelf filtering that boosts low frequencies, with some extra harmonic modification at higher settings), Air (high shelf filtering that boosts high frequencies, with some extra harmonic modification at higher settings), Hack (reduces the bit depth of the mixed output from the oscillators), Decimation (reduces the sample rate of the mixed output from the oscillators), and Drive (emulates tape saturation). Despite its comparatively diminutive dimensions, the back panel I/O of the Prophet 12 module matches that of the Prophet 12 keyboard in almost all aspects — apart from featuring an external power supply in the interests of making it as compact and portable as possible. Headphones, Main/A Outputs, B O u t p u t s, MIDI Thru, MIDI Out, MIDI In, Pedal 1, Pedal 2, Sustain, and USB connectivity are all present and accounted for, making musical communication with the outside world a breeze. Be prepared to be blown away by the Prophet 12 module. It won't break backpacks, but packs more than enough power into its easily carried form factor to meet the needs of modern music makers and savvy sound designers — wherever they take it.
Hier ein Einführungsvideo:
Der DSI-Prophet 12 Module Synth hat einen Preis von 2199,- USD und kann bei autorisierten Händlern erworben werden.
Weitere Informationen gibt es hier: Link