Graham Yeadon hat seiner GVST Plugin Suite ein neues Aussehen verpasst. Zudem sind die Plugins jetzt auch als 64BIT Versionen erhältlich. Insgesamt umfasst das Paket 19 Effekte und 2 Instrumente. Das gute daran: Es handelt sich um Freeware.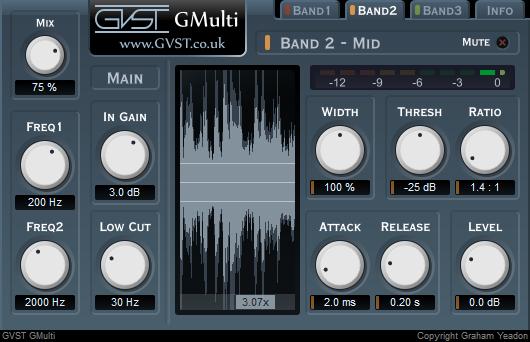 Ein Screenshot der Software
Hier eine Übersicht der Plugins und Instrumente:
Effekte:
GBand – Band-pass filter.
GChorus – Chorus effect.
GClip – Wave-shaping signal clipper.
GComp – Compressor.
GComp2 – Compressor.
GDelay – Delay effect.
GDuckDly – Ducking delay effect.
GFader – Signal gain (-100 to 0 dB).
GGain – Signal gain (-12 to 12 dB).
GGate – Gate.
GGrain – Granular resynthesis.
GHi – High-pass filter.
GLow – Low-pass filter.
GMax – Limiter.
GMulti – Multi-band compressor and stereo enhancer.
GNormal – Noise generator for avoiding denormal problems.
GRevDly – Reverse delay effect.
GSnap – Pitch-correction.
GTune – Chromatic tuner.
Instrumente:
GSinth – Mono synth using three continuous portamento sine generators.
GSinth2 – Extends GSinth by adding triangle, square and saw-tooth wave shapes.
Weitere Informationen und den Download gibt es hier: Link