Vir2 Instruments hat die Cinematic Thunder Software vorgestellt. Dabei handelt es sich um eine Emulation von Orchester Pauken, die mit 3 Mikrofon Positionen aufgenommen wurden. Die Benutzeroberfläche ist übersichtlich und leicht zu bedienen. Man kann die Software derzeit zum Einführungspreis vorbestellen. Die Software benötigt Kontakt von NI.  Hier die Mitteilung von Vir2:
We are proud to present Cinematic Thunder: Epic Orchestral Toms. Recorded in a large concert hall in central California from three mic positions for complete flexibility, Cinematic Thunder delivers an epic sound. From soft and warm to big and bombastic, Cinematic Thunder is an absolute and indispensable production tool.
Cinematic Thunder contains four master patches: Solo Sticks, Solo Mallets, Group Hits and Group Random. The master patches are the natural sound as they were recorded. Each master patch has a corresponding "Slam" patch.  The slam versions have a bigger,  more aggressive sound that is perfect for your next trailer or action cue.
Each drum in the "Solo" patches has left and right hand hits, flams, 3-stroke ruffs, 5-stroke ruffs, and rolls.  There are also combo hits in the highest octave. The Combo hits consist of two toms being struck simultaneously.  We sampled hits from highest pairs to lowest.  In other words, 8"&10" toms, 10"&12" toms, 12"&14" toms, 14"&16" toms, and 16"&18" toms.
Each drum in the "Group Hits" patch has left and right hand hits, and flams.  Like the "Solo" patches, there are also combo hits in the highest octave.  The "Group Random" patch is a great patch for adding big accents, it contains only single hits and flams played at maximum volume (fff).
Cinematic Thunder is powered by the the industry-leading Kontakt engine. It is compatible with VST, AudioUnit, AAX (Pro Tools 10 & 11) and RTAS (Pro Tools 9 & 10) plug-in formats allowing it to work seamlessly within any major sequencer, in addition to standalone use.
Screenshots: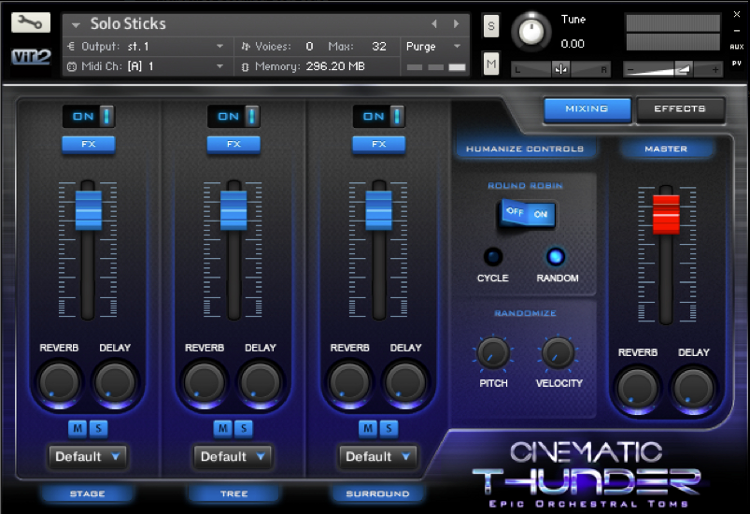 Der Startbildschirm
Die Channel-Fx Ansicht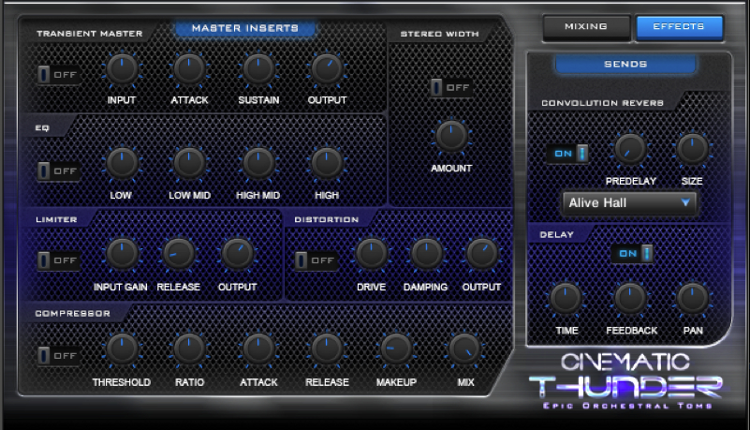 Die Master Inserts Ansicht
Der Preis liegt bei 199,95 USD.
Weitere Informationen gibt es hier: Link