Sample Logic nennt Xosphere "The Most Powerful Atmosphere Creation Tool Ever". Dieses Tool ermöglicht es, bis zu 8 einzigartige Atmosphären zu Morphen. Dafür stehen bis zu 4 Morph-Modul Oszillatoren zur Verfügung. Im Herzen des neusten Produkts von Sample Logic sind der Morph-Regler und der Morph Animator, die für das nahtlose Morphing zwischen 2 Atmosphären sorgen. Aufbauend auf dem großen Erfolg von Step Animator und FX Animator (ARPOLOGY und CINEMATIC KEYS) bietet das neue User Interface das fortschrittlichste Design von Sample Logic. Kombiniert werden dabei Animation mit psychoakustischen Sampling und Hybrid Synthese im kostenlos enthaltenen Kontakt Player oder ihrer vorhandenen Kontakt Vollversion (ab Version 5.3.1). Hier ist die detaillierte Beschreibung in Englischer Sprache:
The Most Powerful Atmosphere Creation Tool Ever: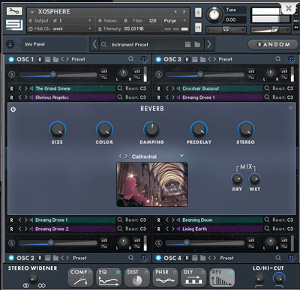 After years of honing the art of atmosphere creation, Sample Logic now brings you the most powerful atmosphere creation tool ever invented – XOSPHERE. Inspired by the principles of synthesis and sampling, XOSPHERE redefines how atmospheres are designed, implemented, and morphed to fit all genres of music and sound design. This product provides advanced tools to simultaneously morph up to 8 unique atmospheres running through 4 morph module oscillators. At the heart of this is Sample Logics newest inventions, the Morph Knob and Morph Animator, which allow for seamless morphing between 2 atmospheres. Building upon the great success of the Step Animator and FX Animator from ARPOLOGY and CINEMATIC KEYS, this new user interface is Sample Logics most progressive design yet. Combining animation with psychoacoustic sampling and hybrid synthesis, XOSPHERE is the last atmosphere tool you will ever need.
Advanced Tools With Massive Power:
Employing Sample Logics advanced randomizer function, more than 100,000combinations of atmospheres can be created per Morph Module Oscillator, with up to 4oscillators per instrument, and thats before adding the numerous custom FX modulesthat come with the interface. In addition to the extremely powerful XOSPHERE engine, Sample Logic has introduced several dynamic, real-time preset browsers for choosing atmospheres, oscillators, and instrument presets. What happens when you put all of this together? Totally custom-crafted, unique, and original soundscapes that are full of organic life and motion, which are perfect for setting the tone of any composition or production. Before you know it, youll be transported to a whole new world of sonic possibilities while you morph between atmospheres effortlessly and endlessly.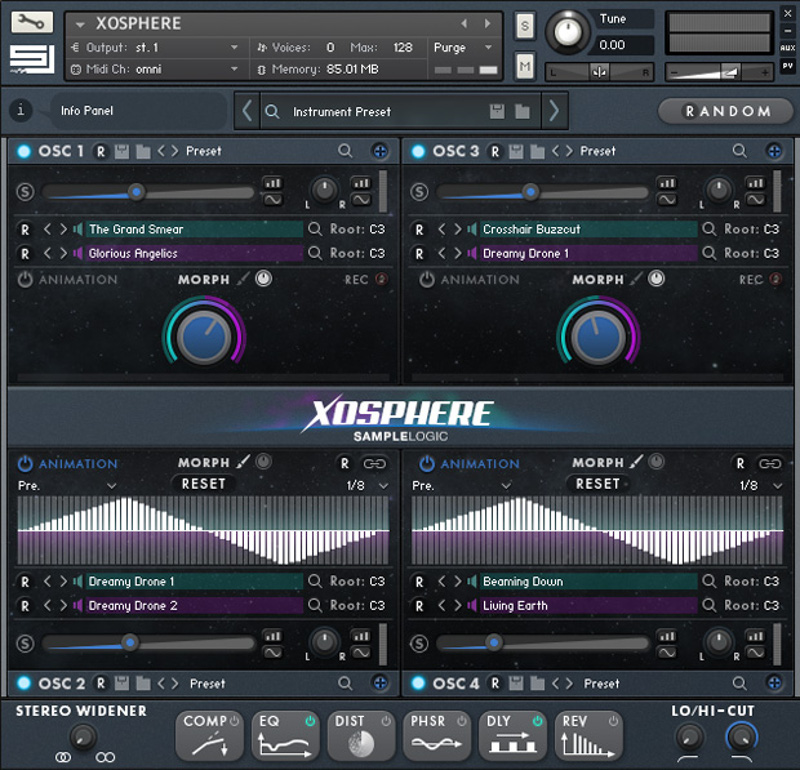 The Interface:
Unique, Interactive, & IntuitiveEach morph module oscillator is powered by 2 sample-based atmospheres, each of which are user assignable and can be morphed manually with the Morph Knob or animated via the Morph Animator. Dont know where to start or what to create? No problem! The dynamic built-in browser for each morph module oscillator makes searching for presets and atmospheres simple. Whether using 1 or all 4 oscillators, theres no limit to what can be accomplished. In addition, each morph module oscillator has independent sound sculpting parameters and effect tools. This includes a fantastic set of FX Animators for automating various parameters. Perhaps the most exciting feature is the inclusion of a Dual Filter Oscillator that modulates the hi-cut filter of each morph module oscillator, generating creative and complex rhythms by animating two hicut filters at different speeds.
Der UVP beträgt 269,- Euro. Bei Best Service ist die Software derzeit noch für 219,- Euro erhältlich, entweder als Download, oder in einer Box.
Weitere Informationen gibt es hier: Link