Der rumänische Hersteller von Studio Möbeln Zaor hat seine Classic Serie um eine neue MEdia Workstation mit dem Namen Ondo vorgestellt. Das Teil sieht nicht nur gut aus und ist zu einem interessanten Preis zu haben. Hier ist die Pressemitteilung: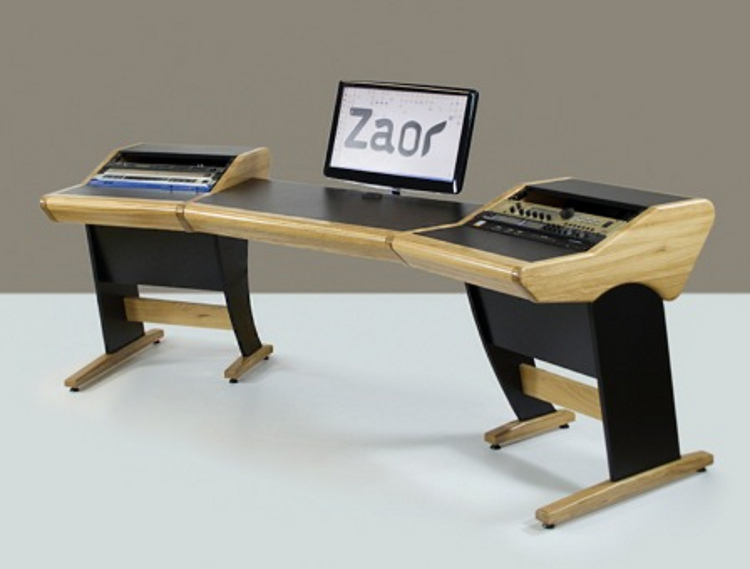 Studio furniture designer and manufacturer ZAOR is proud to introduce the ONDA media workstation — the latest addition to its flourishing family of CLASSIC Series media workstations and accessories designed to meet the diverse needs of today's musicians and producers by balancing build quality and budget beyond compare — as of June 18…
The timeless and aesthetically-pleasing 
ONDA 
design dates back to customer requests for a lightweight yet reassuringly solid media workstation with easily-reachable rack spacing positioned to its extreme left and right when sitting at the mixing sweet spot. Taking things one step further, atop each angled rack is a functional flat surface, sited as such for positioning nearfield studio monitors vertically or horizontally as the user sees fit (or the design of the studio monitor being used allows). All in all, the focus is on durable quality with side panels, front arm rest, and feet all being crafted from solid local oak, which can be left in its natural blond-coloured state or stained to 
Cherry
, 
Walnut
, 
Mahogony
, or 
Black 
— the choice is out there, so choose carefully!
Speaking of choice, the 
ONDA 
is available in various versions to suit user requirements: a straight version, with the two rack bays positioned in parallel at either side of the sizeable work surface — perfect for siting smaller-sized mixing consoles or DAW controllers, such as Solid State Logic's popular Nucleus, for example — or angled at 15 or 30 degrees to form a trapezoidal-shaped work surface, widening towards the rear. 
ONDA 
is ably supported by four stylish, sturdy legs, with the two central legs angled towards the rear to leave plenty of legroom and also provide perfect access to all parts of the media workstation itself. Indeed, a nice touch.
Another nice touch is the lowered panel at the rear of the work surface to allow any computer screen — or any model from Apple's all-the-rage, all-in-one iMac desktop computer range, perhaps — to be positioned on its base stand with the computer screen itself at desktop level for optimum viewing angles when working with centrally-positioned mixing consoles, DAWs, or master keyboard controllers. Below that, an integrated cable management system helps keep things neat, tidy, and professional with access passageways positioned in all the right places. What more could a media professional need or want?
Well, directly addressing diversity of need, today's media-savvy musicians and producers can choose to have their 
ONDA 
media workstation adapted in width, height, angle, and number of rack spaces so it can comfortably accommodate all kinds of equipment configurations. With a few minor modifications — or otherwise, anyone can create a personalised and affordable media production workstation that conveniently comes flat-packed to ease transportation costs, yet comes complete with sturdy mounting kits so anyone needing to move their recording studio can easily disassemble their 
ONDA 
and equally easily reassemble it in their new studio location like new.
Needless to say, the 
ONDA 
more than meets its original design criteria as a lightweight, practical, and aesthetically- pleasing media workstation that is also timeless to boot. Built to last, it is also optimised for price performance and weighs in very little on a studio budget with a basic configuration starting at an RRP of 
€
1,200.00 EUR (including tax).
With an acoustically transparent design and with optional monitor arms, 
ONDA 
provides contemporary musicians and producers with a cutting-edge, versatile workspace that is truly fit for purpose. It is also a perfect example of 
ZAOR
's continued customer-driven innovative approach and available at all 
ZAOR 
retailers now.
Weitere Informationen gibt es hier: Link