Baton Rouge, Louisiana—September 2015… PreSonus has released the Channel Strip Collection and Studio Grand Add-ons for Studio One 3 Artist and Studio One 3 Professional, the latest in a series of Add-on products that enhance Studio One.
---
Channel Strip Collection: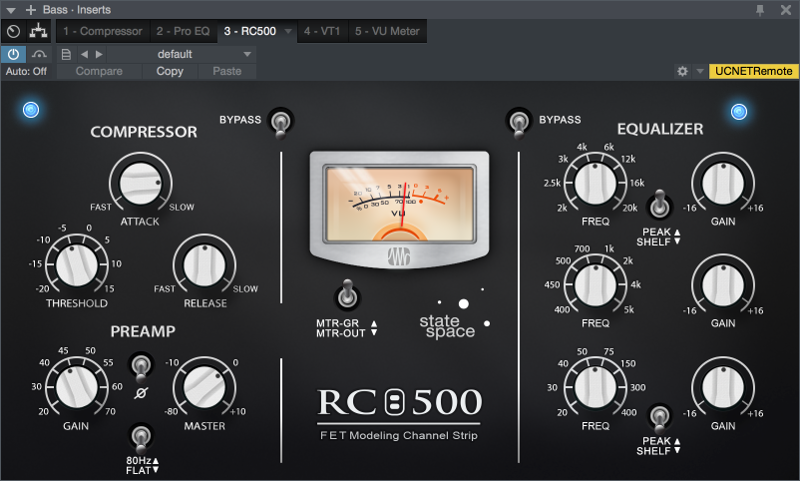 The Channel Strip Collection provides two new channel strip plug-ins with preamp, compressor, and EQ that let you add a distinctive character to your tracks and mixes.
The RC 500 plug-in models the company's popular RC 500 channel strip, which includes a low-distortion, high-gain, solid-state Class A preamplifier; custom-designed FET compressor; and custom semi-parametric EQ. PreSonus' VT1 plug-in includes a modeled high-end tube preamp, along with the compressor and EQ. The compressor and EQ for both plug-ins have been engineered to deliver musically tasteful results, even at extreme settings. In this, they differ from more analytical-sounding plug-ins designed purely based on physical aspects.
The New Realism of State Space Modeling:
The RC500 and VT1 were realized through State Space Modeling, a proprietary, sophisticated, and groundbreaking physical modeling technique developed by PreSonus. The State Space approach analyzes a complete system schematic and recognizes the circuit as a set of discrete differential equations. The involved nonlinear circuit elements are modeled meticulously down to the component level in order to include all those "dirt-effects" that make the analog original sound so good, such as bias shifts, time dependencies, and saturation. The resulting DSP code is then CPU-optimized for maximum efficiency while taking advantage of Studio One's superior sound quality. This progressive technique enables the creation of perfect virtual models of complex audio hardware.
Studio Grand Piano:

PreSonus also released the Studio Grand Piano instrument presets and sample content for Presence XT, which was recorded in a word-class recording studio. This contemporary seven-foot concert grand is the same instrument included in the Presence XT Core library for Studio One 3 Professional but offers ten times the depth and size.
Two microphone sets captured every detail: a matched pair of German condenser mics in the player's perspective and a pair of high-end ribbon microphones placed on the side in the listener's perspective. Each mic set is included as a separate instrument. Studio One 3 Professional users also get a Multi Instrument preset that combines both mic sets and allows them to be mixed individually in the Studio One mix console.
Each note of the octave has been sampled in ten velocity layers with eight alternate (round-robin) samples for maximum realism. Add to this authentic pedal action noise, sustain pedal resonances, and note-off samples, all controlled by powerful custom scripts and script controls. A variety of presets covers every musical style and allows for deep customization.
Availability:
The Channel Strip Collection and Studio Grand Piano are available immediately for $79.99 each.
These are just the most recent of a rapidly growing collection of Add-ons that enhance Studio One 3. In Studio One Artist, you can add VST/AU/ReWire support and Studio One Remote support and can add new instruments to Presence XT. Studio One Prime, Artist, and Professional can all be enhanced with large custom loop libraries. In addition, there are two free Add-ons for Studio One Artist and Professional: the VU Meter, which was modeled using the same technology as the Channel Strip Collection, and the Softube Saturation Knob.
Studio One 3 customers can browse and purchase Add-ons from within the Studio One Browser. For more information, please visit the PreSonus Software Shop at:
Link
For more information on Studio One 3, please visit:
Link