Massachusetts, U.S.A. (8 October, 2019) – Accusonus announce the release of Rhythmiq,  a revolutionary beat-assistant for electronic musicians, producers, live performers and DJs. It uses A.I. to help you turn your tracks into a performance in a way that was previously thought impossible. Rhythmiq is fundamentally different from anything else you've seen. It allows you to re-shape your loops in real time and safely improvise with them while performing live. It's your new 'bandmate' who learns from you! Ιt will boost your inspiration and it will help you create unique live-evolving compositions.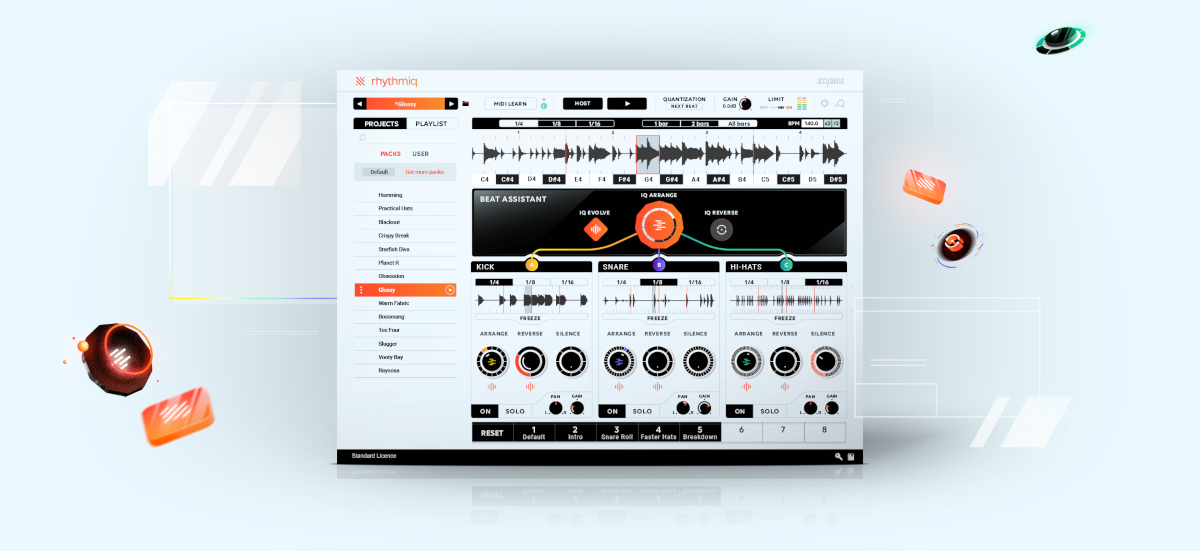 Rhythmiq is the result of over 2 years of development and several tech breakthroughs. It was created to solve the eternal problem of lack of flexibility and freedom, when jamming in the studio or performing electronic music in front of an audience. As a producer, you don't want to fixate over which button to press and which knob to turn – you want to take spontaneous decisions and stay in the flow. 
Rhythmiq analyzes and understands your beats and instantly allows you to create new arrangements. You get unlimited, musically structured and fun rhythms, by turning a simple knob. Generate and save pattern variations, for instantly playable breaks, fills and build-ups. Enable the A.I. Beat Assistant and let it perform your loops in real-time. The Beat Assistant injects your beats with everything from nuanced micro-variations to musical, evolving changes. Although Rhythmiq uses ground-breaking A.I. technology, it is still controlled by you. Launch it while you are playing live or jamming in the studio, tell it how much variability you want and you will experience a new way to jam with your beats and find inspiration.
With Rhythmiq, you'll be able to:
Use A.I. to jam with your beats and finish your tracks

Generate infinite breaks, fills and build-ups from the same beat or layered stems.

Perform your beats live, no finger drumming required

Enable your A.I. Beat Assistant and let it create endless variations of loops in real-time. 

Create musical rhythmiq variations just by turning a simple knob.

Use simple knobs to control rhythmiq's decision making in real-time 
Turn off your screen and experience the future of real-time beat manipulation 
Compatibility:
Compatible:
Ableton Live 10
Apple Logic Pro X
Currently Tested in:
ImageLine FL Studio 20
Presonus Studio One
Cockos Reaper
Intro price is 99,- USD (until end of october) regular price is 149,- USD.
For more indeepth information go here: https://www.youtube.com/playlist?list=PLB4-ankwrMgtzlDD3bUORWEsV0NfM-xAg