June 28, 2018 – Accusonus Inc , developers of music software tools based on artificial intelligence technology, makers of critically-acclaimed software and plug-ins such as drumatom , Regroover and Beatformer announce the immediate release of the ERA-Bundle. The Enhancement and Repair of Audio (ERA) Bundle is a collection of multi-patented audio repair plugins that offer both fast and high-quality processing. With this release, accusonus update their critically-acclaimed ERA Noise Remover (former ERA-N) and Reverb Remover (former ERA-R) plugins. The updated ERA Product Line introduces various user experience improvements, including an auto-gain function for ERA Reverb Remover and a vector-based
and Retina-ready UI with 3 zoom levels. In addition, accusonus release (1) the ERA De-Esser that automatically detects and reduces excessive sibilance with the turn of a simple dial and (2) the ERA Plosive Remover the single-knob tool that instantly fixes unnatural plosive thumps (such as "p", "t" and "b"). ERA-D , the joint de-noise and de-reverberation plugin for post-production professionals is also updated, offering unique features such as the dual microphone workflow and the spectral band processing.
---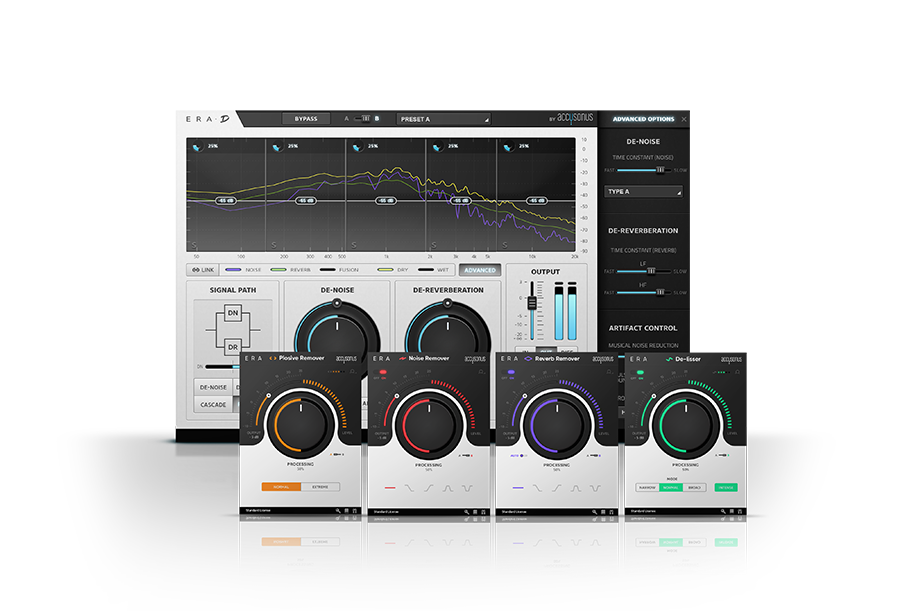 "The importance of audio content is increasing and we are committed to make our audio repair tools fast, simple and accessible to everyone" says Alex Tsilfidis, CEO of accusonus. "With this new release, we are harnessing the power of modern algorithms to create products that can achieve exceptional results in a fraction of the time".
The ERA Bundle Standard includes the following products:
● ERA Noise Remover (formerly ERA-N – Updated)
● ERA Reverb Remover (formerly ERA-R – Updated)
● ERA De-Esser (New)
● ERA Plosive Remover (New)
The ERA Bundle Pro includes the following products:
● ERA Noise Remover (formerly ERA-N – Updated)
● ERA Reverb Remover (formerly ERA-R – Updated)
● ERA De-Esser (New)
Price and Availability:
ERA Bundle Standard (Noise Remover, Reverb

Remover, De-Esser, Plosive Remover)

Intro price: $99 (Reg: $236) -until July 31st-

ERA Bundle Pro (Noise Remover, Reverb Remover, De-Esser, Plosive Remover, ERA-D)

Intro price: $299 (Reg: $535) -until July 31st-
For more informations go here: https://accusonus.com/products/audio-repair/era-bundle-standard and here: https://accusonus.com/products/audio-repair/era-bundle-pro