October 15, 2018 – Accusonus Inc, developers of award-winning audio software tools and machine learning pioneers, announce the immediate release of the ERA Voice Leveler. The ERA Voice Lelever uses new patent-pending algorithms to automatically detect distracting level differences in voice recordings and correct them in real-time. Using the single-knob ERA Voice leveler you can save yourself from hours of manual gain adjustments, without leaving your DAW or NLE environment.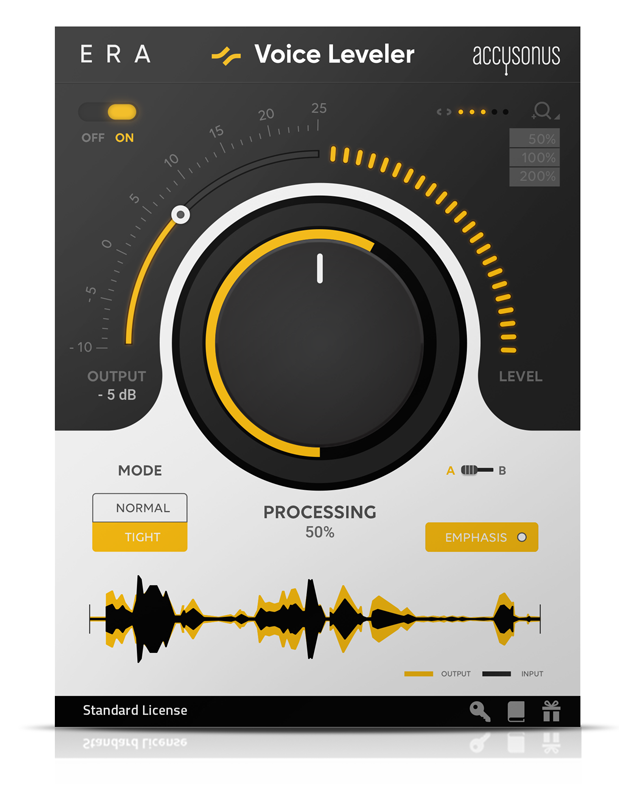 Use the Voice Leveler to fix vocal and dialogue volume problems resulting from:
⦁ Intentional or unintentional speaker movements
⦁ Single-microphone recordings of two or more speakers (e.g. interviews, lectures, etc)
⦁ Sudden gain changes due to audio/video edits and re-arrangements in post production
⦁ Time-varying voice-over or vocal performances
The ERA Voice Leveler detects level problems in real time and you can control it with the turn of a simple dial. It also features a "Tight" mode that provides a more focused "radio" sound that stands out from background music (e.g. audio and video ads, podcasts, vlogs, etc). The unique "Emphasis" mode automatically detects problems in tonal balance of voice recordings (for example when a speaker is not directly facing the microphone or has moved significantly from the mic between takes/scenes) and applies subtle processing to correct them and ensure consistent tone and intelligibility. The ERA Voice Leveler will be part of both the ERA Bundle Standard and the ERA Bundle Pro.
The new version of the ERA Bundle Standard now includes the following products:
⦁ ERA Voice Leveler (NEW)
⦁ ERA Noise Remover (Updated)
⦁ ERA Reverb Remover (Updated)
⦁ ERA De-Esser (Updated)
⦁ ERA Plosive Remover (Updated)
The new version of the ERA Bundle Pro now includes the following products:
⦁ ERA Voice Leveler (NEW)
⦁ ERA Noise Remover (Updated)
⦁ ERA Reverb Remover (Updated)
⦁ ERA De-Esser (Updated)
⦁ ERA Plosive Remover (Updated)
⦁ ERA-D
ERA Voice Leveler Video:
[1] ERA Voice Leveler Presentation
ERA Bundle Videos:
[1] Grammy-Winning Post Production Engineer James Twomey on using the ERA Bundle
[2] ERA Noise Remover Presentation
[3] ERA Reverb Remover Presentation
[4] ERA De-Esser Presentation
[5] ERA Plosive Remover Presentation
For more informations go here: Link