Ample Sound hat die AGF, AGG, AGP, AGM, AGT und AGL Gitarrensoftware einem weiteren Update unterzogen. Dabei kommt bei den E-Gitarren jetzt die gleiche Sample Engine zum Einsatz, wie bei den Akustik Modellen. Die aktuelle Versionsnummer ist nun die 1.6. Der Hersteller schreibt dazu: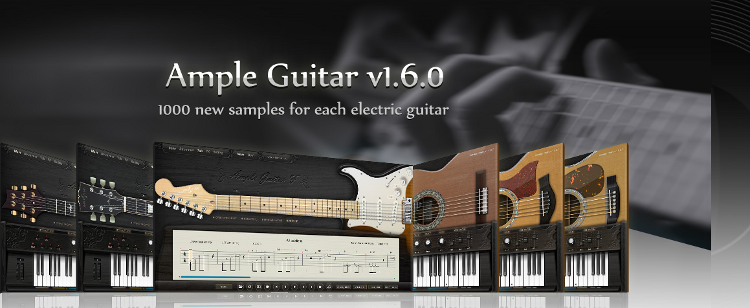 1.6.0
is a completely new version for electric guitar plugins AGF, AGG and AGP with following features:
New sample engine same with acoustic guitar.
1000+ new samples, including Popping, Resonance, Finger Sound, FX Sound, even a new group Pick Touch and some supplements for Sustain.
Tab Player with optimization for electric guitar.
Features which previously only available for acoustic guitar such as Open String First, Keyboard Mode, Alternate Tuner, etc.
Same strummer system with acoustic guitar, including support for chord position and Mute 2 (Note F#4).
Rearrangement of 12 electric guitar demo projects. Added presets for 3rd party AMP\effects. Added projects for Pro Tools 11, Logic X and Sonar.
Attentions to this update:
Users need to download whole new sample library again included in the update.
For old electric guitar projects, users need to move notes between A0 to D#1 two semitones down to make them compatible with new version.
Old presets of electric guitar are no more compatible with new version. However, acoustic presets can be applied because presets of electric and acoustic are same now.
Update for both acoustic and electric guitars includes:
Added an alternative auto legato mode Auto Slide in addition to Auto HP.
Added Online Activation.
Fixed minor bugs.
All updates are free of charge. Existing Ample Guitar users can get their updates on the MyAmpleSound page.
Weitere Informationen gibt es hier: Link