Virtual Acoustic aus Serbien hat sich auf die Virtualisierung von Guerrini Akkordeons spezialisiert. Das neuste Produkt tägt allerdings einen anderen Namen: Scandalli Super 6. Es verfügt über 12 Register für die rechte und ein Register für die linke Hand, inklusive aller Geräusche für die Tasten, Register und Release. Reverb, Echo und Attakzeit können in der benutzerfreundlichen Oberfläche eingestellt werden. Die Software benötigt Kontakt 5, oder höher, von NI.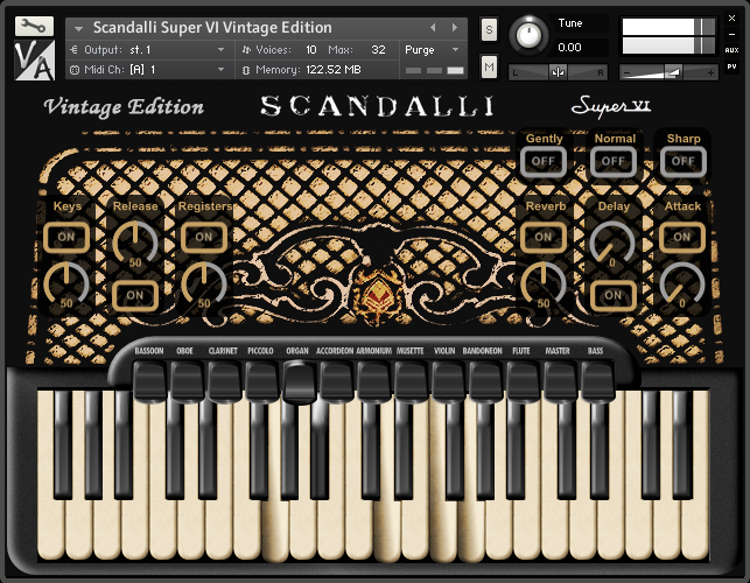 Einzelheiten:
Legendary Scandalli Super 6, piano accordion, 1961th.
44.1 kHz / 24-bit.
2116 samples / 1.26GB.
All original 12 right hand registers / 41 keys.
Left hand "Master Bass" register / 120 buttons.
Right and left hand in the same loaded .nki patch.
4 variations for right hand (Intelligent random X4).
2 variations for left hand (Intelligent random X2).
Right hand instruments in 3 dynamic levels.
Right hand voices looped – unlimited length.
Controllable key, release and register noises.
Built-in changeable reverb, echo and attack time.
Force playing gently, normal or sharp.
Dynamic bellow controllable by expression pedal.
Natural "suffocate" tone effect.
Vibrato – bellow shake (left hand effect).
Der Preis soll bei 349,- USD liegen. Ein Erscheinungsdatum und weitere Informationen liegen derzeit noch nicht vor. Wer sich für die anderen Software Produkte von Virtual Acoustic interesseiert kann hier nachschauen: Link