Montreal, Quebec—April 11, 2017—Applied Acoustics Systems today announces the release of Objeq Delay, an all-new effect processor.
---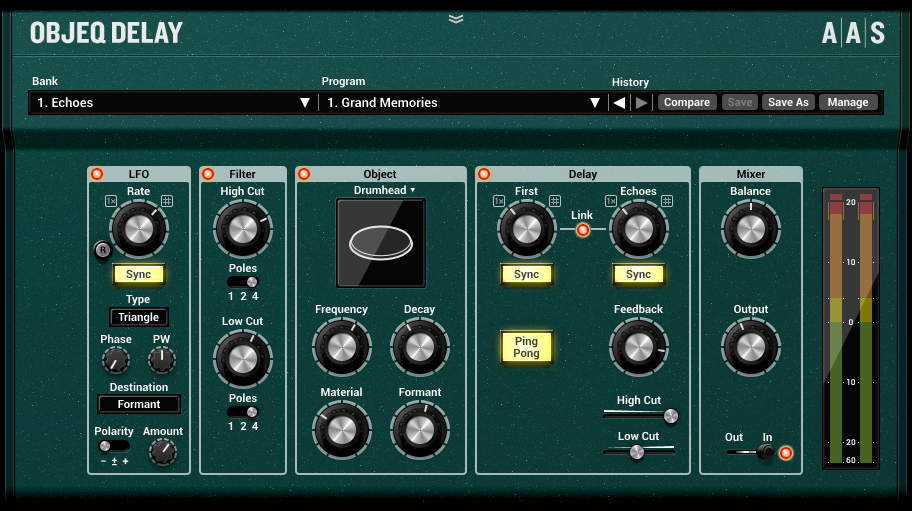 Objeq Delay is a creative effect plug-in combining acoustic filtering with a clever delay unit. The plate, beam, drumhead, and string objects impart evocative acoustic resonances to the input signal. Further shaping is also available via low- and high-cut filters. The in-series delay acts as a classic unit or can split the first and subsequent repeats to either remodel the attack or create complex rhythmic patterns. A LFO module completes the package with comprehensive modulation destinations to the filter, resonator, and delay parameters.
"Objeq delay is a truly creative and fun effect with multifaceted applications," said Eric Thibeault, the product's designer, "Objeq Delay is obviously a great delay unit, but the complete feature set takes it to another level. The acoustic resonator is a great percussion track enhancer—it's fantastic on kicks and snares. The split between the first and subsequent echoes can mangle simple loops into new complex rhythms. The LFO allows various modulator-type effects such as flanger and chorus. And then when you bring it all together, a highly resonant object with the delay brings you into the drones territory."
Pricing and Availability Objeq Delay is available now at a suggested retail price of US$139 but until May 15th, 2017, it is offered at the introductory price of US$99.
Objeq Delay runs on both Mac OS X and Windows in 32- and 64-bit host sequencers supporting the VST, Audio Units, and AAX Native plug-in formats.
AAS Objeq Delay—Acoustic Filter and Delay
https://www.applied-acoustics.com/objeq-delay/