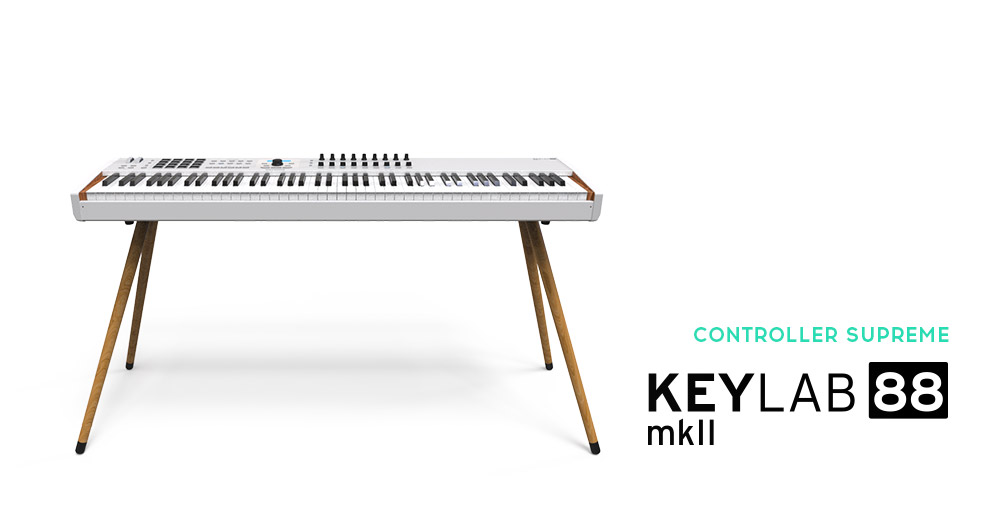 This top-tier controller keyboard features the superb piano-feel 88 note keybed found in the industry-standard original, but with the updated feature set of the KeyLab MkII series, and an amazing software collection worth over $700.
Designed for professional musicians, session players, live performers, studio engineers, and demanding producers who want the best of the best, with no sacrifice made in terms of playability, expression, versatility, and sheer quality. Whether the proud owner of a KeyLab 88 MkII is an experienced pro, or an aspiring producer, they will make great use of the amazing included software titles, DAW control, customizable setups, and seamless integration.
KeyLab 88 MkII key features
88 note, velocity sensitive Fatar TP/100LR piano weighted keybed with aftertouch
4 CV/gate connections: pitch, gate, mod, input
Perfect Analog Lab integration
Full integration with all Arturia software instruments
Universal MIDI controller: control any software or MIDI-enabled hardware
Control presets for different DAWs, magnetic overlays for easy reference
Huge pedal connectivity: expression, sustain, 3 customizable connections
Mackie / HUI compliant DAW Command Center
Comprehensive music software bundle included
A software bundle that dreams are made of:
Made to inspire, excite, and bring out the best in every user, each model of KeyLab 88 MkII includes the following software titles:
A collection of over 6,000 keyboard presets taken from the award-winning Arturia V Collection, powered their exclusive TAE® and Phi modelling technologies. Featuring every type of keyboard sound you can imagine, from analog monosynths to lush pianos, organs to digital powerhouses, samplers, string machines, and quirky modular gear. All accessible through an easy to navigate, tag-based browser, with options to add effects, create powerful combi sounds, create sets, and hit the stage with a dedicated Concerts mode.
Piano V
Arturia's acclaimed piano studio software instrument. This software title is the equivalent of having a customizable studio full of classic upright, concert grand, and esoteric pianos at your disposal. Each one tuned to perfection, ready for you to explore. Recreated through physical modelling, you can change the tonality and response in any way you like.
Wurli V
"You're My Best Friend", "I Heard It Through The Grapevine", "Get Back", all these classic tracks used the famous Wurlitzer to pulse away with that vibrant, organic tone. KeyLab 88 MkII comes complete with Wurli V, the most accurate version of a vintage Wurli ever created in software. Now users can enjoy the same sound that captivated Queen, Marvin Gaye, and The Beatles.
VOX Continental V
A perfectly modelled recreation of the classic transistor organ whose burning tone was loved by everyone from The Doors to The Stranglers. The circuitry and drawbars behind this classic organ have been perfectly recreated in software, letting you play the sound of some of the greatest hits of the '60s, '70s, '80s and beyond, all from the comfort of your computer and controller.
An introduction to the world of Ableton Live, a high-powered software suite used by top producers, DJs, performers, and remixers all around the world. Live Lite lets you record your ideas, layer tracks, warp audio, and release your productions.
KeyLab 88 MkII is a powerful statement piece for the pro studio, "mission control" for all your production needs, and an addictively fun, expressive instrument to play and perform live. Combining looks, workflow-enhancing features, build quality, incredible keys, pads, faders, modular compatibility, and DAW controls; KeyLab 88 MkII is the full package.
KeyLab 88 MkII will begin shipping worldwide at the end of June 2019.
KeyLab 88 MkII will retail for 899€ street price / MSRP $999.