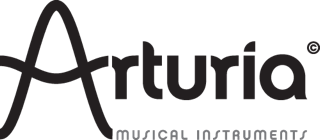 Arturia hat den Prophet VS Digital Synthesizer für das iPad portiert. Die Software gibt es alleine, oder im Bundle mit dem Minimoog im App Store. Die Preise liegen bei 9,99 bzw. 17,- USD. Hier ist die Pressemeldung von Arturia: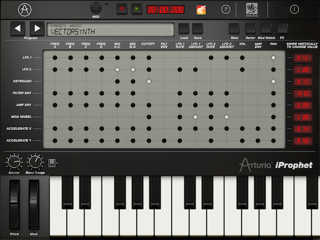 Arturia is proud to announce availability of iProphet— an authentic emulation of the Eighties-vintage, California-created classic Prophet VS Digital Vector Synthesizer, Sequential's first digital design (and, alas, the final synth, sadly, from the iconic innovative instrument manufacturer) for Apple's popular iPad platform — as of September 30…
 
To fully appreciate Arturia successfully and significantly bringing back to life Sequential's somewhat easy-to-use Prophet VS Digital Synthesizer swansong in an even easier form as the convenient and cost-effective iProphet app for Apple's popular iPad platform, we must first turn back the pages of history for a little lesson in digital synthesis developments.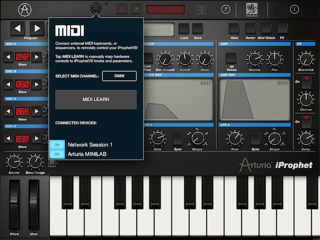 Upon its 1986 release at a time when seemingly synth manufacturers everywhere were moving away from traditional analogue designs in favour of creating all manner of weird and wonderful synthesis techniques, the trailblazing Prophet VS Digital Synthesizer signalled a major milestone in synth history as an alternative means of speedy sound creation. Californian creator Sequential Circuits had already found fame and (good) fortune with its iconic Prophet 5 — the world's first fully programmable polyphonic synth — while company founder and mentor Dave Smith acted as the primary driving force behind MIDI (Musical Instrument Digital Interface) — he coined the acronym, in fact. Ironically, MIDI was communicatively central to the various difficult-to-understand digital designs being bandied about at the time by various rival Japanese giants and European outsiders — think FM (Frequency Modulation) synthesis from Yamaha with its market- dominating DX line, PPG's funky forays into wavetable synthesis, Casio's cunning Phase Distortion, and LA (Linear Arithmetic) synthesis from Roland, to name but several significant examples. The struggling Sequential responded in kind when worker Chris Meyer made some revealing private investigations into how PPG was achieving its distinctive-sounding wavetable scanning and concluded that two-dimensional crossfading would work better than the upmarket German competitor's one-dimensional approach, and Vector Synthesis subsequently arrived as Sequential's saving grace — as hoped for on paper at least — featuring four oscillators per voice, no fewer than 96 factory-preset waveforms, 32 user-definable waveshape locations, plus, of course, its pièce de résistance… joystick- driven dynamic waveform crossfading. "Vector Synthesis is much more than just cramming four oscillators into a voice; the continuous crossfading between four waveforms provides incredible animation to the sound," says its inventive instigator in retrospect. For the first time, users could choose four waveforms, assign them to four oscillators, move the joystick around, and save the resulting movements to create hitherto unheard sounds almost instantly!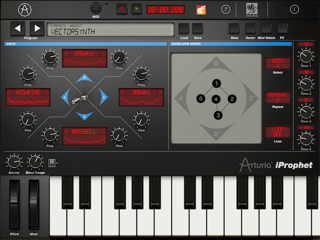 As it happened, however, the Prophet VS Digital Synthesizer sadly did not prove to be the coup d'état that Sequential were hoping for, after all. Innovation alone clearly could not save the financially-stressed Sequential from biting the dust, and, like its Californian creator, the phenomenal-sounding Prophet VS Digital Synthesizer soon disappeared into the annals of history (having first made it into the hands of a chosen few, gracing pioneering electronic music recordings from a number of outstanding synth stars such as Depeche Mode and Vangelis, as well as fellow film soundtrack composer — and acclaimed director — John Carpenter)… until Arturia got its collective hands on a Prophet VS, that is, opening a whole new chapter of soft synth history! "I'm very happy to see Vector Synthesis live on with the iProphet," continues Chris Meyer, while graciously singing Arturia's praises thusly: "And I'm thrilled to see that Arturia improved on the original hardware instrument by adding oscillator sync — which was considered for the original instrument, removing the sidebands on the high notes, and sidestepping the flakey aftertouch sensors on the keyboard version of the VS."
Voilà! With iProphet's introduction, then, today Arturia has boldly brought those pre-eminent Prophet VS Digital Vector Synthesizer sounds back to life on a wider-reaching scale than ever by bringing a whole new pallet of tones to the iPad that have never existed on this popular platform before. By authentically emulating the still-sought-after sound of the Prophet VS using the TAE® (True Analog Emulation) engine from Arturia's award-winning Prophet V soft synth for Mac and PC, Arturia has effectively breathed new life into this thin on the ground yet heavenly hardware synth, resolutely revamping the user interface into something that makes more musical sense than ever before.
 
Just like its historic hardware ancestor, iProphet uses Vector Synthesis to create its sounds, allowing for tremendous timbral variation over time, which, in turn, turn it into a 'pad monster machine' belying its host's compact and bijou size! Sound can then be processed using subtractive synthesis-like techniques on a typical analogue instrument using a multimode (Low-pass, Band-pass, High-pass, and Band reject) filter and output effects (CHORUS, OVERDRIVE, and DELAY) via a dedicated FX page. Pièce de résistance? Try the Vector mode. Here users can access and edit the Vector envelope parameters in greater detail to create all kinds of new sounds not possible with other synthesis types. All highly visual, all highly intuitive — much more so than the original Prophet VS Digital Vector Synthesizer, such are the benefits of iProphet's popular platform that are plainly visible for all to see (and hear).
Of course, communication with the outside musical world is a must, and, again, the TabletopTM-ready iProphet delivers like no other. Using the (separately-sold) Audiobus app, users can interface iProphet with a number of other iOS apps, using other virtual MIDI controllers to send note information to iProphet or record the output to DAWs. iProphet will also work with CoreMIDI interfaces and CoreMIDI devices via Apple's Camera Connection Kit or Wi-Fi, with Arturia's own MiniLab and KeyLab 25 keyboard controllers making for a perfect portable performance companion. Coming full circle, Apple's interapp-audio allows for audio patching, similar to Audiobus, and iProphet supports interapp-audio transports at the top of each of its screens, so users can control record and playback functionality directly from iProphet itself. Import and export presets between iProphet and Prophet VS (within Arturia's award-winning Prophet V)!
iProphet includes hundreds of presets from top sound designers, all conveniently categorised to help get the creative juices freely flowing. Fortunately for the musical masses, it is easier than ever to access those history-making Vector Synthesis sounds thanks to Arturia's innovative iProphet now that it is increasingly difficult to acquire an original Prophet VS Digital Vector Synthesizer due to the high prices that they can command. Take a trip down musical memory lane by taking a trip to Apple's App Store to make a trouble-free online purchase — and all for not much more than the price of a glossy monthly magazine! Why wait?
Hier noch zei Videos:
<
Weitere Informationen gibt es hier: Link