BOSKOVICE, CZECH REPUBLIC: host application and audio effects developer Audified is proud to announce availability of RecAll — revolutionising risk-free "Record it all" live event capture as an easily set up and easy to use multichannel MacOS application (developed in Cocoa, directly accessing Core Audio) — as of April 20…
---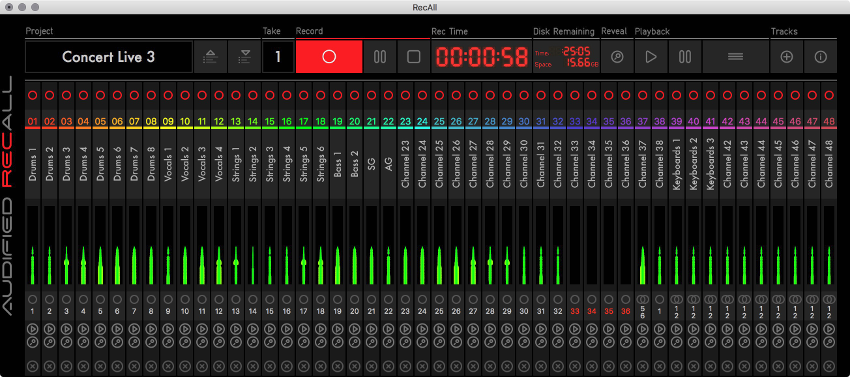 RecAll really resulted from the facts of (recording) life (often on the road) posing some serious questions. Questions like: An awesome live show but no time for slow DAW (Digital Audio Workstation) preparation? Risk missing an important part of the event? Easier said than done, Audified advanced some simple solutions: Record it all. Simply. Quickly.
Not quite so simple — or quick, probably, putting those solutions into practice produced an appropriately named result: RecAll. Reality dictates that when working sound reinforcement events there is usually next to no time available for ancillary recording. After all, although most DAWs can be set up to record multichannel events, configuring them to do so is never a straightforward event in itself. Indeed, truth be told, overly-featured DAWs are not really geared up for risk-free, no-nonsense live event recording. RecAll revolutionises that sorry scenario. Simply. Quickly.
Quickly cutting to the chase, how does it do that, then? The RecAll name gives the game away. Record it all. Simply. Quickly. Open the application, select the setup from the template menu, and hit Record. Really, it's that easy! No need to spend valuable time repeatedly naming inputs and channels on a DAW anymore as RecAll takes care of that. That being said, it also allocates intelligent metering, automatically toggling between the two types available during the recording process. Before recording
starts, standard meters show the input level at the time. When recording starts, the meters show the signal history, so no need to check them constantly, which is especially useful if RecAll's main window is hidden. Preview recorded tracks with the click of a button. Export the takes into (almost) any DAW for mixing — all the tracks are automatically structured and titled when dragging and dropping the files from each take. Intelligent multitrack recording… without the trouble.
Trouble-free, easily set up, and easy to use, Audified's revolutionary RecAll multichannel MacOS application allows for a maximum of 256 stereo and mono channels. All are recorded as CAF (Core Audio Format) files, a 'container' for storing audio designed by Apple to overcome limitations of older digital audio formats. Firstly, it is not limited to a 4GB file size, so can theoretically save hundreds of years of recorded audio due to its use of 64-bit file offsets. That in itself renders the file format as a perfect candidate for live event recording — always a risky business by virtue of there being no second chances. CAF also allows use of the files to the point where recording stopped, even if forced upon the unsuspecting recordist as a result of unfortunate or unforeseen scenarios, such as running out of disk space on the drive being recorded to or disconnection — accidental or otherwise — of an audio interface. Helpfully, however, RecAll offers three ways to open a project — one for creating a new project with a fresh hardware connection (selecting the number of stereo and mono channel strips), one for creating a new project with existing hardware (reusing an already-created channel setup, track names, and colours), and, crucially, one to continue working on an already-created project (which is useful if RecAll had to be quit through no fault of its own before continuing with an existing project).
Project configuration adjustments can be made directly from within RecAll's main window, including adding or removing channel strips, arming channels for recording, and toggling between mono and stereo tracks, while complete configuration is available in the Inspector window, where users can select one or more channel strips to be edited using standard modifiers, such as shift (to select a range of channel strips) and command (to select several strips at any position). Once in the Inspector window, assigning channel strip names and colour, arming channels for recording, toggling between mono/stereo, and assigning channels to the strip remains simplicity itself. It is also worth noting that if multiple tracks end up with the same name, RecAll automatically adds indexes to distinguish between them. Manually reindexing a channel strip is also perfectly possible, in which case RecAll reindexes the rest of the channels strips to ensure unique naming remains intact.
Risk-free recording duly completed, RecAll users can quickly check the recorded files from the main window or within the Track Player window (which can be detached from the main bar by simply dragging it to another position). Press the Play button in the main bar to play the master (mixed) track or press the Play button in individual channel strips to listen to individual input recordings. Most of the playback controls are standard and are just like the transport found in any DAW. Alternative takes — part of a recording between pressing the Record and then the Stop buttons (visible to the right of the Project name) — can be heard by using the < or > buttons (or selecting from the Take menu).
More meaningfully, as implied by its appropriate appellation, RecAll really records it all. Simply. Quickly. Question is: if tasked with recording an awesome multichannel live event, is it really worth risking using anything else?
RecAll is available to purchase for $49.00 USD from Audified's online shop here: https://shop.audified.com/products/recall (Note
RecAll requires iLok License Manager 3.1.6 or newer as it is protected by PACE Anti-Piracy Inc.'s software machine license or
USB smart key device, details of which are highlighted here: https://shop.audified.com/pages/how-to-activate-ilok-license)
The latest version (1.0.2) of RecAll can be directly downloaded for MacOS (10.9 and above) from Audified here:
https://services.audified.com/download/RecAll-1P-102-Mac
For more in-depth information, please visit the dedicated RecAll webpage here: https://shop.audified.com/products/recall
RecAll can be seen and heard in this informative introductory video here: https://youtu.be/bwObwZsPLLY