TALLMAN, NY, USA: affordable high-quality audio products producer Avantone Pro is proud to announce availability of its CLA-10™ classic studio reference monitor — manufactured as a full-range, two-way passive pair for fixed or remote locations while also accurately recreating an iconic studio monitoring mainstay, much loved in the music industry among pop and rock recording engineers to this day as a valuable mixing tool with which to reveal shortcomings in recordings — as of June 22…
---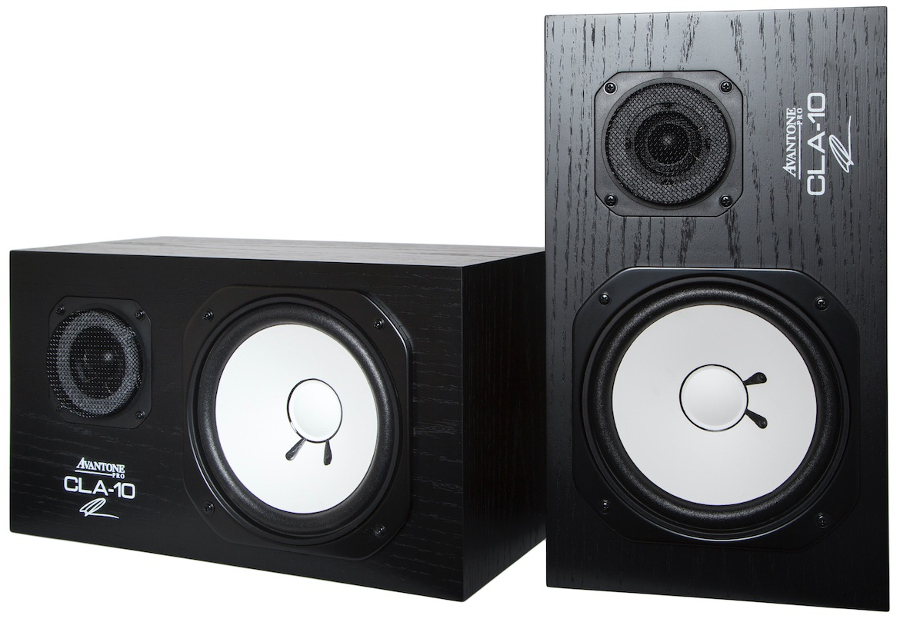 Times change, as does technology. That being said, today's newly developing age of high-definition audio does not necessarily negate recording shortcomings. Studios still primarily use two- or three-way large monitors designed to represent a wide range reference viewpoint at higher listening levels and there is still a need to hear what a mix will sound like when played back over small systems, such as car stereos, clock radios, computer speakers, and televisions. Indeed, it is important to make mixing judgements based on listening to reference monitors that will not impart tonal anomalies caused by crossovers or inferior full-range drivers. Paying particular attention to the critical midrange vocal/guitar/keyboard areas is always advised.
As such, over a year of R&D (Research & Development), comparative listening, and tweaking went into voicing Avantone Pro's CLA-10™ while working in close collaboration with five-time GRAMMY® Award-winning mix engineer Chris Lord-Alge — hence having his signature grace the finished, familiar-looking cabinet. The result is a very accurate recreation of an iconic studio monitoring mainstay, much loved in the music industry among pop and rock recording engineers to this day (despite discontinuation of the original product in question back in 2001). Much more recently, listening tests in studios show that recording engineers accept the CLA-10™ as a transparent replacement — just ask Chris Lord-Alge, an assuredly talented and incontrovertibly impressed individual, as evidenced by his following flattery: "I put my mixing reputation on these great speakers… I am mixing on them as I write this."
The CLA-10™ clearly meets its engineering and performance objectives, attributed, in part, to a 10.4-litre sealed design cabinet
constructed of non-layered, high-rigidity MDF (Medium-Density Fibreboard) — chosen for its natural low-resonance characteristics —finished with an outer layer of real wood veneer. Visually and tonally fusing the past with the present, Avantone Pro utilised the latest in FEA (Fine Element Analysis) modelling to achieve its custom-designed 180mm AV10-MLF low-frequency driver based on paper cone construction with 'old-school' speaker design artistry, thanks to the finest pulp material that performs as closely as possible to the original by being press formed rather than die cut for tonal consistency. Cloth surround material is made in Japan for added authenticity and has unique damping characteristics, enabling a predictable compliance over the lifespan of the driver. Avantone Pro's custom-tooled frame supports the driver/cone combo to minimise mechanical transfers while the 35mm AV10-MHF high frequency silk dome-based tweeter is as close a match to the original as can be made, making for both a frequency (60Hz – 20kHz) and voicing match to the classic sound so admired by the likes of Chris Lord-Alge — hardly surprising since those aforesaid AV10-MLF and V10-MHF critical components have been
extensively field-tested in top LA and NY studios to universal acclaim as drop-in replacements for both Avantone Pro's own CLA-10™ and also the iconic studio monitoring mainstay it recreates so accurately.
Anyone seeking a transparent replacement for their much-loved nearfield studio monitoring mainstay as a valuable mixing tool with which to reveal shortcomings in recordings should seriously consider investing in Avantone Pro's CLA-10™. Clearly its sound should be as familiar as the distinctive looks it also accurately recreates. Indeed, its (381.5mm x 215mm x 197.5mm) cabinet dimensions and (6.3kg) weight will make transitioning to the carefully crafted CLA-10™ when waving goodbye to the 'dearly departed' seem seamless. Some studio visitors may even do a double take when told that the same speaker stands or console bridge boast new classic studio reference monitors!
The CLA-10™ arrives at Avantone Pro's US Dealers (http://www.avantonepro.com/us-dealers.php) in August 2018,
priced at $699.00 USD per pair. (Worldwide Distributors are listed by country here: http://www.avantonepro.com/worldwide.php)
For more in-depth information, please visit the dedicated CLA-10™ webpage here: http://www.avantonepro.com/cla-10.php
Watch five-time GRAMMY® Award-winning mix engineer Chris Lord-Alge's compelling CLA-10™ introductory video here:
https://youtu.be/ZFLmP9XWyhg