LEVERKUSEN, GERMANY: Brainworx Audio is proud to announce availability of bx_rockergain 100 — a simple and powerful amplifier plugin, perfect for creating heavy, earthquaking guitar sounds suited to rock and metal music-making with minimal noise — as of July 3…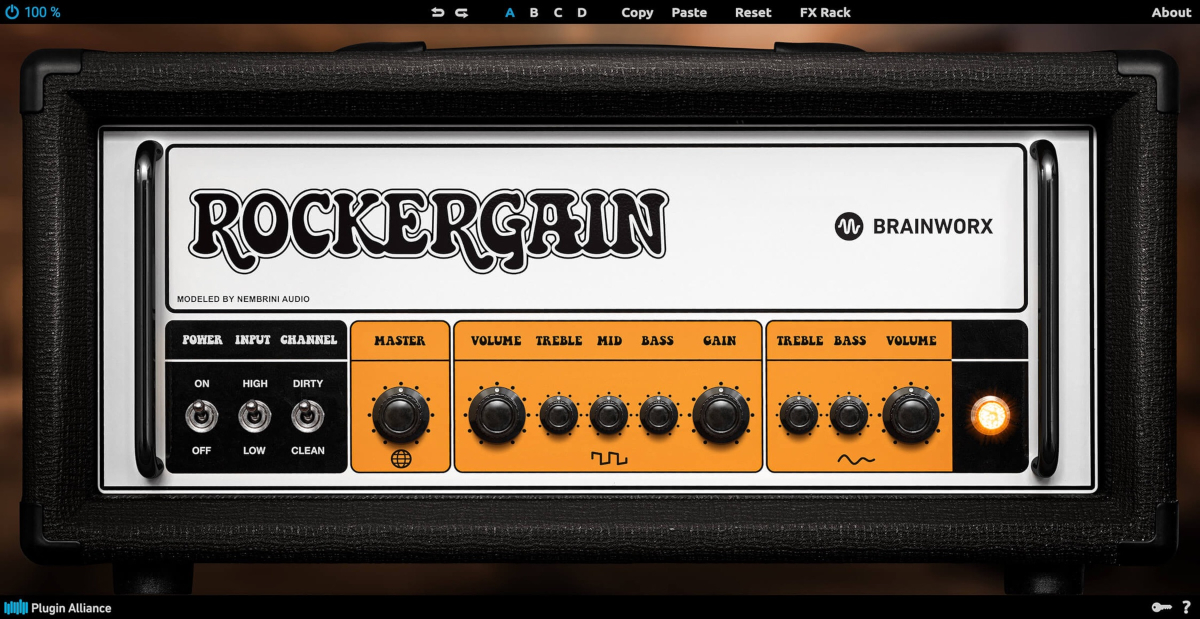 High-gain amp heads are perfect for getting deep and heavy guitar sounds, with lots of bottom end and powerful saturation. Saying that, the only problem with using real ones is the risk of blowing up cabinets, blowing out eardrums, and pulverizing neighbors' walls!
With the introduction of its simple and powerful bx_rockergain 100 plugin, Brainworx mercifully makes those savagely-satisfying tones available in the box by digitally recreating every nuance of the coveted Orange Rockerverb, a truly straightforward 2-channel valve-driven powerhouse.
bx_rockergain 100 offers instant access to over 60 years of amp design from one of the best amp brands in rock history. Orange has defined the heavy, crunchy sound of British tube heads with their brightly-colored amps since the late Sixties, but the Orange Rockerverb — released just ten years ago — was the company's first super-saturated high-gain model.
Embracing everything the iconic British brand stands for with the earthquaking heavy guitar tones of the new millennium, Orange landed itself an instant smash-hit with the Rockerverb, an amp that would soon be heard on monumental recordings by major metal bands like Korn and Slipknot.
So not only does the bx_rockergain 100 plugin nail the heart and soul of the venerable British all-tube amp it exactingly emulates so well (with a 'chimey' CLEAN channel with BASS and TREBLE controls and an earthquaking DIRTY channel with BASS, MID, and TREBLE controls, driven by four EL34 tubes in the power section and four 12AX7 tubes in the preamp section), it comes complete with all the extra features fans of Brainworx have come to expect from its powerful plugins. Presented in a scalable interface that's as easy on the eye as it is easy to use, these include its full FX Rack with host-sync-able lo-fi delay, noise gate, tight and smooth filters, and power soak, plus pre and power amp bypass.
But the advanced modeling doesn't end there, though. Thoughtfully Brainworx also provides 120 different high-end recording chains to use with bx_rockergain 100, allowing anyone to use this amp anywhere and everywhere with equally exacting emulations of a wide variety of boutique recording equipment, maximizing creativity with minimal noise — and absolutely no maintenance required! 
bx_rockergain 100 is available for purchase (as an AAX AudioSuite-, AAX DSP-, AAX Native-, AU-, VST2-, and VST3-supporting plugin for macOS 10.9 through 10.14 and Windows 7 through 10) at an attractive introductory price of $129.99 USD until July 31, 2020 — rising thereafter to an MSRP (Manufacturer's Suggested Retail Price) of $149.00 USD — from here:

https://www.plugin-alliance.com/en/products/bx_rockergain100.html