SYDNEY, NSW, AUSTRALIA: Colortone is proud to announce availability of a tempting trio of new guitar pedal products — namely, LO-FI DELAY, a grainy, analogue tape-sounding, dub-style delay rebuilt from the ground up as a complete redesign of the original; ROUNDHOUSE, a luscious multi-mode tremolo pedal featuring three tweak-able modulation modes; and SPRING REVERB II, an expressive, analogue-voiced vintage reverb engine effectively hosting three versatile recreations of classic reverbs, together with two independent modulation filters — individually handcrafted and designed in the Australian artisan guitar pedal-builder's bijou but comfortable studio space set within The Nest Creative Space, itself a purpose-built 2,000 square-metre warehouse to nurture expression, growth, and connection in the creative heart of Sydney, as of August 21…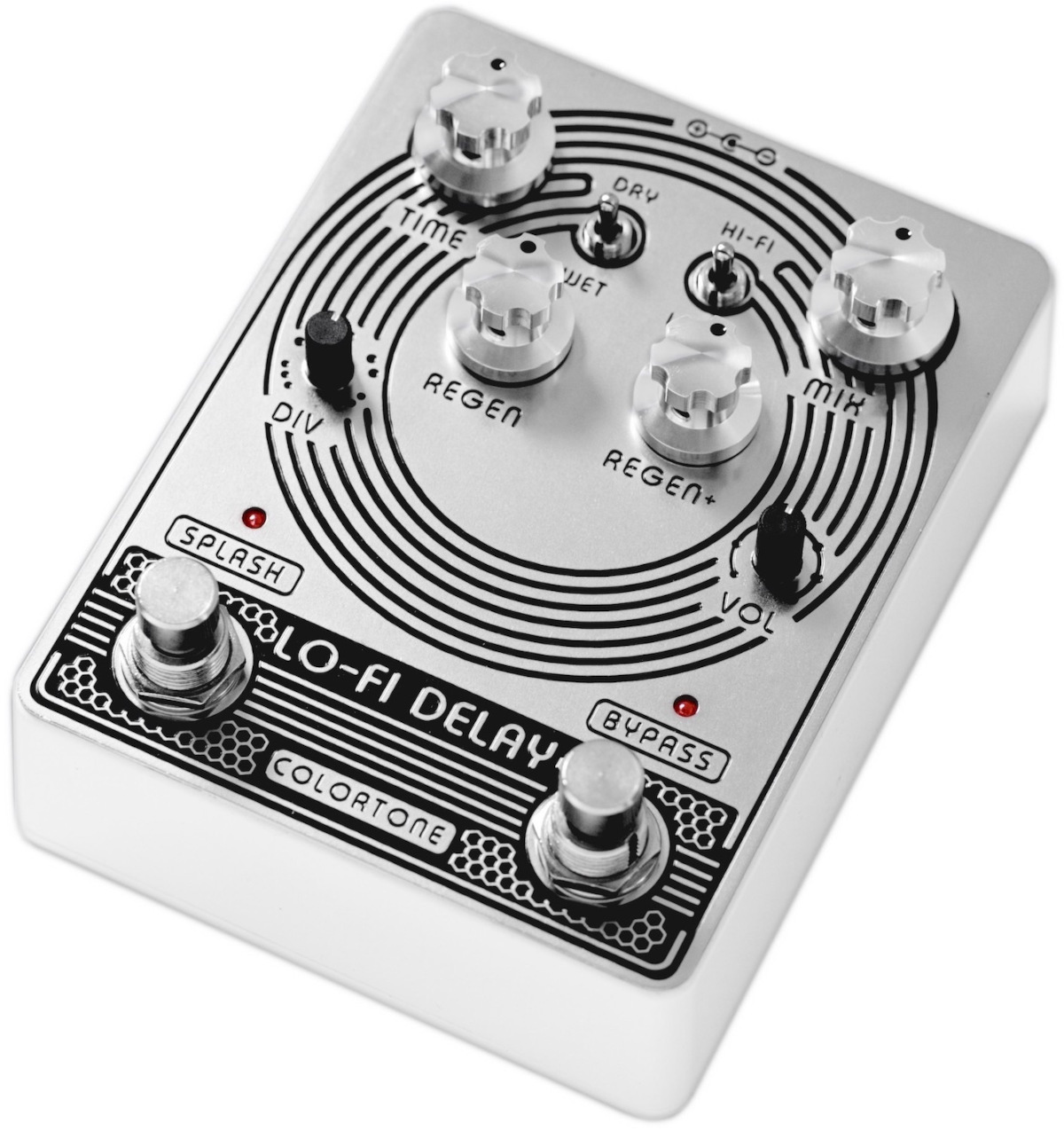 As a grainy, analogue tape-sounding, dub-style delay with momentary oscillation feedback and speed switching options designed to expand rhythmic expression, LO-FI DELAY features three switchable delay voicings: HI-FI has a crisp hi-fidelity non-destructive repeated delay, while the centre and down positions are LO-FI modes, whereby the resulting delay repeats are a little darker — like a tape delay with a slight hint of mechanical tape warble; the centre position uses a low-pass filter in the delay feedback line, whereas the down position uses a high-pass filter. It is a tempo-synchronised dual-channel delay at its core with each channel having independent Regen and delay Time controls — controlling the decay duration and number of regenerative repeats in the former's case, while a SPLASH foot- switch momentarily sends the delay into a predetermined amount of feedback and/or tempo change. Creative control additionally abounds courtesy of two switchable modes of working: WET acts like a normal delay, whereby the delayed repeats can be mixed against the dry signal with the decay time set by the REGEN knob — momentarily pressing the SPLASH foot-switch results in the decay time switching to the REGEN+ knob setting, allowing for more or less regenerative delays while the foot-switch is pressed; DRY is designed for running 'quietly' and activates the delay only when the SPLASH foot-switch is held down — great for adding dub-style accents to certain stabs/phrases, splashes of ambient delay, or moments of crazy feedback to an otherwise dry signal.
ROUNDHOUSE represents Colortone's luscious multi-mode tremolo pedal featuring three tweak-able modulation modes: OPT (optical) creates a classic, vintage tremolo sound with warm and smooth waveforms; HARM (harmonic) adds a more complex and modern Magnatone-style tremolo sound that brings depth and dimension to the user's playing; and VIBE emulates the classic psychedelic sound of a rotating speaker that is perfect for adding a unique flavour to guitar sounds. TAP tempo — manually sets the tempo by tapping the foot-switch — and momentary speed multiplier — activated with a sustained press of the foot-switch — controls allow users to easily dial in the perfect tempo and add creative rhythmic variations to their playing, while REVERB — controls the intensity/mix of reverb added to the input feeding the modulation circuit (as a classic 'Silverface' amp-style reverb with a static decay time) — and GRAIN — adds an analogue tube-like pre-saturation to the effect (boosting/compressing the level slightly to add a soft overdrive at maximum setting) — at the input of the modulation engine enable excitation of the pulse and sustain of the effect to be quickly and easily dialled in to taste, too. Creative control does not end there, though, with 'wave shape' — switches between triangle, sine, and square wave (with the latter not being available in VIBE mode); SPEED — adjusts modulation speed; MIX — adjusts the mix/depth of the effect with the dry signal; PHASE — changes the duration of the 'on time' towards the beginning or end of the wave cycle (resulting in the modulation 'pulse' feeling more asymmetrical or staccato); CUT/BOOST — cuts or boosts output level by up to ±4dB; and BYPASS — activates relay-based soft touch true bypass — also on offer.
Somewhat smaller in footprint, though no less impressive as a result, SPRING REVERB II is an expressive, analogue-voiced vintage reverb engine effectively hosting three versatile recreations of classic reverbs: E (ECHOVERB) — based on Princeton's PT2399 single-chip CMOS (Complementary Metal–Oxide–Semiconductor) echo/delay processor with pronounced delayed reflections/echoes; S (STUDIO) — warm- and natural-sounding studio reverb based on a Nineties-vintage rack unit; and T (TANK) — Seventies-vintage electromechanical reverb with bright, wet acoustic room reflections. Additionally, a MOD knob acts as a depth control for subtle vibrato and so-called 'RotoTrem' (rotary-speaker-tremolo) effects, bringing a spatial dimensionality to the acoustic characteristics of the selected reverberation. Rounding out those controls are DECAY — adjusts the decay time of the reverberation tail; BLEND — adjusts the mix /depth of the reverb effect with the dry signal; and TONE — tilt EQ-style reverb tone control — knobs, albeit an extended (500ms) tap on the soft-touch foot-switch provides access to some secondary layer controls, including MICRO TUNE DELAY TIME — controls the master speed/time for the delay in the background of the ECHOVERB engine only; BOOST — allows for up to ±4dB of output boost; ROTOTREM — adjusts the amount of RotoTrem applied post-reverb; and ROTOTREM SPEED OVERRIDE — controls the master speed/time for the RotoTrem. Clearly capturing the essence of revered reverbs while adding its own sonic characteristics, SPRING REVERB II is the perfect tool to take anyone's playing to the next level — whether looking to add a subtle touch of reverb or create expansive soundscapes.
Differing dimensions — 95 mm (W) x 120mm (D) x 40mm (H): LO-FI DELAY; 120mm (W) x 95 mm (D) x 40mm (H): ROUNDHOUSE; 66mm (W) x 122mm (D) x 40mm (H): SPRING REVERB II — and current draw — 145 mA: LO-FI DELAY and SPRING REVERB II; 140 mA: ROUNDHOUSE — notwithstanding, this tempting trio of Australian artisan guitar pedals have identical 2 MΩ input impedance, 100 Ω output impedance, and 9V DC (centre negative) input voltage (9V DC isolated power recommended). The three new products in question also come complete with Headliners — namely, new-look black silicon knob caps; stunning as their shiny, milled aluminium knobs actually are, they could conceivably prevent some users from clearly seeing their positions when contending with far from ideal stage lighting conditions, for instance — in which case said silicon knob caps can be easily placed over the aluminium knobs to aid position identification. It is also worth noting here that the clearly-aware Colortone attempts — wherever possible — to use sustainable techniques and parts suppliers; the etching process used is regenerative, therefore much less damaging to the environment, while packaging suppliers use sustainable products and parts suppliers are asked not to use plastic packaging. Put it this way: with LO-FI DELAY, ROUNDHOUSE, and SPRING REVERB II, Colortone has clearly succeeded in its mission of striving to create devices with an aesthetic appeal that hold a sense of the old and new, something unique, and something refound.