SANTA CRUZ, CA, USA: Plugin Alliance, supporting all major plugin formats and uniting some of the best-known international audio companies under one virtual roof, is proud to announce availability of dearVR PRO V1.4.0 — a major multichannel update to spatial audio technology-specialising German software partner Dear Reality's all- in-one AAX-, AU-, and VST-supporting spatializing solution for 3D audio, extending its state-of-the-art binaural and Ambisonics encoder to support 26 multichannel output formats from 5.0, 7.1.4 to 13.1, intended for Dolby Atmos, DTS:X, or MPEG-H — as of November 7…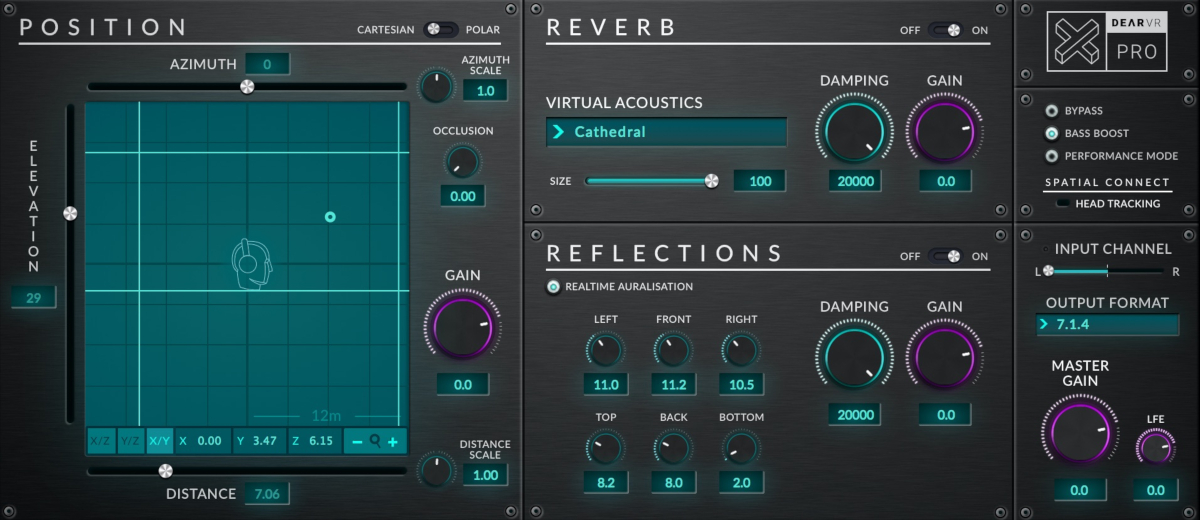 dearVR PRO duly delivered on its creators' cutting-edge vision of providing the best-sounding 3D audio technology to all kinds of next-generation audio production environments upon its original release in late 2017. Fast forward to today's major update and V1.4.0 ensures that Dear Reality and its premier product rightfully remain at the forefront of spatial audio technology, easily meeting all of the professional requirements for any VR (Virtual Reality) or AR (Augmented Reality) production. Put it this way: all surround sound specialists can continue to use the plugin in their particular workflow — whether working with a more standard 5.1 system or a more elaborate setup with more speakers.
Simply select one out of 26 different loudspeaker formats and immediately start mixing in 5.1.4 or 13.1, for instance. Want to deliver a mix in multiple formats? No problem! dearVR PRO users can easily start mixing in Binaural (2CH), TOA Ambisonics, or 7.1.4, and at a later stage export the mix in 5.1 Film, for example, by just changing the OUTPUT FORMAT. For those who do not want to invest in a physical 13.1 loudspeaker setup, choose the Binaural output to prepare the session before easily switching to the final loudspeaker format.
Furthermore, users of dearVR PRO V1.4.0 can also benefit from Dear Reality's brand-new VHSP (Virtual Height Speaker) simulation technology. This combines sophisticated room and distance simulation with groundbreaking virtual height speaker perception for flat setups like 5.1 or 7.1 in an unprecedented manner. Want to deliver 7.1.4 and 7.1? Easier done than said! Start mixing in 7.1.4 using the four real height speakers, then change the OUTPUT FORMAT to 7.1 and benefit from the virtual height simulation.
Additionally, all 46 vivid VIRTUAL ACOUSTICS environments within which dearVR PRO users can place an object's sound have been optimized and adapted to simulate smoothly when working with all multichannel loudspeaker outputs. On top of that, all feature true-to-life 3D imaging and depth. Creatively choose from variously-sized rooms suited to the most commonplace production needs — from a small Car to a huge Cathedral. Each environment is instantly and independently recallable per plugin instance, letting users place each object's sound in a different space. It is also possible to change the shape, dimensions, and texture of the selected space by adjusting its size, damping, balance of early reflections, and diffuse reverb.
REALTIME AURALIZATION mode allows adjustment of the distance between the listener and the four walls (LEFT, RIGHT, FRONT, and BACK), ceiling (TOP), and floor (BOTTOM) within the selected space. Moving the sound results in the delay times and directions of arrival for early reflections bouncing off those virtual boundaries being altered accordingly — just like in real-world environments. Extraordinarily, an OCCLUSION control even enables users to adjust the sound of an object being blocked by another virtual object in line of sight to the listener!
It is also possible for dearVR PRO users to effectively place their listener in the centre of the sound. Simply drag the mouse around using the plugin's XYZ pad to position a track's sound anywhere in a 3D soundstage — be that behind or in front of the listener, closer, or farther away.
Also, radical performance enhancements applied to the V1.4.0 update lead to a performance increase of up to 60%, making dearVR PRO the all- in-one solution when working with large channel counts in complex situations. Saying that, those performance enhancements enable users to run more instances of dearVR PRO than ever before.
Better said, dearVR PRO V1.4.0 is truly a state-of-the-art audio processor, allowing any multitrack session to be mixed in 3D. The powerful, fast, and intuitive interface provides all the tools that are needed to create stunning, ultra-realistic immersive 3D audio. Ask Golden Globe- and GRAMMY® Award-nominated film and classical composer, record producer, and arranger Simon Franglen. No stranger to the widening world of spatial audio himself, he happily sings its praises, putting forward the following closing comment: "It's completely brilliant, utterly intuitive, excellent." 
Dear Reality's dearVR PRO is available for purchase — as an AAX Native-, AU-, VST2-, and VST3-supporting plugin for MacOS (10.9 through 10.14) and Windows (7 through 10) — exclusively from distribution partner Plugin Alliance for $349.00 USD from here:
https://www.plugin-alliance.com/en/products/dearvr_pro.html 
(Please note that the V1.4.0 update is free for owners of dearVR PRO.)
Note that the proprietary Plugin Alliance Installation Manager means users can select, download, and install only the products and formats needed for their system.
Watch indie producer, sound engineer, and online product trainer Alex Solano talk through dearVR PRO 3D mixing techniques on behalf of Plugin Alliance here:
https://youtu.be/ZU-wglqm0JE