Wie schon berichtet stellte Rob Papen vor einigen Tagen seinen ersten Software Synth vor, der nur für Propellerhead Reason verfügbar ist. Er trägt den Namen Quad. Nun kann die Quad Software im Propellerhead Shop als Rack Extension erworben werden. Die Software wurde komplett neu entwickelt. Das schreibt Rob Papen in der Pressemitteilung: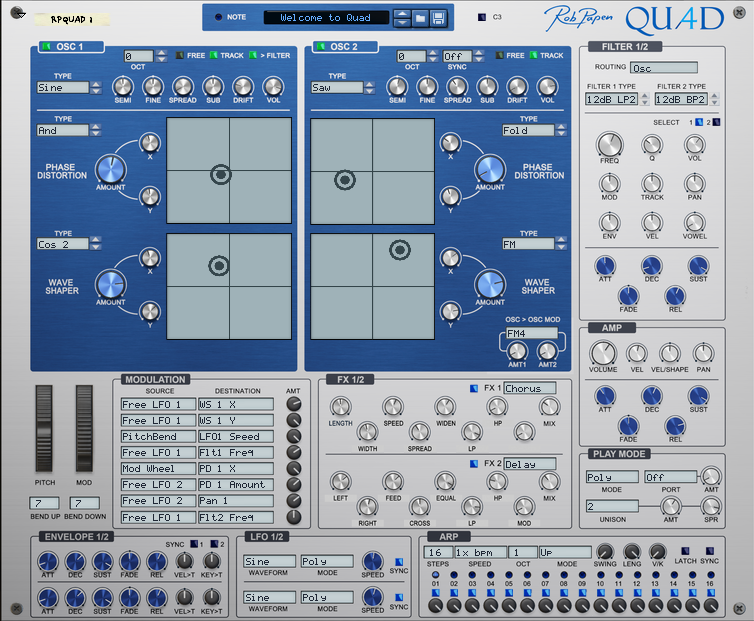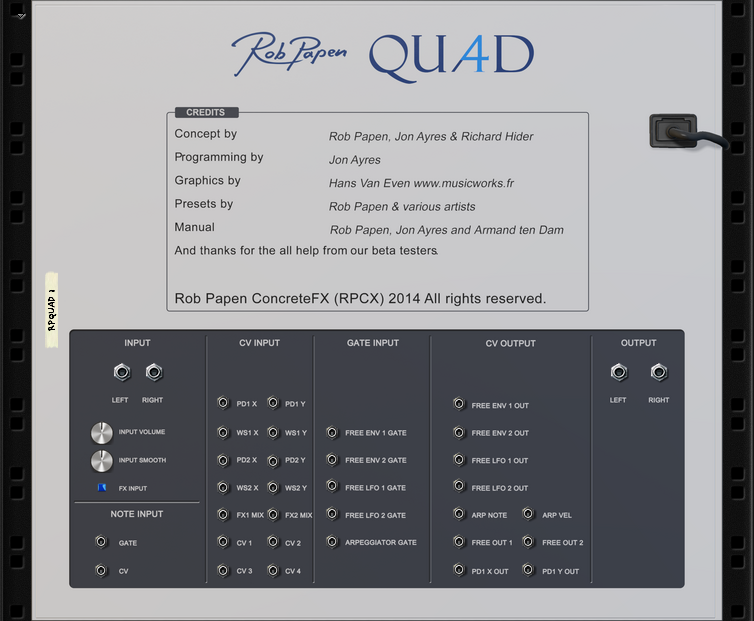 Virtual instrument and effects plug-in developer Rob Papen Soundware is proud to announce availability of QUAD, its first Rack Extension synthesizer built from the ground up for Propellerhead Reason, as of October 28…  When Swedish music software application, interfaces, and technology standards specialist Propellerhead Software first unveiled its revolutionary Rack Extension — an ever-expandable, freely-routable rack of instruments, effects, and sounds — for its well-received Reason music-making and recording studio software solution, namesake company founder and synthesizer developer Rob Papen promptly pronounced it as being "…a brilliant concept." Continuing, he then summarised its advantages as follows: "What we face as a developer is having to have a PC version and a Mac version, and if you run them in your regular host, you can crash your host. That's a real big battle. People, if they use Reason, learn that things are connected. It's cross-platform; everything works. It's a major leap forward for Reason, and productions coming out of Reason will sound totally different. Reason remains Reason, but, now, it's open."  Open to the likes of Rob Papen to develop distinctive and desirable third-party Rack Extensions (RE) for Reason. Little wonder, then, that Rob Papen was amongst the first wave of developers to do just that, starting by porting over its popular 'phat'-sounding soft synth Predator as Predator-RE, rapidly followed by its SubBoomBass-RE dedicated virtual bass synth, self-explanatory PR-Verb RE and PR-Distort RE virtual effects, plus PunchBD-RE, a versatile and easy-to-use bass drum synth.  Soft synths have always been at the core of Rob Papen's productive business model, so it's hardly surprising that they put some serious time and effort into porting some of their most popular products over to Propellerhead's popular Reason platform. Yet what distinguishes QUAD from its aforementioned admired RE predecessors is that this time the company has chosen to build a Rack Extension synthesizer from the ground up. Why? Well, according to Rob Papen's namesake founder, it "…offers a different and refreshing synthesis for your rack!"  Really? Really. "QUAD is still 'subtractive synthesis' like you know from Predator and so on, but the oscillator part has some interesting new features that vastly expands the sound options and makes QUAD very different from any other regular 'subtractive synthesizer'," reasons Rob Papen.  Put simply, QUAD has two oscillators (OSC 1 and OSC 2) at its sonic core, each endowed with a seemingly simple selection of classic waveforms (Sine, Triangle, Saw, White Noise, and Pink Noise), together with a SPREAD function (adding multiple oscillators with slightly higher and lower pitch to the main oscillators to fatten up the sound), and a SUB oscillator tuned one octave below with two selectable waveforms (Sinus and Square). Straightforward-sounding so far? Arguably yes. Yet those oscillators can be combined with many cross modulation functions, generating a wide range of harmonics. How so? "This is arranged inside OSC 1, where we also have several interesting modulation types. Also, OSC 1 can be shut down for going into the filter, so it can be exclusively used as a modulator for OSC 2."  These already stunning sound sculpting tools are all brought to life by the four XY pads that dominate the main screen, giving OSC 1 and OSC 2 their distinctive PHASE DISTORTION and WAVE SHAPER capabilities — and also giving rise to the QUAD name. Notes Rob Papen: "For each we have several distortion or wave-shaping types. With the XY dials or XY field you can change this dynamic. The very cool thing is that with minimal effort you can quickly create a new sound and preset."  Of course, Rob Papen himself is an internationally recognised sound designer of considerable standing, so it should come as little surprise to learn that QUAD is packed with wide-ranging Rob Papen-designed presets so you don't have to (if you don't want to). Those that do, of course, can delve deeper courtesy of an extensive MODULATION matrix; two effects processors (FX 1/2) that can be automated within the MODULATION matrix or via the 'back panel'-positioned 'external' CV; LFO 1/2 and ENVELOPE 1/2 that can be tempo-synced; AMP section for controlling the volume contour; and more.  Moreover, QUAD offers no fewer than 28 filter types via two top-notch analogue-modelled filters (FILTER 1/2) with various routings, as well as an artistically-inspirational arpeggiator (ARP) with several playback modes. Maintains its co-creator: "It's a big synth with many features!" For Reason users it really does offer a refreshing and different approach to synthesis, so why not extend your Rack right now?
Der Preis beträgt 99,- Euro. Wer erst testen möchte, kann die Trial Version nutzen.
Weitere Informationen gibt es hier: Link oder im Propellhead Shop: Link