ASHEVILLE, NC, USA: virtual instrument sampling company Embertone is proud to announce availability of Walker 1955 Steinway D — its virtual piano flagship fashioned from sampling a truly one-of-a-kind 9' Steinway Model D concert grand in insane detail for Native Instruments' industry-standard KONTAKT PLAYER platform to run as a fully NKS (NATIVE KONTROL STANDARD®) supporting plug-in instrument in any AU/AAX/RTAS/VST compatible host application or DAW (Digital Audio Workstation) — as of June 14…
---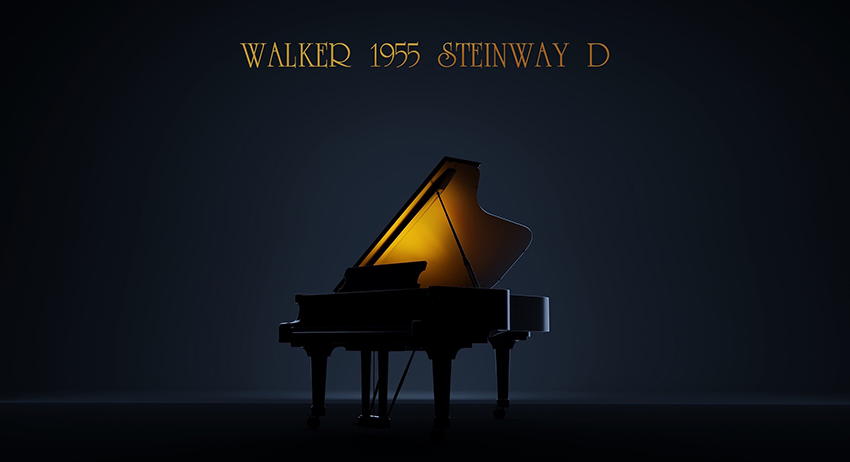 Today, the Steinway Model D is marketed by its prominent piano-manufacturing namesake as a majestic musical instrument — the pinnacle of concert grands. Glowing words apart, history has born this out; there's no denying that the Steinway 'D' is a renowned model, one that an overwhelming number of professional pianists around the world prefer, its impressive reputation resting on its beautiful tone and highly-responsive action, allowing for a high level of musical expression.
Although all acoustic pianos are technically one-of-a-kind instruments, in the end Embertone's Walker 1955 Steinway D virtual piano flagship owes its name and, indeed, its very existence to a truly one-of-a-kind 9' Steinway Model D dating back to 1955. The instrument in question ultimately made its way to a beautiful rural private concert hall in Raleigh (in Embertone's 'native' North Carolina), designed and owned by John Q. Walker, a brilliant software engineer who pioneered the concept of 're-performance' with a company called Zenph, Inc. As the company's founder, Walker worked with a team of specialists who, helped by Sony recording engineers, developed a way of analysing old recordings in order to create live re-performances — converting piano tracks into precise keystrokes and pedal motions for playback on computer-controlled grand pianos, in other words. This proprietary technology enabled them to capture and reproduce every nuance of performances by some of the greatest pianists in the world, including Glenn Gould, Oscar Peterson, and Rachmaninoff.
While Walker is no longer involved in Zenph, he still maintains a collection of one-of-a-kind pianos in that 65-seat private concert hall — the dimensions of which were modelled on those used by composer Richard Wagner for the hall in his villa, Wahnfried, in Bayreuth, Germany — where he hosts regular recitals. That truly one-of-a-kind 9' Steinway Model D housed there is equipped with a proprietary system for re-performance, so Embertone was able to precisely capture a staggering amount of sample
content for fashioning its Walker 1955 Steinway D virtual piano flagship — 36 velocities for every note with every combination of pedals, totalling 12,672 samples! Saying that, Embertone also captured more than 10,000 discrete samples at various lengths, later implemented in two of its most exciting features: adaptive releases trigger authentic recordings upon note release based upon held length and note velocity; true shorts allow real staccato samples to be played in real-time without having to
use any extra key switches or controls, so no matter how the end user ends a note, they will always hear an authentic sound. Above and beyond that, users have the option to play only the dedicated set of real staccato samples, with all of the subtle mechanical sounds and intricate instrument resonances built right in.
Interestingly, Embertone's virtual piano flagship comes in two flavours — Walker 1955 Steinway D ($99.00 USD) and Walker 1955 Steinway D Lite ($39.00 USD). The former features every pedal combination at 36 velocities per note, together with the option to purchase five additional microphone positions à la carte for $15.00 USD apiece, while the latter offers only sustain and non-pedal samples at 12 velocities per note, without any additional microphone positions. Put it this way, though: those
six available microphone positions really represent the piano itself in vastly different ways.
As implied by name, the DEFAULT position is the sample set that ships with both Walker 1955 Steinway D versions, with a stereo pair of AKG C414 XLS microphones placed about a foot above and away from the lip of the piano, pointed inward in an X/Y pattern using the ORTF stereo technique to create an intimate and close sound, so users can hear the subtle mechanical sounds of the instrument, but with plenty of space and air around the recording.
Again, as implied by name, the BINAURAL/PERSPECTIVE position is a perspective stereo recording. This time Embertone recorded with a dummy head — affectionately named Bruce, positioned two feet from the keyboard at the typical player position to create realistic spatialisation, which is especially effective when listening on headphones.
The CLOSE/PERSPECTIVE position is captured with a matched set of spaced omnidirectional Neumann U87 microphones, placed around six inches from the strings to capture the sound stage using the A/B stereo technique, resulting in a warm and detailed, stunning sound. Though the U87s lack the crystal clarity of the DEFAULT's C414 microphones, they have an indescribable colouration to them that makes the Walker 1955 Steinway D virtual piano a joy to play.
The WIDE/PERSPECTIVE position uses a modified pair of small capsule Oktava MK-012 condenser microphones positioned as an A/B pair in front of/outside the piano, pointing in to capture a wide player perspective.
The HAMMER position was recorded with a matched pair of specialised Superlux S214/U3 cardioid condenser microphones from John Q. Walker's personal collection. Using the A/B stereo technique, they were placed around a foot above the hammers, pointing down to capture the most intimate and detailed perspective. Embertone collectively considers this to be a favourite for achieving that quiet, cinematic sound sought after by so many in this day and age.
Last but not least, using the A/B stereo technique, the ROOM position was recorded with a pair of small diaphragm Schoeps MK012 microphones positioned six feet away from and eight feet above the piano, pointing at the open lid — the microphone position of choice for anyone seeking a 'classical' sound, so Walker 1955 Steinway D users get to hear the lovely room with a beautiful and resonant perspective of the instrument itself.
Another aspect that makes Walker 1955 Steinway D so unique is its depth of user control. Considering some users might not need 36 velocities per note — whether because of the musical style being worked with or RAM (Random Access Memory) limitations, Embertone's virtual piano flagship allows for full sample sets and specific velocities to be individually disabled and therefore purged from memory. It also offers a number of customised effects, such as an EQUALIZER (with low, mid, and high controls), SPATIALIZATION (spread), and REVERB (mix), as well as VELOCITY RESPONSE (DYNAMIC SCALING and VOLUME SCALING) settings, plus some custom COLOR (SWEETENING) settings for mastering, should anyone require it.
In a nutshell, Walker 1955 Steinway D definitively grants anyone license to bend it to their musical will with intuitive controls to easily walk between piano worlds — whether cinematic, classical, jazz, pop, or beyond — by virtue of a whole page of simple ways to alter the tone and feel of this majestic Steinway that's literally like no other on earth! Embertone has worked wonders with that truly one-of-a-kind 9' Steinway Model D concert grand to fashion its flagship virtual piano. Press to play. Play to win.
Walker 1955 Steinway D and Walker 1955 Steinway D Lite are available to purchase and digitally download as 30GB and 12GB fully NKS (NATIVE KONTROL STANDARD®) supporting plug-in instruments for any AAX-, AU-, RTAS-, and VST-compatible host application or DAW running on Mac (OS X 10.10, 10.11 or macOS 10.12 — latest update) or Windows (7, 8, or 10 — latest Service Pack, 32/64-bit) directly from Embertone for a one-week introductory promo price of $89.00 USD and $34.00 USD, respectively (rising thereafter to $99.00 USD and $39.00 USD, respectively). The former features the option to purchase five additional microphone positions à la carte for $15.00 USD apiece, each representing an additional 30GB download.
Alternatively, Walker 1955 Steinway D is also available to purchase and digitally download as a complete bundle including all additional microphone positions — that's 180 freakin' GB in samples! — for a one-week introductory promo price of $149.00 USD (rising thereafter to $174.00 USD).
For more in-depth information, including several superb-sounding audio demos, please visit the dedicated Walker 1955 Steinway D webpage here: https://www.embertone.com/instruments/steinwayD.php
Watch Embertone's enthralling Walker 1955 Steinway D teaser trailer video here: https://youtu.be/nzr_OdxjdOI