Little Ferry, NJ, July 14, 2020 – Eventide Audio is releasing the plug-in version of the classic modulated tremolo effect Undulator and simultaneously making a commitment to social justice. "Eventide Audio is committed to supporting the fight against systemic racism and violence," the company stated. "We hope that you will join us by listening, learning, and taking action. We embrace diversity and seek equality, justice, inclusion, and dignity for all. We stand in unity with the Black community and will take action by donating to organizations that support justice and social change. Eventide will be donating 100% of the proceeds of the Undulator desktop plug-in to the Equal Justice Initiative & NAACP Legal Defense and Education Fund."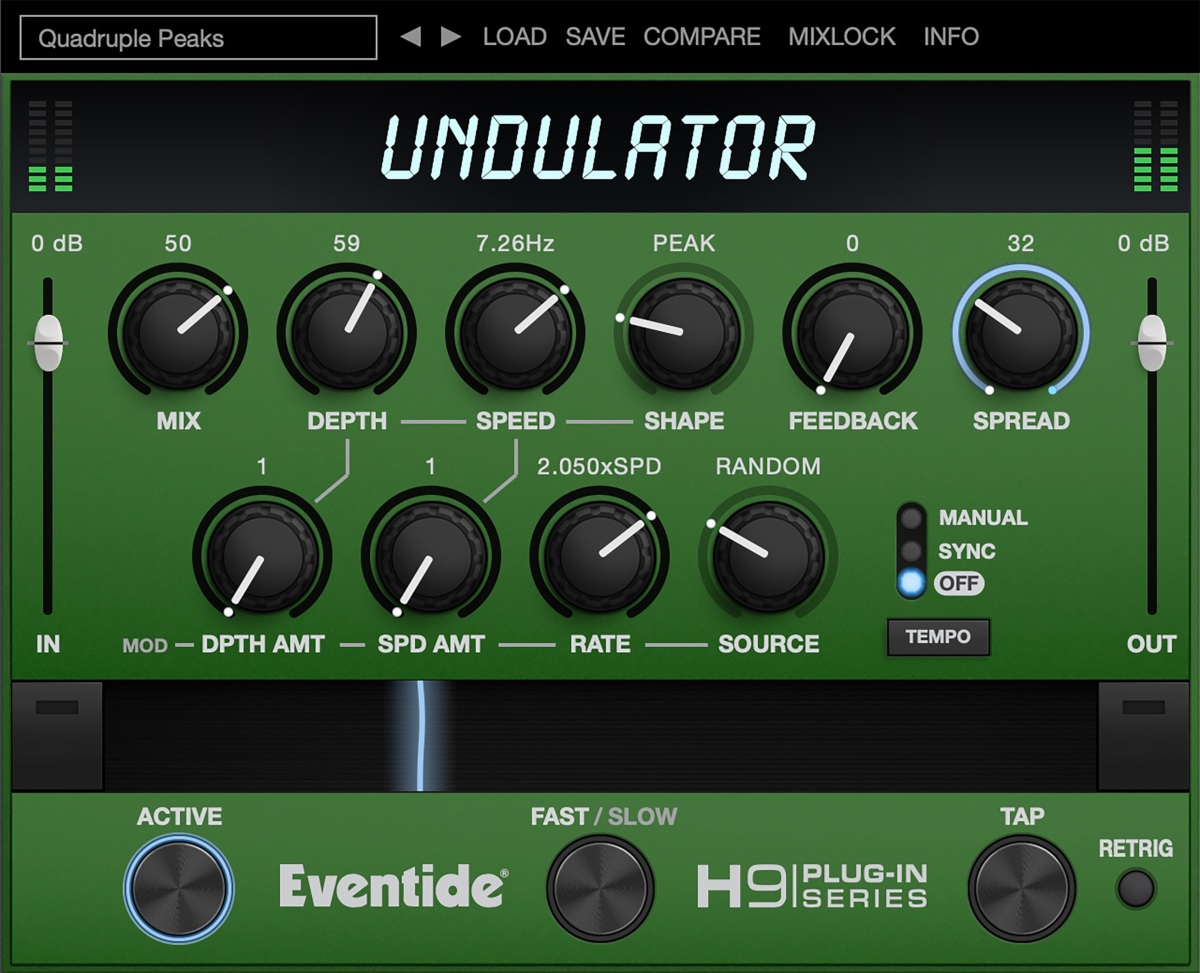 Undulator, a magical tremolo from Eventide's iconic H3000 Harmonizer® effects processor, provides a unique rhythmic effect by combining ethereal feedback and detuned echoes which are fed through an AM / FM modulated tremolo. Whether used for manipulating samples or adding movement to strings, pads, guitars, and keys, Undulator is a muse for creative musicians. The plug-in is available for Mac, PC and iOS.
By manipulation of a multi-tap delay and powerful tremolo, Undulator's controls give any sound sustain and shape. The plug-in excels at transforming ordinary synths, keys, guitars, and even vocals into evolving pads. It's also perfect for creating tempo-synched production elements, time-lapsed dreamy soundscapes and otherworldly and fluctuant delays. Simply put, Undulator can make shorter sounds into longer layered effects and give sustaining sounds shape and rhythmic character.
Eventide's Ribbon control lets users fluidly sweep Undulator's effect between two completely different settings of any combination of controls. Ribbon allows desktop users to plug in a MIDI keyboard and gain tactile control of Undulator via the mod wheel. Changing the rate and depth of your tremolo for a "ramping up" sweep or sequence becomes very simple with this intuitive performance macro. Ribbon can also be used to morph tremolo patterns into vacillating and varying rhythmic territories – effective for calling attention to synth pads and creating a state of flux or rarity, which is otherwise arduous to achieve.
Additional Undulator adjustable parameters include MIX for balancing the dry/effect ratio, SPREAD to subtly detune delays with finesse, FEEDBACK to accentuate delays or create infinite loops, SYNC to lock the tremolo to tempo, real-time tempo updates via TAP, and RETRIG for a more predictable effect. Additionally, the SLOW/FAST button toggles on a "Slow LFO" mode. Holding SLOW/FAST down to "BRAKE" temporarily slows down the LFOs at a constant rate until released. The secondary LFO determines how fast the depth and speed modulation "wiggle" their targets. MIDI can be used to control the Ribbon, ACTIVE/BYPASS, SLOW/FAST and TAP functions.
Undulator for Mac and PC supports VST, AAX, and AU plug-in protocols for compatibility with every DAW and is priced at an MSRP of $19. The iOS version of Undulator, which works as a standalone app, AudioUnit v3 plug-in, or Inter-App Audio effect, is priced at $7.99, with a special intro price of $4.99 through July 20.
For more informations go here.