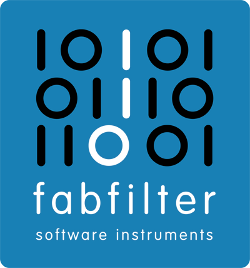 FabFilter aus den Niederlanden geben die Veröffentlichung des neuen Pro-Q 2 Equalizer Plugin bekannt. Das Plugin wurde gegenüber der Vorgängerversion Pro-Q von Grund auf überarbeitet und bietet so eine noch bessere Performance und Übersicht. Hier die originale Mitteilung:
FabFilter is proud to announce availability of FabFilter Pro-Q 2, a major update to the Pro-Q equalizer plug-in. New features — such as Full Screen mode, unique Natural Phase processing, Auto Gain, Spectrum Grab, Gain-Q interaction, and slope support for all filter types — make Pro-Q 2 a cut above its predecessor in every way, while staying true to the original vision of combining high sound quality with unsurpassed interface workflow.
Completely redesigned EQ engine
For Pro-Q 2, FabFilter has completely redesigned the internal filter engine from the ground up — not only improving the existing Zero Latency and Linear Phase processing modes, but also introducing a unique Natural Phase mode. Besides perfectly matching the magnitude response of analog EQ'ing, Natural Phase also closely matches the analog phase response, without introducing noticeable pre-ring or a long latency. Last but not least, FabFilter Pro-Q 2 is more than twice as CPU-efficient as its predecessor.
Universal filter slope support
Very steep filter slopes of up to 96 dB/octave are now available, and, uniquely, FabFilter Pro-Q 2 lets users change the slope of any filter type — not just the usual Low/High Cut filters. This makes it possible to create super-narrow bell filters, very steep or gently sloping shelves, and more. In addition to the existing Bell, Low/ High Shelf, Low/High Cut, and Notch filters, Pro-Q 2 also features new Band-Pass and Tilt Shelf filter types.
More interface innovations
Furthermore, FabFilter Pro-Q 2 is boosted by an abundance of user interface innovations. Spectrum Grab enables users to directly adjust peaks in the real-time spectrum analyzer display. Pro-Q 2 offers flexible interface resizing, in addition to a Full Screen mode that makes it easier than ever to do ultra-precise adjustments. EQ Match lets users match the spectrum of another track in just a few seconds. All this power is neatly integrated into a gorgeous, uncluttered interface that lets users focus freely on music and workflow.
Original and trailblazing
Of course, Pro-Q 2 features everything that was great about the original Pro-Q — up to 24 EQ bands, innovative interface with unsurpassed workflow and multi-band selection, per-channel EQ'ing in L/R or M/S mode, real-time spectrum analyzer, intelligent solo mode, double-click text entry, stereo/mono plug-ins, Pro Tools hardware surface support — as well as all the trailblazing FabFilter bells and whistles that users have come to expect and love — perfectly fine-tuned knobs and controllers, GPU-powered graphics acceleration, interactive MIDI Learn, undo/redo and A/B switch, Smart Parameter Interpolation for smooth parameter transitions, an extensive help file with interactive help hints, sample-accurate automation, advanced optimization, and more.
Natural Phase mode to perfectly match the magnitude response of analog EQ'ing while also closely matching the analog phase response, without noticeable pre-ring or a long latency
Full Screen mode for super-precise adjustments
Spectrum Grab — just grab and adjust a peak in the real-time spectrum analyzer right away!
Universal slope support for all filter types — for example, enabling users to make ultra-narrow bell filters or very steep shelves. (Slopes up to 96 dB/oct are now supported, including 18, 30, 36, and 72 dB/oct.)
Highly improved Linear Phase mode, offering a better magnitude response and smooth changes without zipper effects
New EQ filter types — Tilt Shelf and Band-Pass, in addition to the existing Bell, High/Low Cut, High/Low Shelf, and Notch filter shapes
Gain-Q interaction option: when enabled, Q and gain influence each other in a pleasant way that is often found in analog mixing consoles
EQ match feature to automatically match the spectrum of another track via the side-chain input
Auto Gain automatically adjusts the output gain to compensate for the audible gain loss or increase introduced by the active EQ bands
Improved spectrum analyzer with adjustable range, tilt, freeze, and horizontal zooming
Optional piano roll display
Flexible interface resizing
Full output level meter
Phase Invert option
Highly improved CPU optimization: Pro-Q 2 uses less memory and is more than twice as efficient as its predecessor!
Improved analog magnitude matching in Zero Latency mode
Das Plugin ist für 149,- Euro zu haben. Für Updates von der alten Version gibt es atraktive Preise.
Weitere Informationen gibt es hier: Link