IK Multimedia is proud to introduce Hammond B-3X, a next-level tonewheel organ virtual instrument. Created in close collaboration with Hammond Organ Company and Suzuki Music Corp, along with top Hammond artists, Hammond B-3X recreates the exact experience of playing a classic hardware B-3 organ.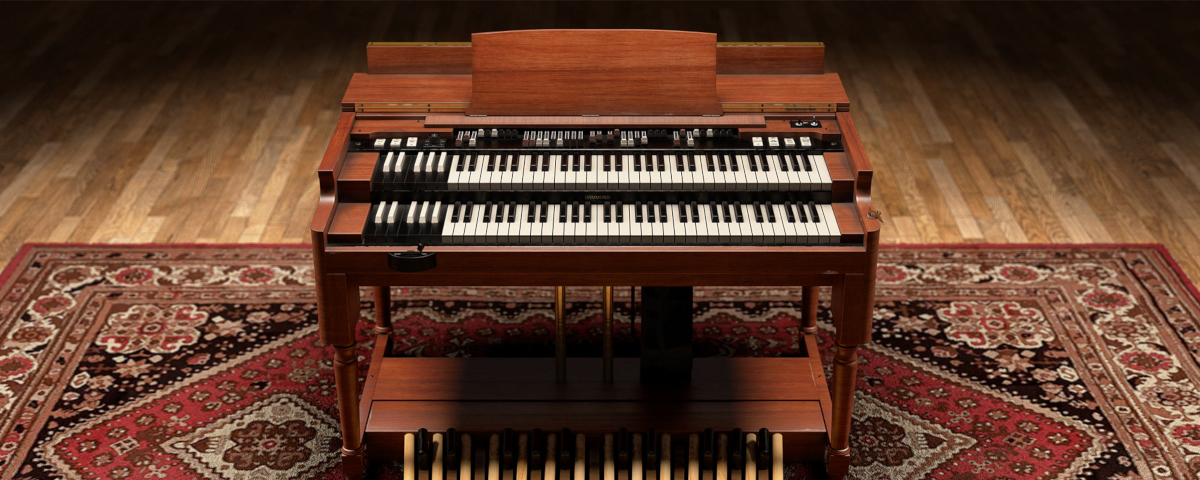 Hammond B-3X captures the authentic sound and vibe of this legendary instrument, with incredible sound and a full signal chain including Leslie® speaker, parallel guitar amp, stompbox effects, and more, offering a level of realism that will satisfy even the most discriminating B-3 fans.
HIGHLIGHTS:
• 91 free-running tonewheels mixed in real-time based on note and drawbar levels for absolute realism.
• Control tonewheel models, generator leakage, key click, tonal balance, percussion and chorus to customize your organ
• 24 custom drawbar settings available within each preset
• Official Leslie speaker with 7 amps and 5 cabinets to mix and match
• Parallel guitar amp section with 2 amp models and 4×12 cabinet
• 5-effect stompbox pedalboard for ultra-flexible tonal shaping
• 3-effect studio post FX section for final polish and mastering
• Zoomed-in Controls view for live or session use
• MIDI program change preset assignments
IT'S ALL ABOUT THE DETAILS:
To recreate the sound of an inconic instrument like the Hammond B-3X, we knew we'd have to go the extra mile. In collaborating with Hammond USA and Suzuki Music Corp. of Japan, we reviewed every element of the B-3 directly from the source to deliver authentic, professional sound.
TRUE TONEWHEEL OPERATION:
In true IK style, Hammond B-3X approaches the instrument the way the original hardware organ works. B-3X starts with 91 free-running tonewheels, based on several meticulously-maintained Hammond organs, and mixes those in real-time based on the note and the drawbar levels for absolute realism.
PHYSICALLY MODELED CIRCUITS:
IK's industry-leading modeling faithfully recreates tonal filtering, key click, and the iconic Hammond percussion and chorus-vibrato circuits for massive, organic feel. All the settings, controls and circuits were checked and re-checked with the team at Hammond.
CLASSIC ORGAN EFFECTS:
The organ feeds a 5-unit pedalboard with overdrive, graphic EQ, stomp box-style chorus-vibrato, wah and spring reverb, all derived from IK's award-winning AmpliTube and T-RackS software and carefully chosen to recreate the widest range of iconic organ sounds.
REAL LESLIE® SOUND:
The cab section offers your choice of real Leslie amps and speakers, along with a parallel guitar amp and 4×12 cabinet using technology derived from IK's award-winning Leslie® Collection and amplifier modeling from AmpliTube 4.
STUDIO EFFECTS:
3 rackmount studio effects derived from T-RackS add a final, professional sheen. IK's Limiter 76 offers an iconic, timeless sound, the EQ-81 adds classic console tone-shaping, and a digital reverb adds a pristine sense of space.
LIVE CONTROL:
A CONTROLS panel is optimized for live performance and intense studio sessions. Here the keyboard and pedal manuals are hidden, and the drawbars, switches and other controls are enlarged to give them the focus.
No other digital organ offers such a complete vision of the legendary Hammond organ from the initial sound generation all the way through the complete effects path with fine, detailed control all along the way.
Take advantage of our special introductory pricing:
Hammond B-3X full version:

$/€ 299.99

$/€ 199.99



Hammond B-3X crossgrade:

$/€ 199.99

$/€ 149.99