VALENCIA, SPAIN: MasteringBOX is proud to announce availability of MasteringBOX 2.0 — improving its namesake application with a sleek and easier to use mastering experience, allowing for simultaneous uploading, editing, and mastering audio with numerous new features for making mastering even easier — as of May 22…
---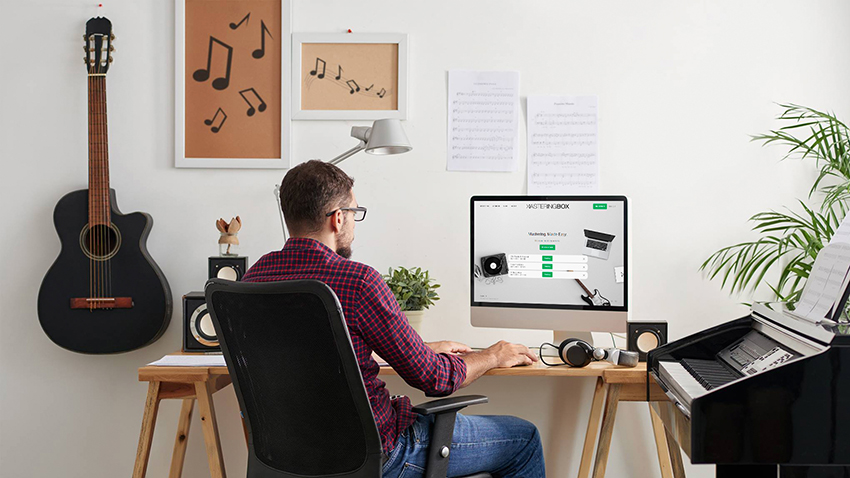 MasteringBOX 2.0 is a drag-and-drop online mastering application armed with smart artificial intelligence that can cleverly detect the dynamic and spectral characteristics of the audio being mastered and apply appropriate adjustments, allowing amateur producers and independent artists alike to master their tracks to a more polished production standard than they might manually achieve otherwise. Often misunderstood, mastering is sometimes seen as a dark art, after all — tough to understand, with a notoriously steep learning curve.
 
Clearly catering to those still in the dark — or, perhaps, pushed for financial reasons or hard pressed for time, the innovative
MasteringBOX mastering website (www.masteringbox.com) was launched in May 2015 to widespread critical acclaim. By building upon that success, the updated MasteringBOX 2.0 online application itself introduces a new mastering environment as well as a whole new set of features and upgrades.
Ultimately, MasteringBOX has helpfully designed a new user-friendly workspace where producers can quickly access all the new features that MasteringBOX 2.0 has on offer from within a one-page application. As such, simultaneous uploading, editing, mastering, downloading, and even ordering are all straightforward, saving time to make mastering a much more productive process than ever before.
Better still, creators can now easily edit their masters, meaning new versions are only ever a click away — no need to repeatedly upload the track to be 'remastered' if those editing choices are not to taste after the resultant master is downloaded. The all-important mastering engine powering MasteringBOX 2.0 has also been updated, providing enhanced processors together with 32-bit floating-point workflow, which significantly improves the quality of the output. On top of that, the new HD WAV (24BIT/48KHZ) format — an industry standard for video and HD (High Definition) publishing — has now been added alongside the CD QUALITY WAV (16BIT/44.1KHZ), WEB OPTIMIZED (MP3 320KBPS), and MOBILE OPTIMIZED (M4A 128KBPS) formats that were already available in MasteringBOX.
Meanwhile, MasteringBOX's mastering app for Android devices has also been upgraded to MasteringBOX 2.0 status with the new HD WAV (24BIT/44KHZ) format, editing, and all other design improvements included in the app (although the new MasteringBOX 2.0 website itself is now 100% compatible with mobile phones and tablets, working well when accessed using both Android- and iOS-based browsers).
But despite those technological improvements to MasteringBOX 2.0, MasteringBOX has retained — and improved — its flexible pricing options. Firstly, free usage permits processing of one master per day in either WEB OPTIMIZED (MP3 320KBPS) or MOBILE OPTIMIZED (M4A 128KBPS) formats; further up the 'pay scale', so-to-speak, a premium subscription is required for CD QUALITY WAV (16BIT/44.1KHZ) or HD WAV (24BIT/ 48KHZ) format masters. Meanwhile, MasteringBOX has helpfully added a 'pay-per-track' option; occasional users can now order an individual master in any format — without having to subscribe to a premium account to do so.
Saying that, permanent premium MasteringBOX 2.0 features access starts with simply signing up for a Basic account at an affordable €6 EUR monthly subscription (equivalent to €4 EUR per month when paid annually) for unlimited masters in WEB OPTIMIZED (MP3 320KBPS) or MOBILE OPTIMIZED (M4A 128KBPS) formats, together with EQ Control and ID3 Tag Editor & Cover Art. Alternatively, a Pro account weighs in at a reasonable €9 EUR (equivalent to €7 EUR per month when paid annually) for up to three uncompressed CD QUALITY WAV (16BIT/44.1KHZ) masters per month, along with all the Basic benefits. Thereafter, those needing unlimited uncompressed CD QUALITY WAV (16BIT/44.1KHZ) or HD WAV (24BIT/48KHZ) masters could consider the Unlimited account option, offering exactly that in addition to everything else in the Pro account for €19 EUR per month (equivalent to €14 EUR per month when paid annually).
MasteringBOX 2.0 is already accessible in ENGLISH, ESPAÑOL (Spanish), and FRANÇAIS (French) and will soon be also accessible in Chinese, German, Italian, Japanese, Korean, and Russian… MasteringBOX's "Mastering, Made Easy" tagline just got a whole lot easier (and better) with MasteringBOX 2.0!
Simply start using the MasteringBOX 2.0 online mastering application at no cost by signing up for a Free account (with restrictions) or via the tiered-tariff Basic, Pro, and Unlimited monthly subscriptions — alternatively available with cost-saving annual billing — priced to accommodate advancing mastering features and usage requirements from here: https://www.masteringbox.com/pricing/
Watch the informative introductory MasteringBOX 2.0 video here: https://youtu.be/y50SljFovYE
Head on over to the MasteringBOX Blog for fruitful recording-related tips and tricks here: https://www.masteringbox.com/blog/