VIENNA, AUSTRIA: high-quality studio furniture-maker UNTERLASS Studio Furniture is proud to announce availability of the SINGLEDESK 40 series, the latest customer eye-catching addition to its flexible range of professional products proudly manufactured in Austria…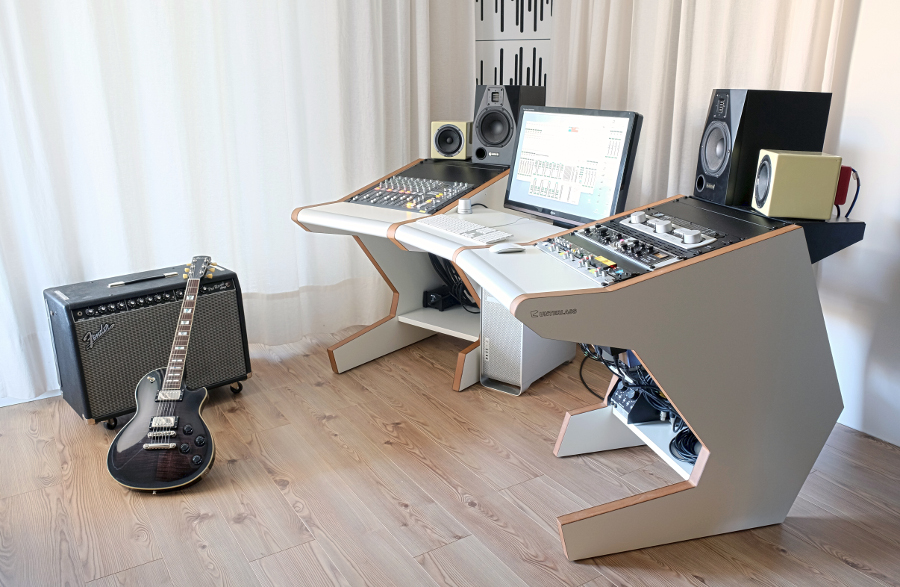 Austrian engineering graduate Arno Unterlass is the namesake brains behind UNTERLASS Studio Furniture. He also happens to be a musician and producer in his own right, so perhaps it's inevitable that he would one day apply his considerable creative skill set to producing his own range of studio furniture with an enviable eye on ergonomics and exacting design standards to suit so many pockets. Why? Well, with today's budget-conscious climate dictating that so many musicians choose to compose and record in their own highly-personalised studio workspaces — often at home — at a time when design consciousness is arguably running at an all-time high, wouldn't you do something similar if what you wanted didn't commercially exist? Fortunately for most of us, such studio furniture design dilemmas need not necessarily exist today, thanks to the tenacity of the talented UNTERLASS Studio Furniture founder.  While form follows function is an oft-overused phrase in the world of industrial design to the extent of possibly becoming somewhat clichéd, some might say, the SINGLEDESK 40 series— the latest product line from the UNTERLASS Studio Furniture design stable to proudly bear Arno Unterlass' skilled (sur)name, and quite literally so in the case of its stunningly-shaped side panels forming its outside legs that are as rock solid as they are good looking, lovingly fabricated from 38mm-thick MDF (medium-density fibreboard) coated with 1mm-thick scratch-resistant HPL (high-pressure laminate) — finds its creator on fine form. Functionally, the SINGLEDESK 40 series is well suited to a variety of applications as a result of well-thought-through design form. Flexibility also comes into play here, for the SINGLEDESK 40 series is actually available as two distinct models — the SINGLEDESK 40A (with angled-shaped side panels) and SINGLEDESK 40R (with slightly rounded-shaped side panels). Both are available finished in black or white satin at no additional cost. Conversely, Deluxe wooden-finished versions — using exotic woods such as Zebrano, known for its highly-figured heartwood, which is straw-like in colour and distinctively marked with narrow veining or 'streaks' of colour, ranging from dark brown to almost black — are also optionally available at an extra cost. Choose a finish to suit environmental factors and/or or taste. Though beauty may well be in the eye of the beholder, all such finishes are added eye candy to an already attractive design and are sure to be welcomed in an artistic age where working environment is readily recognised by so many as being conducive to creativity.  Form follows function certainly came into play when considering the overall outwardly-angled shape of the standard SINGLEDESK 40 series — widening from 145cm across at its front to 208cm across at its rear, realising greater freedom of movement for sweet spot-sitting users by positioning the two gently upward-sloping 12U topside racks on either side within comfortable reach. Speaking of comfort, the centrally-positioned tabletop section — spacious enough for the modern-day composer/recordist or mix master's trusty computer keyboard and mouse/trackpad combo and any associated smaller-sized accessories such as volume controllers — and adjacent flat surfaces fronting those generous racks feature integral matching armrests with specially-shaped, semi-circular profiles. Another nice design touch is the three-level adjustable rear tabletop section that is centrally positioned immediately behind the main tabletop with which it can be flush mounted or levelled above or below it — perfect for positioning computer screens and other devices such as smaller nearfield monitors — to flexibly fit in with the user's requirements, rather than the design dictating exactly where certain equipment should be positioned, which is often the case with other not-so-well-designed studio furniture.  Furthermore, two rear-facing, almost vertical (8U) racks reside behind those topside 12U racks for accommodating power management or other rack-mountable devices that need not be close at hand, while an easily-accessible cable channel located below the central tabletop section handily provides cable outlets in both backwards, sideways, and downward directions so users can keep their studio setups neat and tidy with the greatest of ease. All told, then, that's a generous 40U of rack space — hence the SINGLEDESK 40 series name, which should be more than enough to satisfy the most ardent outboard fans! Furthermore, the SINGLEDESK 40 series is, in actual fact, modular in design, so those needing even more rack space need not necessarily look elsewhere. An optional extension kit — comprising one inside leg with symmetrical bore holes, an armrest, a flat surface plate, a shelf, plus all associated rack rails, screws, and panels — effectively expands the SINGLEDESK 40 series to provide another 20U. Adding an extension kit to each side of a SINGLEDESK 40A or SINGLEDESK 40R makes available a generous 80U of rack space in total! That being said, each extension can be promptly performed at any time without having to disassemble the SINGLEDESK 40A or SINGLEDESK 40R beforehand. Now that's what we call user-friendly industrial design!  Don't need so much desktop space? Say your creative needs change. By omitting the tabletop sections and cable channel, the SINGLEDESK 40 series can be transformed instantly into two independent side racks, resulting in a totally different — though no less ergonomic and eye-catching — workspace that is ideally suited to mastering. Metamorphosis meets modularity, you could say! More modularity beckons in the sturdy steel form of optional nearfield monitor shelves that can cleverly be mounted on the side racks. No need for separate floorspace-hogging stands, so the SINGLEDESK 40 series can comfortably fit into even tighter spots as a result. Reasonably, those with more space to spare could consider the optional SINGLEDESK 40A Flexi or SINGLEDESK 40R Flexi, featuring a wider table plate to support controller integration. Indeed, other ordering options include 'straight' (non-angled) versions of the SINGLEDESK 40 series. Seemingly, customisation can also be critical to creativity, so, understandably, UNTERLASS Studio Furniture also accommodates all customisation requests (within reason).  Really, then, whether wishing to compose and record or mix and master in today's highly-personalised studio workspaces — whether at home or away, the SINGLEDESK 40 series will fit right in as the perfect production partner — with or without any optional extras or customisation. Critically, it could well end up being the best production choice you've yet made for your project studio.
The SINGLEDESK 40 series is available in a choice of black, satin white, and Deluxe (wooden) finishes directly from UNTERLASS Studio Furniture starting at €1,665.00 EUR (excluding VAT) from here: Link
Optional nearfield monitor shelves are available for €190.00 EUR (excluding VAT) per pair.