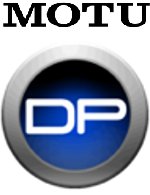 MOTU hat der Digital Performer DAW ein Update auf die Version 8.0.6 spendiert. Es gibt neue Beispieldateien und diverse Verbesserungen und Bugfixes. Hier ist die Übersicht:
Highlights in DP 8.06:
Added new Guided Lessons, which provide integrated, interactive tutorials. See the new Guided Lesson project in Application Support, or download it as part of the updated tutorial materials from motu.com/download.
Improved operation with multiple Core Audio devices running under 10.9.
Sends can now be dragged and dropped in the mixer, just like effect settings.
Support for Japanese text input on Windows.
Improved importing crossfades from OMF and AAF files.
Improved operation on Windows with drag and drop, window focus, instrument aux assignments, and the Movie window.
Fix for an issue on Windows where Digidesign Accel HD hardware wouldn't change sample rate.
Addressed several issues related to Movies and Load.
VIs now retain their aux assignments when duplicating a chunk.
Improved compatibility with Scuffham S-Gear plugins.
Video output offset now works with MOTU video hardware and DV output, even when DP is resolved to an external time base.
Improved compatibility with UAD plug-ins on Windows.
MIDI tracks now retain output assignments to V-Rack VIs when loaded from a document containing the same V-Rack.
Fixed a problem with icon menus in plug-ins on Mac OS X 10.9 systems.
Improved compatibility with iZotope RX3.
Weitere Informationen gibt es hier: Link