PreSonus und Muse Research haben bekannt gegeben, dass die Muse Research Receptor TRIO und QU4TTRO Plugin Players jetzt zusammen mit dem PreSonus 1818 VSL Audio Interface verfügbar sind. Dabei sind die Funktionen des 1818VSL auf dem Display der Receptor Geräte ablesbar und somit voll integriert. Preise wurden noch nicht mitgeteilt.
Hier ist die original Pressemeldung:
Muse Research™ and Development, Inc., and PreSonus® Audio Electronics, Inc., announced that the PreSonus AudioBox™ 1818VSL audio interface is now included, standard, with Muse Research's new Receptor™ TRIO and Receptor QU4TTRO hardware-based plug-in players, giving musicians up to 18 high-quality audio inputs and outputs.
 In addition, Muse Research now offers the PreSonus AudioBox 1818VSL interface as an added-cost option for its award-winning Receptor VIP plug-in player, giving the VIP multi-channel input and output capabilities. The Receptor TRIO and QU4TTRO are now shipping, as is the software update that allows the Receptor VIP to utilize the AudioBox 1818VSL interface.
Muse Research and PreSonus: A Natural Alliance
 "We're thrilled to be working with PreSonus," comments Muse Research VP of Marketing Bryan Lanser. "We've always admired their products, and the capabilities offered by bundling with AudioBox 1818VSL with our Receptor TRIO and Receptor QU4TTRO will open up a lot of doors for musicians by providing them with multiple inputs and outputs in a straightforward, highly integrated manner."
"The AudioBox 1818VSL is designed for professionals and serious hobbyists, and Receptors have long been the choice of top pros," adds PreSonus CEO Jim Mack. "The combination of the two product lines seems like an obvious way to better serve advanced users."
 Receptor's Rack-Style Interface Optimized for the AudioBox 1818VSL
Muse Research has tightly integrated the AudioBox 1818VSL's I/O functionality into Receptor's new rack-style graphical user interface. All of the AudioBox 1818VSL inputs and outputs are labeled exactly as they show up on the interface, minimizing confusion and improving workflow. In addition, all of the default audio assignments in the Receptor graphical user-interface are reflected in the AudioBox 1818VSL hardware, allowing a user to easily transition from the built-in audio to the PreSonus audio interface. The result is that the Receptor acts as if it was designed for the AudioBox 1818VSL and vice-versa, letting you get on with the task of making music instead of fussing over your I/O.
 AudioBox 1818VSL Provides Massive I/O Capabilities
The Receptor VIP, TRIO, and QU4TTRO are the ideal solutions for touring musicians that need to send multiple outputs to a sound-reinforcement system, either as balanced analog or multichannel digital audio signals. With eight channels of analog input and outputs, eight channels of ADAT optical digital input and output, and S/PDIF stereo I/O, the Receptor coupled with an AudioBox 1818VSL can adapt to any performance or recording situation you are likely to encounter.  
Once the AudioBox 1818VSL is configured with input and output assignments, you can save and recall each configuration as presets inside the Receptor. Even better, the AudioBox 1818VSL works seamlessly with Receptor's exclusive Live Mode, so you can organize your preset configurations as a virtual set list and then instantly change the sounds, effects, mix levels, and I/O routings as required for each song in the set. The Receptor lets you change the presets via the front-panel interface, via MIDI program changes, with an external footswitch, and even wirelessly, using a mobile device such as an iPad® or iPhone®! The combination of the Receptor and the AudioBox 1818VSL interface is a live performer's dream come true.
Receptor + AudioBox 1818 = Unrivalled Versatility
Even more interesting is the versatility that the combination of an AudioBox 1818VSL and a Receptor brings to a performing or recording musician. By offering a wide variety of inputs and outputs and a complete array of virtual instrument and effects plug-ins preloaded into each Receptor, it is possible to use the Receptor and the AudioBox 1818VSL as the central hub of your keyboard rig or your entire band. Multiple inputs let you process incoming signals like guitars, basses, vocals, drums, and your keyboards through effects channels, while generating sounds with software synth plug-ins, and then blend everything into a stereo mix to be sent to the PA system.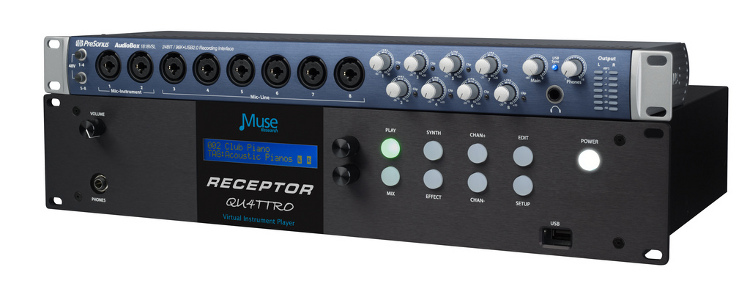 Mehr Informationen zu Muse Research gibt es hier: Link
Mehr Informationen zu PreSonus gibt es hier: Link