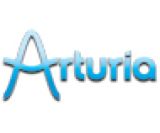 Arturia stellt auf der Winter NAMM Show die neue Spark2 Software, sowie die SPARK(LE) Creative Drum Machines vor. Arturia schreibt dazu: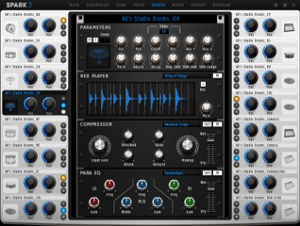 Arturia is proud to announce SPARK 2 — a new look, new feel version of the powerful software engine that drives its drum machine-redefining SPARK Creative Drum Machine and SparkLE Creative Drum Machine hybrid hardware/software instruments — at the 2014 NAMM Show, January 23-26 in Anaheim, California.
With the timely introduction of SPARK 2, Arturia has given its beat creation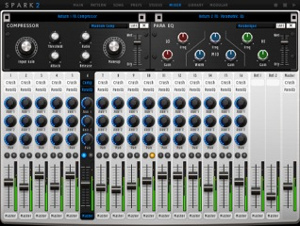 software a new look, new feel, and a whole host of new features fit to make it the premier sound-sculpting and live performance drum machine on the market when perfectly paired with the SPARK Creative Drum Machine and SparkLE Creative Drum Machine controllers. It's a match made in hybrid heaven that's more flexible than ever before!
While SPARK has always been built on a fully-modular VA (Virtual Analogue) sound engine, originally only developers had access to this wonderful-sounding rhythmical power source. Not now. With the all-new SPARK 2, users are free to add and subtract modules (including oscillators, multimode filters and Karplus-Strong filter, ADR envelopes, LFOs, mixers, ring modulator, Bode Frequency Shifter, spring mass, and CV processor); create their own patch routings; and assign up to six macro controls for immediate control. Clearly, it's this truly modular, fully-accessible sound engine that makes SPARK 2 truly shine as the ultimate drum synthesizer!
With SPARK 2, Arturia has taken the opportunity to update the look and feel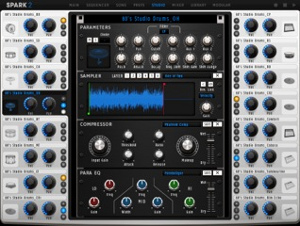 of SPARK to allow for faster workflow, while creating a layout that allows it to grow well into the future and secure its longevity — no easy feat in today's here today, gone tomorrow's world of rapidly disposable developments. New tabbed pages provide a cleaner look, more screen space, and faster access to the most needed features — features like an all-new Mixer window, expanded Pattern edit screen, and enhanced Library page for better data management. It's a knockout!
SPARK 2 also adds 50 new kits — including no fewer than 800 new instruments — that span many more musical genres than ever before, including trap, hip-hop, tech house, and nu disco, to name but a few. Fortunately, these kits come complete with 32 patterns that can be used by themselves or form the basis of user-programmed beats.
Bringing up the rear, SPARK 2 sees Song mode updated, too. Song segments can now be configured and then replayed at the touch of a button. Users can create song sections that will play from one pattern to another and then recall these sections via the step buttons on the SPARK Creative Drum Machine and SparkLE Creative Drum Machine controllers.
So why not get behind the wheel of a truly creative drum machine and let SPARK 2 help you create truly driving rhythms with minimum fuss and maximum musical output. No driving lessons required!
Wer schon die Spark Software sein eigen nennt, kann die neue Software Version nach Erscheinen kostenlos updaten.
Die Software und die Hardware werden ab Ende März, Anfang April verfügbar sein. Die Preise liegen bei 399,- Euro (Spark2) bzw. 299,- Euro (Spark2 LE).
Weitere Informationen gibt es dann hier: Link