Yamaha stellt auf der Summer NAMM 2013 2 neue Gitarren vor. Dabei handelt es sich zum einen um die CGX102, eine electro-akoustic Gitarre, mit eingebautem Vorverstärker und Nylon Saiten. Zum anderen wird auch die APXT2, eine kleine, 3/4 Gitarre gezeigt.
Die CGX102: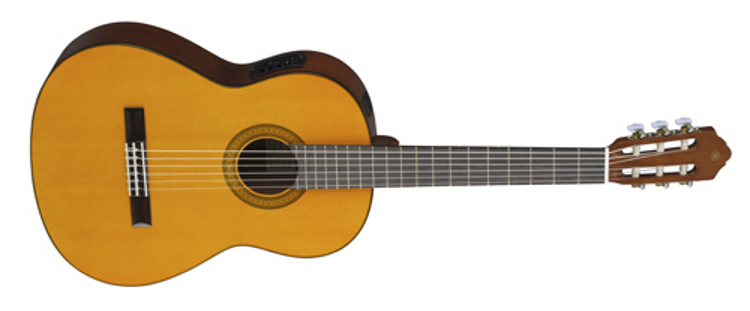 Yamaha today introduced the CGX102 nylon string electric-acoustic guitar, which will be on display at Summer NAMM 2013. This new model expands Yamaha's best selling CG classical guitar series by combining top quality performance characteristics with versatile tone control and professional amplification flexibility.
The CGX102 features a Spruce top, Nato back and sides and a Mahogany neck. The Rosewood fingerboard and bridge provide accurate and defined response.
A new System68N preamp, featuring a Yamaha contact pickup with a precision tuner, offers natural tonal reproduction. When amplified, the CGX102 delivers a detailed, smooth and flexible sound, making it ideal for live performance.
Pricing and availability: the CGX102 (MSRP: $475) is expected to ship in August 2013.
Die APXT2:
Yamaha Guitars today introduced the sleek, three-quarter size APXT2, which will be on display at Summer NAMM 2013. A smaller version of the world's best-selling acoustic-electric guitar, the APX500II, the APXT2 is perfect for travel, practice, busking and even gigging.
Packed with features, the new model includes Yamaha's proprietary Acoustic Resonance Transducer (A.R.T.) System68 pickup system with built-in tuner, Spruce top, Meranti back and sides, Mahogany neck and a Rosewood fingerboard and bridge. It also comes with a sturdy, padded gig bag.
"This versatile guitar, which is portable and easy to play, sounds a lot bigger than it looks and feels," said Dennis Webster, marketing manager, Yamaha Guitars.
The System68 A. R. T. includes a one-way active preamp and transducer contact pickup system that features mid-boost EQ for tone shaping and a precision chromatic tuner. The transducer system delivers a natural acoustic tone by dampening excessive vibration from the soundboard while picking up small resonances to achieve ideal sensitivity and outstanding dynamic balance.
Pricing and availability: The APXT2 (MSRP: $315) in Dark Red Burst, Natural, Black and Old Violin Sunburst is now shipping.
Weitere Informationen gibt es hier: Link