Stefan Hüther, der Mann hinter Redstuff, hat sich wieder was Neues einfallen lassen und hat einen 77 Watt Röhrenamp mit 3 Kanälen vorgestellt, der sich am klassischen "brown" Ton orientiert und von funkelnden, reinen Rhythmus Sounds bis zu schreienden Leadsounds alles bietet. Hier die Einzelheiten zum Cerberus Amp: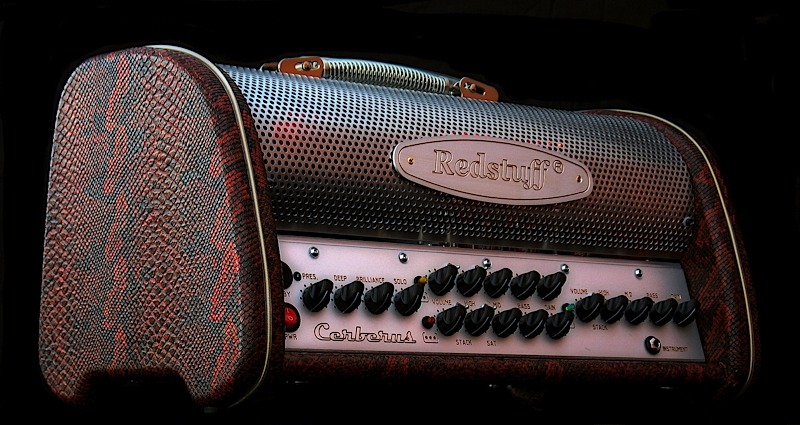 Der Amp kommt in der von Restuff bekannten "Brotkasten" Form auf die Bühne, oder in den Proberaum. Er ist in verschiedenen Farben erhältlich.
Details:
Preamp:
3 preamp channels

(1=

Clean-Crunch

,

2=

Crunch-Lead

,

3=

Crunch-

Lead

) each with separate controls for Gain,Bass,Mid,Hi,Volume,

2 Mode Tonestack, Saturation switch,

1 parallel FX loop (adjustable -10dB – + 4dB) footswitchable & 1 series FX Loop, footswitchable Soloboost, Switching Output for external effects, balls switch, 5 x Preamp Tubes 6N2P-EV or ECC 83
Master Section:
77 Watt of pure tubepower
Outputs:
Speaker out (4, 8, 16 ohms), footswitch port,
High Quality RY50 Octal Powertubes with oversized transformers for best dynamics and tone, 1x6N1P-EV or ECC81 PI tube, mastervolume switchable to off
Specials:

available in different colors
Dimensions & Weight:
53cm x 31cm x 29cm 18kg
This amp was specially engineered to provide the classic brown tone from sparkling cleans to screaming rhythm and leadsounds
Der Preis liegt bei 4190,- Euro incl. MwSt.
Weitere Informationen gibt es hier: Link
Und hier noch ein Link zu einem Redstuff "The Duke" Testbericht in der Ausgabe 5/2014 in Gitarre&Bass: Link