The premiere collection of acoustic drum kits (and kit ensemble), recorded and mixed by Japan's top recording engineer Mitsunori Aizawa at the legendary Sound City Studio. Performed by drum master Ken Higeshiro, these unique and versatile drum sounds can be heard across countless anime openings, battle themes, jazz fusion tracks, and everything in between. With Tokyo Scoring Drum Kits, you can finally add this unmistakable percussive energy to your own music!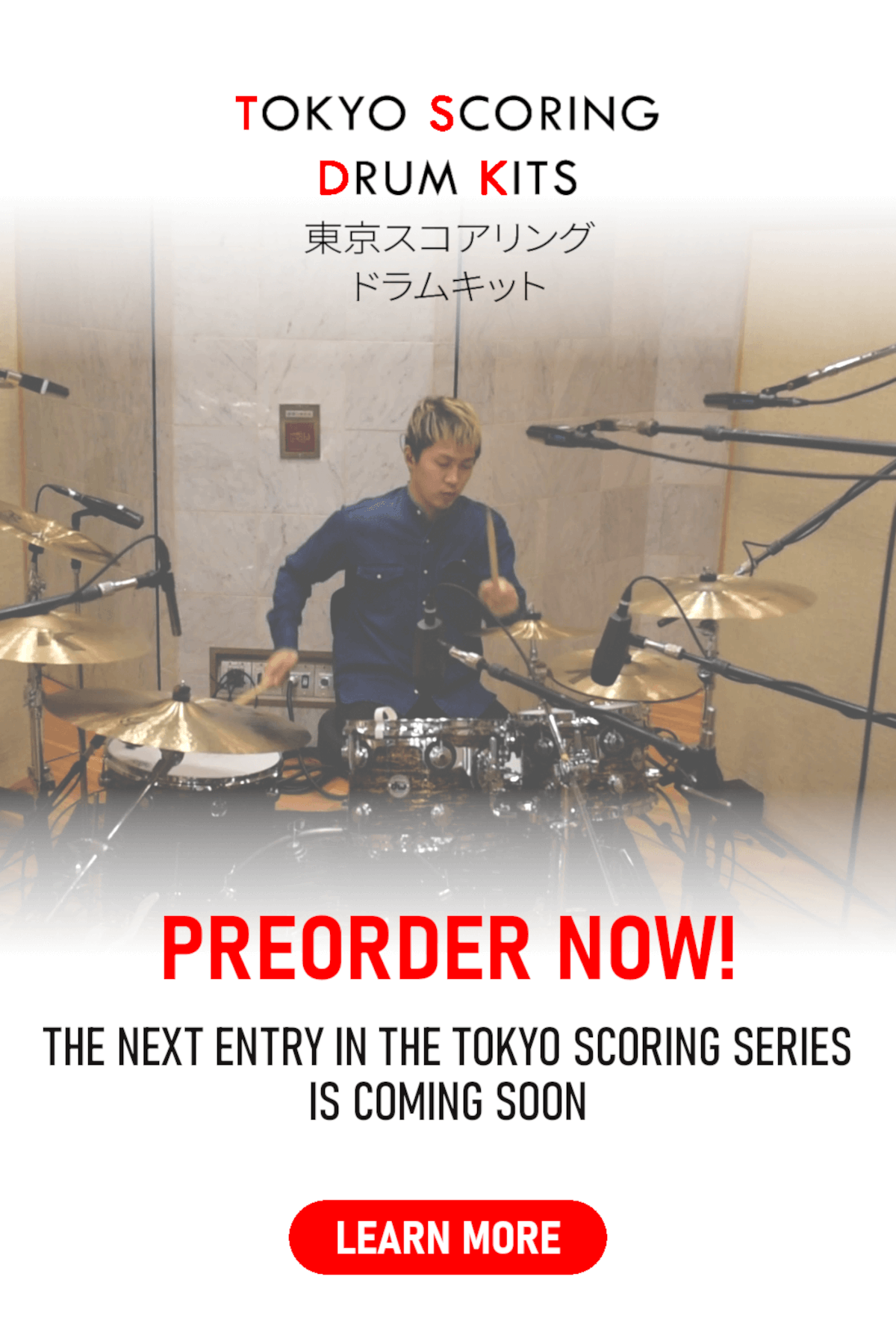 Japanese soundtracks are known for blending elements of rock music with orchestral tracks, often through incorporating a drum kit alongside more traditional orchestration. This is an essential feature of the Tokyo Scoring sound we seek to bring to composers around the world, and it's a particular area of expertise for our mixing engineer partner Mitsunori Aizawa.
That's why we selected acoustic drum kits for the second entry in the Tokyo Scoring Series!
Tokyo Scoring Drum Kits was recorded in the same space and by the same engineer as Tokyo Scoring Strings, ensuring that it can be easily mixed with that library. Besides plenty of detailed close micing and overheads, the library includes three ambient positions, delivering superb flexibility to dial in as much (or as little) of SOUND CITY's unique room sound as you'd like.
With five unique kits, a drum kit ensemble, and so much mix flexibility, Tokyo Scoring Drum Kits delivers not only ideal sounds for Japanese-style soundtrack scoring, but also rock, metal, pop, funk, and epic music.
Our Japanese Partners
We are once again honored to partner with an incredible team of musicians and collaborators in Japan:
Ken Higeshiro, one of Japan's top session drummers, whose work can be heard on over 200 projects and who is a frequent collaborator of composers such as Hiroyuki Sawano, Yuki Hayashi, and our Tokyo Scoring series partner Masaru Yokoyama.
Mitsunori Aizawa, Japan's top engineer, responsible for mixing and recording hundreds of world-famous scores. He is a specialist in recording & mixing drums.
Sound City, an incredible recording space with over 60 years of history. This choice of studio allows for blending with other Tokyo Scoring Series libraries, and a wide range of close to spacious mix options.
Renowned anime & film composer Masaru Yokoyama, who brought his experience recording scores around the world through his companies Plugnote and MiracleBus.
Crypton Future Media and SonicWire, our Japanese distributors who have helped with the Tokyo Scoring Series from the very beginning.
---
Three Distinct Mixes
---
Whether you want an instant, production-ready out-of-the-box sound, OR maximum mixing flexibility, Tokyo Scoring Drum Kits includes every possible option you could want.
In the Full Mix, each kit piece includes up to 3 spot mics (e.g. snare top 1, top 2, bottom), along with overheads and three ambient positions. But you ALSO have access to bleeds for every other mic. So, if you want your snare to include some natural resonance off the tom mics, you have full control! Sixteen (16) mics are available for mixing and bleeds.
The Aizawa Mix is a completely different sample set with the same performances, processed offline and mixed by Aizawa himself through his 'secret sauce' hardware. Twelve (12) mics are available for further mixing and bleed control.
Finally, the Board Mix patch gives you the most polished and immediate sound possible, with low RAM and CPU usage, letting you focus on writing rather than mixing. Each channel can still be mixed independently: only sub-mixes and bleed control is not available.
---
Drum Content
---
Tokyo Scoring Drum Kits includes five exhaustively-sampled drum kits, each with a unique sound ideal for different styles of music like rock, pop, metal, etc. Each piece is recorded in extensive detail with up to 10x dynamics and 10x round robins, and naturally, you can mix and match components of these kits to create your ideal tone.
The drum ensemble (a sixth kit) features three kits played simultaneously and instantly delivers an epic sound.
Individual Drum Kit Pieces:
8 crashes
4 hi-hats (max articulations: closed, closed tip, half open, open, pedal, semi-open)
5 kicks
3 ride cymbals (max articulations: cup, smash, tip)
5 snares (max articulations: center, center rim, flam, rimshot, roll)
16 toms
1 china
Drum Kit Ensemble:
Crash left & right (hit)
Hi-hat (closed, half open, open, pedal)
Ride cymbal (tip)
Snare (center, flam, rimshot, roll)
Toms (stick, hand hits, rimshots)
---
Console: Modular FX Rack and Mixer
---
Console is a fully-featured mixer, modular effects rack, and pedal board, designed to give you full control over your drum mix. Effects include multiple EQs (digital and analog-style), compressors, spatial FX, modulation FX, tape saturation, amps, distortion pedals, reverbs, and more.
Each mic channel (up to 16, depending on patch loaded) can have up to 8 FX in any order, plus another 8 slots on the master channel, with support for send routing as well. Each channel can also be routed to separate Kontakt outputs for further mixing and effects in your DAW.
Download the Console manual here to learn more!
---
Preorder Information
---
By purchasing the PREORDER for Tokyo Scoring Drum Kits, you will receive a serial number that can be used to download and activate the product once it is released.
You may refund your preorder prior to the product launch by contacting our support team.
We plan to release Tokyo Scoring Drum Kits by the end of 2022. All preorder customers will be notified upon the product's release. In the event that the product is delayed beyond 2022, we will notify all preorder customers in advance.