Analog Breath Controller compatible with the discontinued Yamaha BC3. Delivered with flexible headset including BC3-style mouthpiece. The BCa – Analog Breath Controller is signal compatible with Yamaha's discontinued breath controllers. This means it can be plugged directly into the 3.5 mm "Breath" input jack of any compatible keyboard/synthesizer, for example the Yamaha CS01, DX7, VL70-m, and several others from a variety of manufacturers.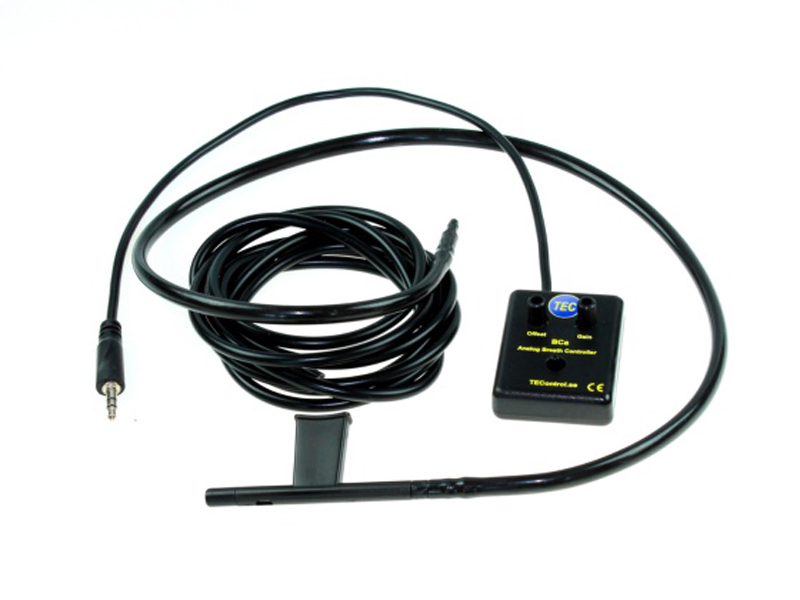 Compared to Yamaha's BC3 breath controller, the BCa contains a modern piezoelectric pressure sensor and a much improved signal conditioning circuit. The sensor is not only more sensitive but also free from drifts and hysteresis, which plagued the membrane sensor of the BC3; the offset and gain controls are more precise and, unlike the BC3, they are independent from each other: this means that changing gain does not affect offset and vice-versa.
The BCa is delivered with our flexible headset which allows bending to a comfortable shape and yet is springy enough to clamp around the head. The headset also includes a Yamaha BC3-style mouthpiece with adjustable bleed valve that can be rotated away from the mouth when not in use.
Specifications:
Analog output, signal compatible with Yamaha BC1, BC2 and BC3 breath controllers
No converters required – designed to plug directly into the 3.5mm "Breath" jack of any compatible keyboard/synthesizer
No power supplies required – the keyboard/synthesizer powers it
Insensitive to ambient pressure
Adjustable offset and gain, independent of each other
For more informations go here: Link
Price: 99,99 € excl. VAT.