EL CAJON, Calif. Jun. 28, 2018 — Today Taylor Guitars debuts the second model from its acclaimed Builder's Edition collection with its new 600 Series version – the Builder's Edition 614ce. The maple/torrefied spruce Grand Auditorium blends the sonic advances of Taylor's new V-Class bracing with premium body contouring and gorgeous aesthetic details, offering players another sublime tool for inspired musical expression. The guitar joins the Builder's Edition K14ce, which made its debut in January and has received numerous awards, including the 2018 MIPA Best Acoustic Guitar Award.
---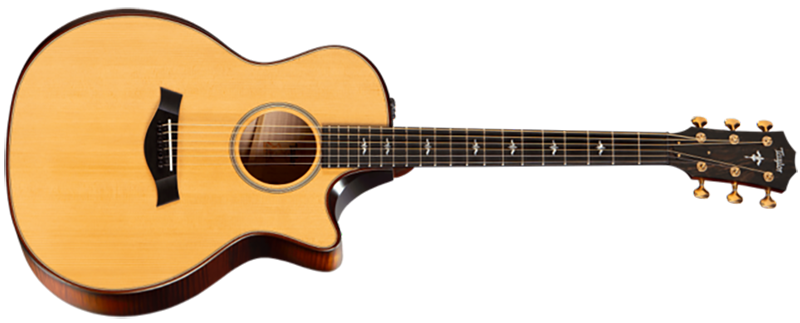 Taylor Master Guitar Designer Andy Powers created the Builder's Edition concept to coincide with the launch of Taylor's game-changing V-Class guitars earlier this year. The goal was to match the tone-enhancing attributes of V-Class — more volume, longer sustain, and greater harmonic agreement between notes — with player-friendly body contouring to elevate the playing comfort. The result is a next-level experience in both feel and sound.
Each Builder's Edition model delivers the equivalent of Andy's director's cut version of its standard model counterpart, boasting exclusive ergonomic and aesthetic refinements.
The Builder's Edition 614ce features Taylor's popular Grand Auditorium body, a torrefied Sitka spruce top, back and sides of figured Big Leaf maple, and patented V-Class bracing. That combination yields an ultra-responsive, player-reflective sound, elevating maple's natural transparency in a way that can sound warm, bright or whatever a player's hands decide.
"This guitar is capable of so much sonic color," Andy says. "More than almost any other guitar we make, this will sound like the player."
Taylor's proprietary roasting process for the torrefied Sitka spruce top lowers the damping effect and helps deliver a more played-in tone.
Ergonomic body details include a beveled armrest with beveled body edge treatment; a double-carved cutaway that allows fluid access to the higher frets without the need to change one's hand position; and Taylor's new Silent Satin™ finish, which reduces contact noise for a cleaner overall sound. Gold Gotoh 510 tuners (featuring a 21:1 gear ratio) complete the suite of tactile delights.
Striking aesthetic details include a new Wild Honey Burst on the back, sides, top and neck (an optional natural-finish top version is also available), a new mother-of-pearl Sceptor fretboard/peghead inlay, and inset maple/black body purfling with matching rosette. The guitar comes equipped with Taylor ES2 electronics and ships in a deluxe hardshell case.
Street Price: $3,999. For more information please visit: TaylorGuitars.com.