SANTA CRUZ, CA, USA: Plugin Alliance, supporting all major plugin formats and uniting some of the best-known international audio companies under one virtual roof, is proud to announce availability of 50 Series — the latest product from Swedish plugin partner Lindell Audio, transforming Digital Audio Workstations (DAWs) into an analog mixing console like no other by capturing the legendary sound of API®# as a dual (console channel strip and buss) plugin with patented Tolerance Modeling Technology* (TMT) officially licensed from Brainworx bringing to light the most convincing model of these classic consoles to date — as of March 12…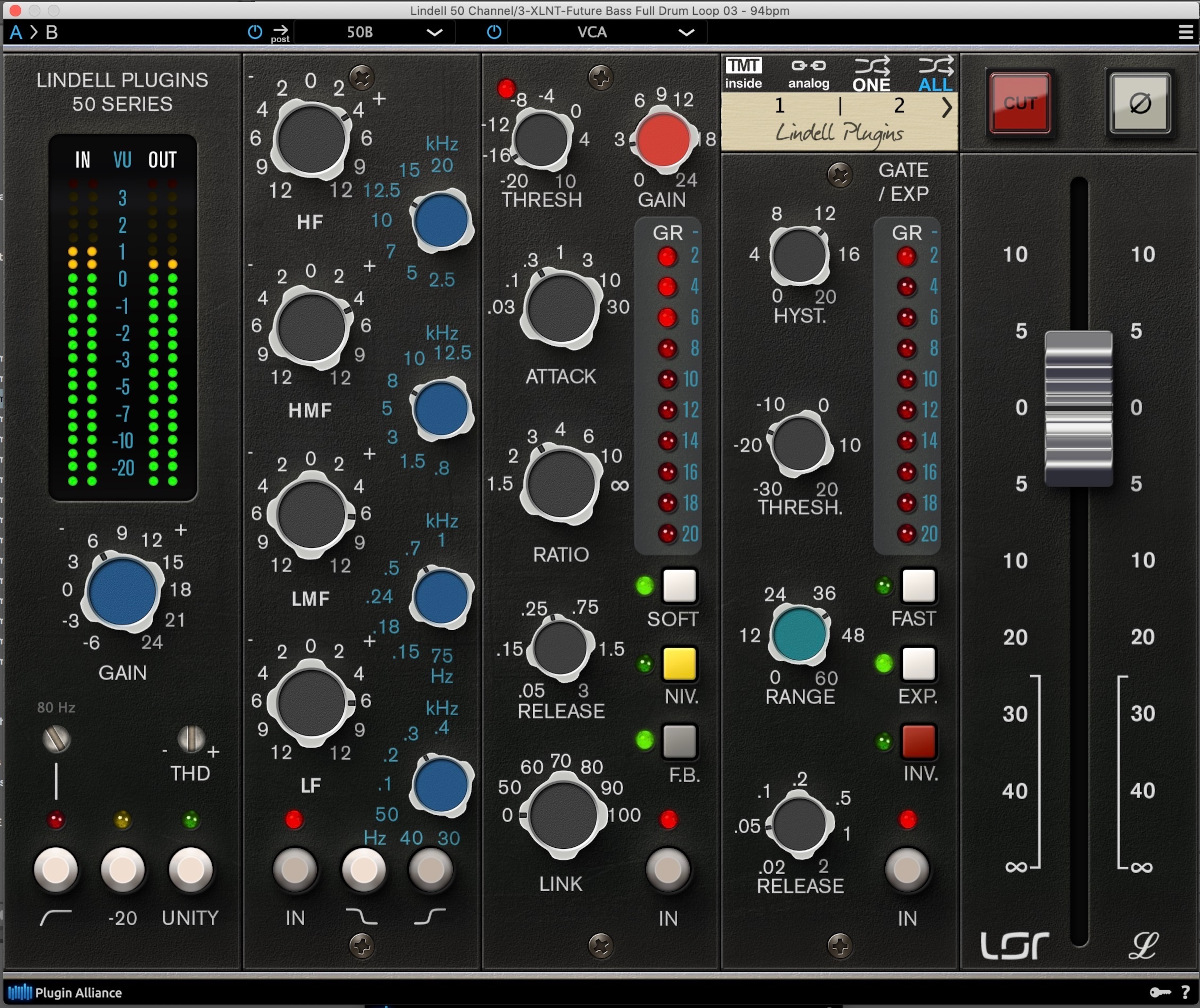 The tight and powerful sound of API® consoles, preamps, and EQs have made them some of the world's favorites for creating professional-sounding drums, guitars, synths, and more with attitude and presence. Thanks to Brainworx-patented TMT, users of the Lindell Audio 50 Series can now access the most convincing model of these classic consoles to date, including the slight channel-to- channel variances in the values of their analog components.
Creatively, the Lindell Audio 50 Series does more than just model a single console by providing an array of choices in its dynamics and EQ sections. Ultimately, users can simply switch in their favorite flavor of the classic 500-series modules modeled; moreover, they can also be used on busses or individual tracks.
Conveniently choose between three classic EQs — the semi-parametric 50A EQ for three-band processing, the 50B for four bands, and the 60 as a precision graphic EQ for radically reshaping sounds in a way that is as transparent and flexible as it is fun.
Finally, the VCA compressor models the high-end 2500 series compressor of API®, with additional controls to improve upon the original. On top of that, the included FET compressor nails the tone, simplicity, and ease of use of the original 500 series since it is modeled after the acclaimed API® 525 compressor.
Clearly, then, the Lindell Audio 50 Series far from falls short of the mark, with a fanciful feature set well worth highlighting here: 72 different TMT channel emulations in one plugin — just like a real console; three switchable EQs modeled after the most popular 500- series lunchbox® designs; two switchable compressors; classic API® noise gate and expander emulation; classic API® preamp tone capture — full, tight, and punchy — with automatic gain compensation; continuously variable THD (Total Harmonic Distortion) and virtual GAIN controls to add colorful saturation and/or simulated analog noise independently or globally; and scalable UI (User Interface) to adapt to different screen sizes and workflows, with users also benefitting from plenty of preloaded presets providing a useful starting point for finding their sound.
* Brainworx Audio's Tolerance Modeling Technology (TMT) is protected under the following patent: US Patent No. 10,725,727
The Lindell Audio 50 Series plugin was developed by Brainworx and Lindell Audio using their own modeling techniques, studying original products from API®.
# Legal Disclaimer: The trademarks 500-series, API® 2500, and lunchbox® are the intellectual property of Automated Processes, Inc., which is unaffiliated with Brainworx. Automated Processes, Inc. has not licensed any intellectual property for use in the 50 Series, nor have they endorsed, or will they provide support for, the 50 Series in any manner.