PolyBrute's first major firmware update vastly expands the flagship Brute's powerful morphing abilities, introducing a number of creative enhancements, inspiring presets, and radical features, for free.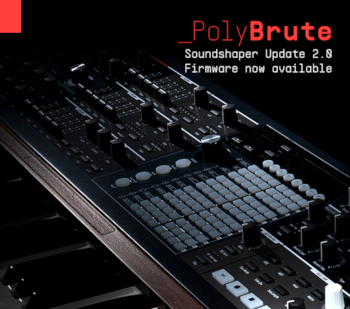 New Effects
Add an additional final EQ stage with 7 shapes to choose from, plus a vintage-style Ensemble effect for massive stereo width.
Synth Accuracy
You can now adjust the accuracy of controls like OSC pulse width, filter settings, unquantized LFO rate and more for a humanized feel.
Chord Mode
Simply hold 'Polyphony' and play up to 6 notes to set your chord voicing, allowing you to play chords with a single note on the keyboard.
Duophonic Aftertouch
Configure Aftertouch to only apply to the last note or group of notes you press, leaving previously held notes unchanged.
LFO 3 Curve Enhancements
Set PolyBrute's third LFO curve to respond differently for further modulation control within your patch. On top of triangles, bells, and spikes, you can now access exponential to logarithmic envelope-like shapes..
Real-time Display Feedback
PolyBrute's screen now displays parameter names and values in real-time, so you can stay on top of every little sonic tweak.
Expanded preset library
Explore 64 additional factory presets designed by world-class sound designers, expanding PolyBrute's sonic vocabulary.
Focus… & Phonix: Analog heads, hip hop souls
Despite hailing from opposing coasts of the United States, hip hop elites Focus… & Phonix are united by their passion for music production and sculpting their sounds the old fashioned way. We visited them in the studio to hear how they've been using PolyBrute to push their beats into multi-dimensional territory.