Presonus hat die neue Monitor Station 2 vorgestellt, welche, zumindest in USA, ab sofort erhältlich ist. Die Hardware wurde neu gestaltet und verfügt jetzt auch über S/PDIF Anschlüsse. Hier ist die Pressemitteilung: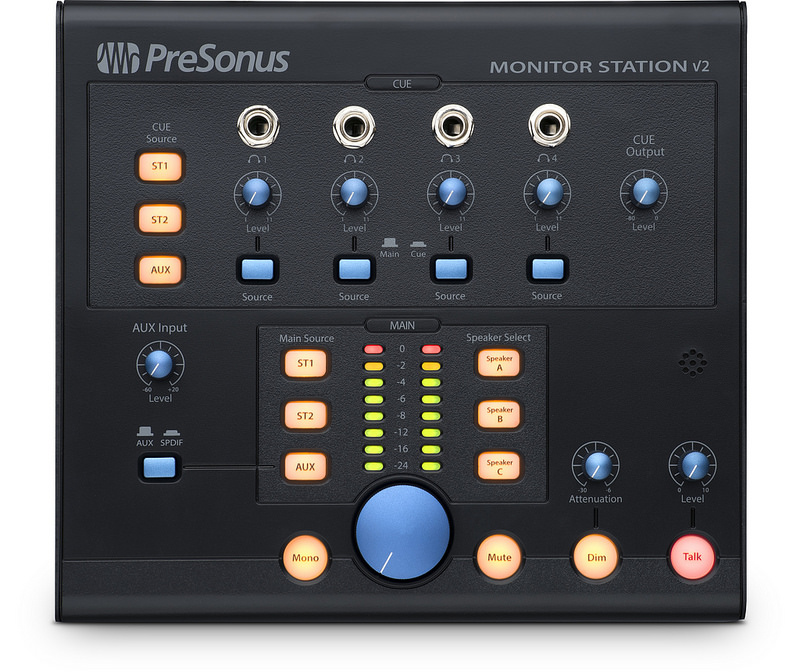 PreSonus® is shipping the new Monitor Station V2, a major redesign of its popular desktop studio-monitor control center. Monitor Station V2 enables easy desktop management of multiple audio sources and up to three sets of monitor speakers.
The new monitor controller provides a S/PDIF digital input and has a more ergonomic, intuitive layout than the original Monitor Station. Features include four stereo inputs-two pairs of balanced ¼" TRS and one pair of unbalanced RCA Aux inputs with gain control-managed with a source-select switch. A 1/8″ TRS unbalanced input is summed with the RCA Aux inputs. The S/PDIF stereo input supports 44.1, 48, 88.2, and 96 kHz digital audio; a button switches between the Aux and S/PDIF inputs.
Three left/right pairs of balanced, ¼" TRS speaker outputs and a Speaker Select switch enable you to A/B compare your audio through up to three sets of reference monitors. A variable, rear-panel control enables fine-tuned calibration of speaker-output levels. 

Outputs include left/right pair of balanced ¼" TRS Main outs, left and right balanced ¼" TRS Cue outputs with level control, and four ¼" TRS stereo headphone outputs, each with a Main/Cue source selector and individual output-level control.
Monitor Station V2's built-in talkback microphone offers variable input gain and is activated with a Talk button. An eight-segment, three-color LED meter indicates left and right levels. Other features include a Dim button with variable attenuation level, Mono and Mute buttons, and an external DC power supply and rocker power switch.
The Monitor Station V2 is available immediately with an expected U.S. MAP/street price of $299.
Weitere Informationen gibt es hier: Link