PreSonus stellt im Umfeld der Summer NAMM 2013 die nächste Generation des StudioLive 32.4.2AI digital Mixers vor. Zudem wird die Version 2.6 der Studio One DAW Software vorgestellt, die laut PreSonus einige Neuerungen beinhalten soll.
Hier ist die komplette Pressemeldung: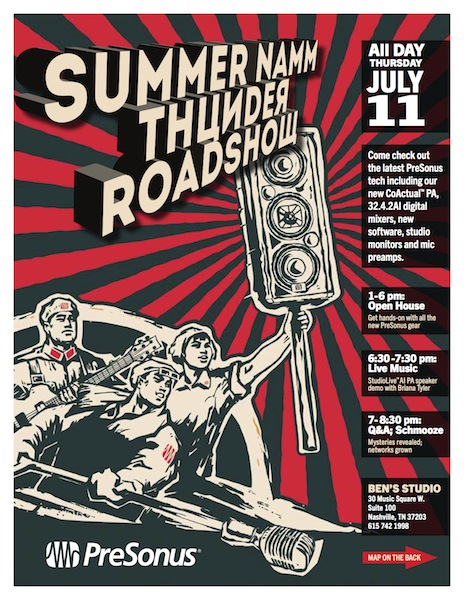 PreSonus is hosting a special event to show off our latest products! Please join us for an open house, followed by live music and a general schmooze and Q&A.
Why:
 We have lots of very cool new products that are ready to show. And since we're notoriously fun-loving people, we're going to mix business and pleasure! Refreshments will be served. Briana Tyson will perform. Everyone is welcome.
When:
 Thursday, July 11, 2013
1 – 6 p.m. – Open house. Get your hands on the latest PreSonus gear.
6:30 – 7:30 p.m. – Live music with Briana Tyson-featuring the new StudioLive AI-series PA speakers
7:00 – 8:30 p.m. – Q&A and schmooze. Find out the answer to life, the universe, and everything PreSonus!
Where: 
 Ben's Studio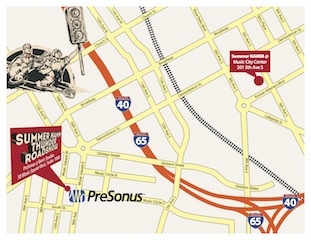 30 Music Sq. W., Suite 100
Nashville, TN 37203
tel. 615-742-1998
What:
Hear an excellent band perform with our new StudioLive AI-series PA speakers
Get your hands on the first member of the next-generation StudioLive 32.4.2AI digital mixers
Check out Studio One 2.6-with surprising new features
Find out why the ADL 700 tube preamp/channel strip is drawing rave reviews
Discover Eris-series studio monitors, which are raising the bar for sound quality at an entry-level price.
Learn about Sceptre-series studio monitors-the magic of coaxial studio monitors done right