PreSonus stellt in Zusammenarbeit mit den Spezialisten von Fulcrum neue PA Boxen vor. Als bei PreSonus überlegt wurde PA Boxen in die Produktpalette aufzunehmen, war schnell klar, dass das alleine mit dem hauseigenen Know How nicht zu schaffen sein wird.
Aus diesem Grund wandte man sich an die Spezialisten von Fulcrum.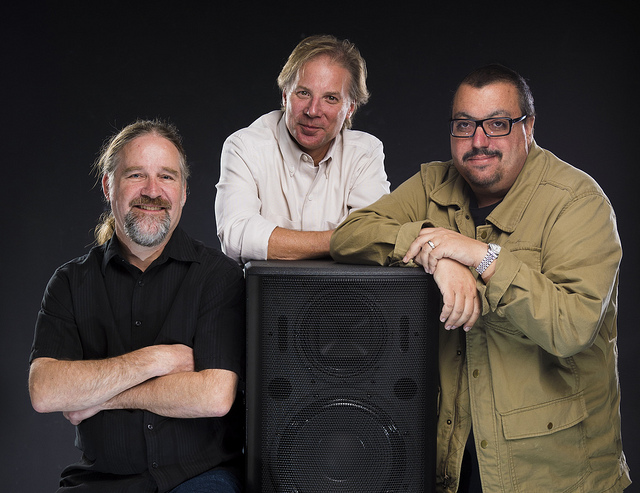 Dave Gunness, Jim Odom, and Bob Tudor
Hier ist die original Mitteilung:
Baton Rouge, Louisiana, January 2013… When PreSonus® decided to add PA speakers and studio monitors to its product line, its team was determined to deliver outstanding quality through innovative design that took advantage of the latest technology. To accomplish that, PreSonus teamed up with the speaker-design experts at Fulcrum Acoustic, a professional loudspeaker manufacturer known for its unique approach to high-end loudspeaker design.
Founded in 2008, Fulcrum Acoustic is well known for cutting-edge, high-end passive speaker systems with exceptional fidelity, including groundbreaking designs for coaxial speakers. Employing the research of company cofounder and Vice President of R&D David Gunness, Fulcrum Acoustic overcomes common loudspeaker performance limitations by integrating advanced DSP algorithms into its designs. The result is loudspeakers that provide stunning output and unmatched clarity, even at high SPLs, in the smallest enclosures possible.
A former loudspeaker designer at Electro-Voice and Eastern Acoustic Works (EAW), Gunness holds patents on several inventions and has written numerous technology whitepapers, many of them published by the Audio Engineering Society. The KF900 large-scale sound-reinforcement system, the DSA digitally steered array, and a suite of innovative processing techniques marketed as Gunness Focusing™ are all the result of his career-long emphasis on improving loudspeaker performance with innovative signal processing algorithms.
That made Fulcrum Acoustic the right partner for PreSonus' Active Integration PA and studio-monitor speaker-development efforts. "Working with Dave Gunness and his team has been an honor and a pleasure," remarks PreSonus Chief Technical Officer Bob Tudor. "The results of our collaboration are astounding, and this is just the beginning. It's exciting for us to be able to combine Dave's unique technology with our extreme DSP processing power in this new generation of products."
The first results of the collaboration between PreSonus and Fulcrum Acoustic include the StudioLive™ AI-series PA speakers and Sceptre CoActual™-series studio reference monitors, which will be showcased at the 2013 Winter NAMM show. Both systems employ Fulcrum Acoustic's acclaimed TQ™ Temporal Equalization technology powered by PreSonus' next generation 32-bit, 96 kHz, dual-core-processor Active Integration technology. 
"I can't think of a better group of people to partner with than the folks at PreSonus," says Gunness. "With visionary engineers like Jim Odom and Bob Tudor; a history of innovative products that integrate hardware and software; and successful partnerships with several high-tech companies, PreSonus is perfectly positioned to integrate our technology with theirs and to reach customers that we can serve more effectively together than we could by ourselves."