Rob Papen hat Punch BD vorgestellt. Das neue Plugin bietet satte Bass Drum Beats. Das Plugin ist ab sofort verfügbar. Wer schon ein EDM Bundle, eXplorer-III, Punch, oder Urban Bundle besitzt, kann das Plugin kostenlos erhalten. Dazu logt man sich in den Account ein und kann dort die Software und die Installations Anleitung herunterladen. Das schreibt der Hersteller: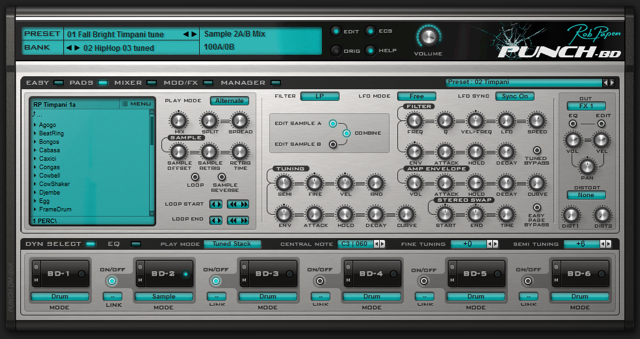 Virtual instrument and effects plug-in developer Rob Papen Soundware is proud to announce availability of Punch-BD, a powerful kick-ass bass drum virtual instrument for Mac (OS X 10.6 or higher) and PC (Windows Vista, 7, and 8) — based around the BD module of its award-winning speaker-busting, body-rattling Punch drum synthesis/sampler software instrument — to enable users to comfortably create the biggest-sounding bass drums around, as of September 19…

Stacking bass drums is a popular technique used by today's power-seeking music producers to give their tracks the kind of kick that will literally move dancefloors — and even mountains… maybe! By introducing Punch-BD, Rob Papen provides its users with an attractive ability to stack up to six bass drums in total to comfortably create cutting-edge bass drums that will clearly cut through any musical mix. Moreover, its six sequentially-numbered BD pads can be divided across an external controller keyboard for performance purposes — in 6 Notes PLAY MODE (with the six 'notes' repeated over the whole keyboard range) — or 'simply' stacked — in Stack or Tuned Stack PLAY MODE (which follows the pitch of the keyboard) — to creatively construct brand new bad-ass bass drum sounds suited to any style of contemporary music production. When selecting Seq, the fourth PLAY MODE, the bass drums that are active play in sequential order — perfect for more experimental applications, while Tune Seq PLAY MODE is essentially the same as Seq but follows the keyboard pitch. Each BD pad can be played solo or muted and has its own command menu with some speedy Copy and Swap functions for friendlier workflow.
Predictably, perhaps, Punch-BD features the same high-quality algorithms attributed to the ever-popular Punch's punchy sound.
In Drum MODE users can choose from four synthesis Models, together with a familiar-sounding range of Classic electronic bass drum samples, and also, according to Rob Papen himself, "…a nice range of built-in acoustic and fantasy bass drum samples."
Elsewhere, each BD pad includes its own distortion module offering no fewer than 19 distortion types, together with a three-band parametric EQ. Each BD pad also features a preset section next to the overall 'BD kit' to speed up bass drum sound selection for contributing to the resultant stacked sound. Sample MODE allows adventurous users to combine two samples per pad in several ways with many samples already installed from Punch to make percussive life easier. Enterprising and adventurous users can even choose to load in their own samples for full flexibility with drag-and-drop support, though those pressed for time will appreciate added quick edit parameters for adjusting the most important parts of any given drum sound.
Like its knockout bigger brother, Punch-BD packs four FX processors with no fewer than 31 high-quality FX types with several routing options into its feature-heavy hit list, lifted higher still with further filters, envelopes, and modulation routings with which to delve deeper via various editing pages — EASY, PADS, MIXER, MOD/FX, and MANAGER — when crafting and storing signature sounds that are alive and kicking while packing a whole lot of low-end punch for not a whole lot of financial outlay.
Of course, Punch-BD provides perfect speaker-busting, body-rattling bass drum sounds to die for, though this is to be expected with Rob Papen at the sound designing helm: "There are plenty of great presets onboard Punch-BD. Enjoy!" We will, indeed, Rob!
From EDM and hip-hop to soundtrack projects, Punch-BD is a production powerhouse par excellence. As a 64- or 32-bit (AAX-, AU-, and VST-compatible) plug-in, add it to your DAW and you, too, could soon be moving musical mountains! Simply stack those
bass drums high and give your tracks the driving kick to take them wherever it is that they need to go.
Das Plugin kostet alleine 49,- Euro. Neben dieser Version gibt es noch die Pubch BD-SE Version für Propellerhead Reason, die ebenfalls 49,- Euro kostet.
Weitere Informationen gibt es hier: Link