Gypsy fiddle playing is known the world over for its passion, romance and virtuosity and the music is synonymous with the campfire and the open road. Gypsy fiddlers tend to be highly skilled. Their playing swoops dramatically from the highest to the lowest positions, using cascades of arpeggios, chromatic runs, harmonics, pizzicato, exaggerated vibrato and extreme ornamentation.
For our Gypsy Fiddle we traveled to Sofia, Bulgaria where we had the pleasure of working with renowned Bulgarian violinist Stoimen Peev. Stoimen is a member of the elite Sofia Soloists and Sofia Quartet ensembles as well as the Sofia Session Orchestra & Choir and has performed classical and traditional Bulgarian music all over the world. The lively sessions were superbly directed by co-producer George Strezov and engineer Ivan Boshev at "The Bakery" studio.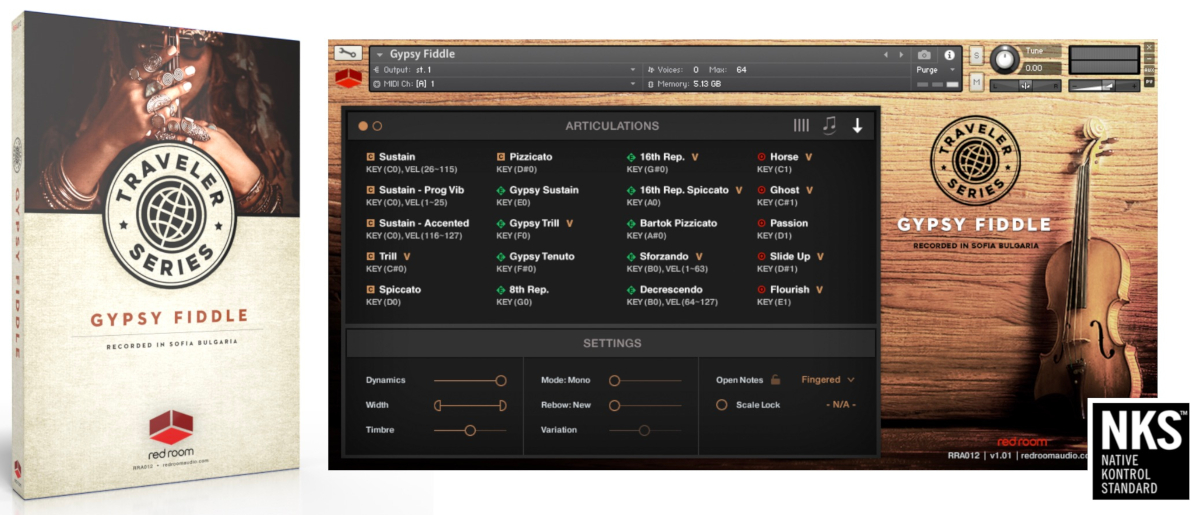 The fiddle has been sampled extremely deeply, with the full range of passionate playing on show. With 4.4GB of content and over 10,500 samples, there are over 20 core and extended articulations and 15 traditional ornaments, plus 650 Phrases & FX. The library has 2 types of sampled legato & specialized gypsy playing techniques. Other features include; 4 performance modes, customizable double stops, adjustable bow attacks and rebowing options. The library also boasts the fully flexible TACT articulation control system allowing users to map performance controls to many types of MIDI input.
The library runs in the full version of Kontakt 5.8.1 and above and is available for the list price of $89. Discounted pricing of up to $20 off is available for owners of either (or both) previous fiddle libraries.
For more information about TRAVELER SERIES GYPSY FIDDLE, including video walk-thrus, audio demos, requirements, and full product manual, please visit: https://redroomaudio.com/product/traveler-series-gypsy-fiddle/