ECHT, THE NETHERLANDS: virtual instrument and effect plug-in developer Rob Papen Soundware is proud to announce availability of Go2 — an appropriately-named, go-to synthesizer, set apart from its award-winning software siblings by virtue of all its controls and features always being in plain sight and always available to access onscreen, so simplifying usage for the average user — as of April 27…
---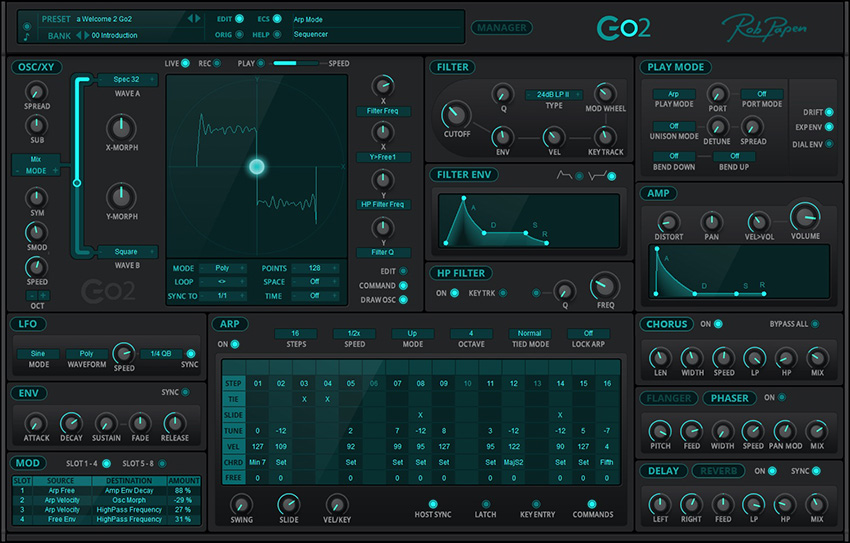 In the wonderful world of synthesis according to Rob Papen — wonderfully wide-ranging as it is, there was only one type of software synthesizer missing… until now, that is! Indeed, who better to make the formal introductions to Go2, then, than the talented individual to which the company owes both its existence and also its well-known name — renowned sound designer Rob Papen himself: "The Rob Papen brand contains many synthesizers with a different focus and types of synthesis. However, they have one thing in common, which is a vast number of features. A creative synthesizer which has all controls visible, and — in many cases — easier to use out of the box, was still missing. And now it's here. Welcome to Go2!"
Going briefly back in time, though the then-current collection of Rob Papen software synthesizers spanned many types of synthesis, each embracing many features, for some average users they could sometimes appear daunting. Make no mistake: musically-speaking, there is always something tempting about — and fun to be had with — something simple… something like Go2, perhaps?
Put it this way: when thinking back to the early Eighties, a time in which groundbreaking (and bank-breaking) synthesizers like Roland's top-tier Jupiter-8 programmable analogue polysynth flagship flourished alongside a lot simpler — still successful — synthesizers like that same company's now-classic (and considerably cheaper) SH-101 analogue monosynth, sometimes the less is more maxim also applied to synthesizers. Sure, with a heavily-featured synthesizer it is perfectly possible to create a less complex patch, but more often than not it takes more time to achieve that simpler result.
Reality bit hard for Rob Papen, producing Go2 as a direct result of this thinking — though Rob Papen himself is keen to put that observation into its rightful perspective. "Just because all controls are visible doesn't mean that you'll get bored easily with this synthesizer," says its instigator, before moving onto its 'edited highlights' herewith: "Go2 offers some unique features which will make you feel intrigued to find out more. At the heart of Go2 is the OSC/XY section. This single oscillator offers a choice of two waveforms, and you can Morph in various ways between WAVE A and WAVE B. And, yes, you can use the XY section for this as well. The oscillator also has a SUB oscillator that offers two waveforms, and by using SPREAD the single oscillator turns into two oscillators, which detune from each other. The XY has many additional features, and next to the oscillator Morph you can also address it to the other parameters contained in Go2."
Going briefly back in time, try doing that with an early-Eighties hardware synthesizer — classic or otherwise! Times clearly change, as do the creative sound-sculpting possibilities offered by always-advancing technology to deliver those stunning-sounding synthesis features found in Go2. Getting back on a more simplistic track, Rob Papen runs through some more familiar features: "We have a FILTER section with different filter types available; high-pass [HP] FILTER; AMP section with distortion that works at voice level; LFO [low frequency oscillator]; envelope [ENV]; and a modulation [MOD] matrix."
More meaningfully, that eight-way modulation matrix allows users to dynamically alter Go2's parameters using both internal modules, such as envelopes and LFOs, and external MIDI (Musical Instrument Digital Interface) controllers, such as pitch bend, aftertouch, and other control messages defined in the MIDI standard.
Still carrying on with his magical musical tour of Go2, Rob Papen points out that "…the envelopes inside the filter and amp section can be displayed graphically or as dials. You can also set them to exponential, which is the default setting, or linear, which is a great setting for pad sounds."
Synth sounds, of course, can change considerably depending on how they are played, something that Rob Papen proudly puts into practice with all of its software synthesizers — quite literally in the case of Go2: "The PLAY MODE arranges how Go2 plays — either in 16-voice polyphonic [Poly] mode, Mono [monophonic] mode, Legato mode, or by using the arpeggiator [Arp]. In this section you can also find the UNISON MODE, which can be used in all the play modes. And next to this we have included special unison modes, featuring, for instance, 16 different chord types. Of course, Go2 has a creative arpeggiator [ARP] onboard, which can also work in Sequencer MODE. But what makes this arpeggiator unique is a new row, which is called chord [CHRD]. This means that now each step can have a different unison setting or a chord."
Crossing the finish line, Rob Papen concludes, "In Go2 we also have onboard our top-notch effects. These are in series, with a CHORUS, followed by a FLANGER or a PHASER, and, last in the chain, a stereo DELAY or a top-notch REVERB. Go2 has all of its controls displayed visually, which makes it fast to work with while offering some very cool and unique features. Last, but not least, Go2 has a BANK MANAGER with some unique features. For instance, if you like a preset, you can give it a star, highlighting your favourite presets."
Fortunately for most average users, with over 600 perfectly programmed presets sorted into BANK MANAGER folders, there's sure to be a suitable sound or two already in there. That said, tweaking whatever you can see and hearing how whatever you tweak sounds is really what Go2's all about. As such, it looks like Go2 is the 'missing link' in Rob Papen's now-current collection of software synthesizers — surely set to become the go-to synthesizer in anyone's musical setup! 
An AAX (32-/64-bit), AU (32-/64-bit), VST (32-/64-bit) compatible audio software plug-in for Mac OS X (10.6 or higher) and Windows (Vista, 7, 8, and 10), Go2 can be purchased from authorised Rob Papen dealers worldwide or as a download directly from Rob Papen for €49.00 EUR/$49.00 USD from here: https://www.robpapen.com/buy-go2.html (Note that this is a serial/license system with activation while registering the product; a second serial/license for a secondary computer is available after registering the product's original serial/license.)