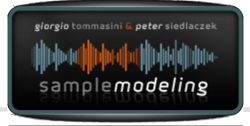 Sample Modeling hat diversen Software Instrumenten ein Update spendiert. Darin sind einige Neuerungen, sowie verschiedene Bugfixes enthalten betroffen sind die nachstehenden Produkte:
Soprano Sax (Ms. Sax S) (v2.4.0), The Saxophones (v2.4.0), The Soprano & Bass Clarinets (v2.4.0), Oboe & English Horn (v1.7.0) and Double Reeds (v1.7.0).
Hier die Liste der Änderungen:
KeyNoise on attack in keyboard mode.

Receptor compatibility issues.

Reaper compatibility issues.

Vienna Ensemble Pro crashes in some circumstances.

Microtuning sliders restore default values when GUI opens.

Portamento time does not start with MIN portamento time (Wind Controllers).

Different volume when loading mono.

Activation window goes behind parent window on some hosts.
Weitere Informationen gibt es hier: Link