C Music Production ist eine neue Firma, die als erstes Produkt das Saxband Meduim Bundle vorgestellt hat. Dabei handelt es sich um ein Alto, ein Tenor und ein Bariton Saxophon. Alle drei sind auch einzeln erhältlich. Die Software benötigt eine Vollversion von NI Kontakt ab der Version 5.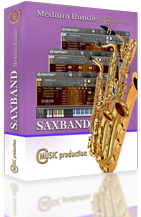 Hier einige Features:
Legato, Portamento, Glissando Velocity control
3-x round robin sustain non vibrato for each note (4 layers)
3-x round robin staccato (4 layers)
2-x round robin marcato short and long (4 layers)
2/4 and 4/4 tempo sync swells (120 bpm default, 2 layers)
Rips short, medium and long (3 layers)
Runs octave up minor/major tempo sync (120 bpm default)
Ornament minor/major tempo sync (120 bpm default)
Für das Bundle werden etwa 15 GB freier Speicherplatz benötigt. Die Preise für die Einzelinstrumente liegen bei jeweils 129,- USD. Der Preis für das Bundle, bestehend aus allen drei Instrumenten beträgt 290,- USD.
Weitere Informationen gibt es hier: Link